Early stage startup accelerator Espark-Viridian has launched Case In Point 2018 to inculcate the spark of entrepreneurship within our country. Case In Point 2018 is in the second year of the flagship case study solving competition organised by Espark-Viridian.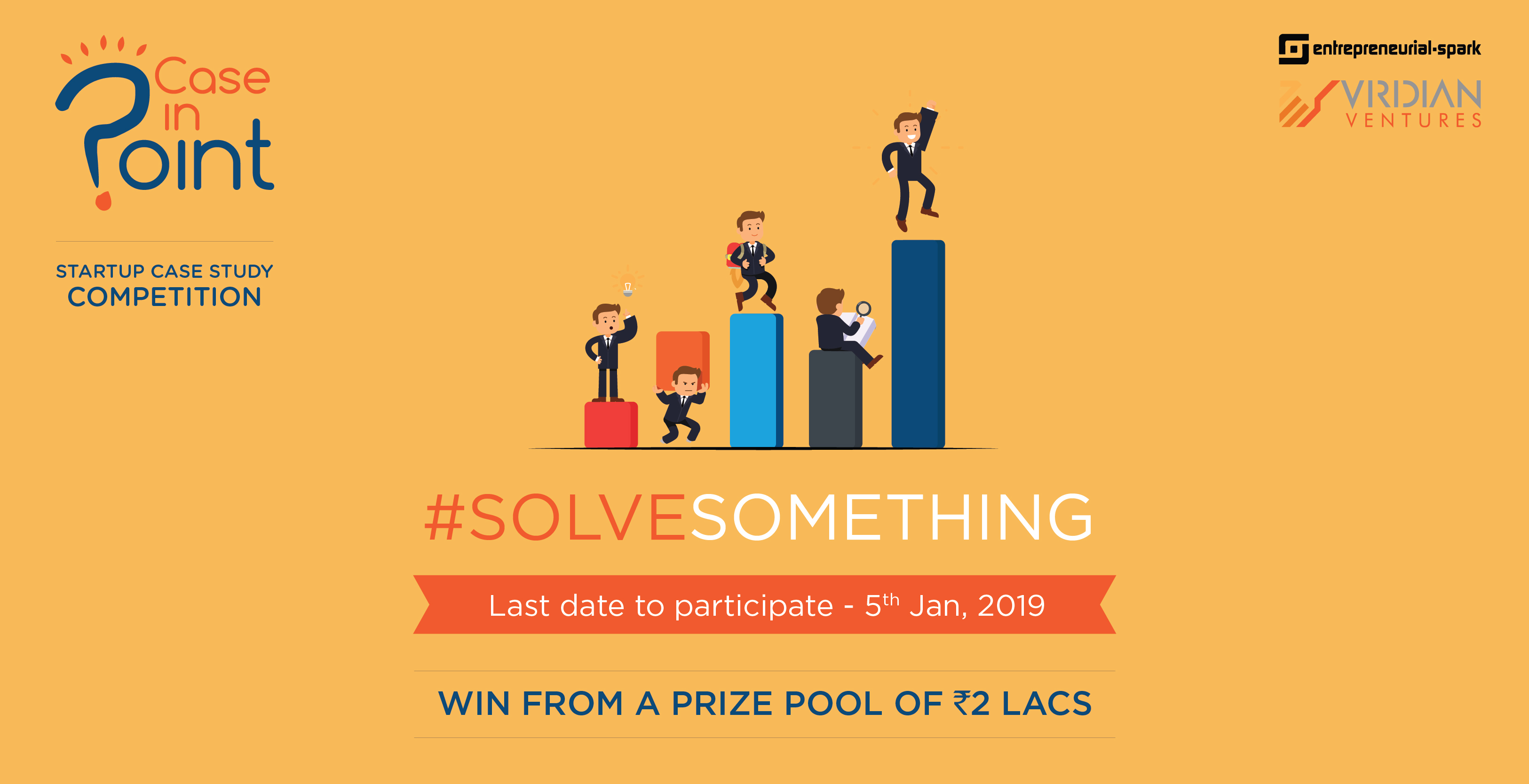 Case In Point helps budding entrepreneurs to understand the problems that a real time startup faces. This  provides them an opportunity to assess their entrepreneurial and problem solving abilities.
Post the warm reception of CIP 2017 which had its finale in Delhi, Espark-Viridian is expanding the accessibility of the event pan India. This time the event's finale will be conducted across 3 cities – Delhi, Bengaluru and Mumbai and has a gratification pool of Rs. 2 Lac. The winner would also be awarded with 6 months of free Cloud Telephony Solutions [Super Receptionist Basic Plan] by their Tech Partners, Knowlarity.
Speaking on the flagship event, Espark-Viridian Director Vibhuti Channa explained
We were overwhelmed with the response last year and had participants travelling from all parts of the nation to be a part of the finals. We want to make Case In Point more accessible for the budding entrepreneurs across India.
CIP 2018 would be held over 2 rounds. The first round would invite applicants to register individually and participate in an online case study competition. The case study will be based on real challenges that are faced by a startup. The second round would be held at a physical location in 3 cities – Delhi, Mumbai and Bengaluru. Participants selected from the prior round, would be divided into teams. They would be expected to come up with a feasible solution based on the detailed case study provided. The presentation to the judges will be part of the decision making process to arrive at the winner.
Their endeavour to grow the Indian ecosystem is being supported by Faculty of Management Studies [Ecosystem partner], Innov8 [Ecosystem partner], What after College [Ecosystem partner], Startups India [Ecosystem partner], Young Engine [Ecosystem partner], Bizztor India [Digital partner], Inc42 [Digital partner] and Knowlarity [Tech partner].
Espark-Viridian hopes to benefit the young developing entrepreneurs minds and add value to the Indian startup ecosystem. The last date for attempting the online quiz is January 5th 2019. To know more, please visit the Espark-Viridian website at http://www.espark-viridian.org/caseinpoint/
About Espark-Viridian
Espark-Viridian is a startup accelerator for early and growth seeking startups. They offer a 4 month multi-centre, multi-sector accelerator programme across 5 centres in Bangalore, Chandigarh, Gandhinagar, Mumbai and Delhi-NCR. To know more visit Espark-Viridian