There is a very interesting thread on Quora about the 'Percentage of Salaried Class' in India and though the thread has very interesting answers, one thing that is common across any salaried person [be it employee in  the organized or unorganized sector] is that each one of them wants to maximize their take-home salary. Salaried professionals who are paying tax are always on the look-out to save extra so that can pay less taxes. If you consider the Blue-collar workers, many workers might not fit in the 'Tax Slab' and some of them might still not even have a salaried account.
There was a definitive requirement for a product – 'Digital Banking system', that could cater to both the White-collar and the Blue-collar segment. There has been very little innovation made in the banking requirements for the SME and MSME segment. This is where two entrepreneurs Vinay Bagri and Virender Bisht sensed an opportunity and they co-founded NiYO, a fintech company based out of Bengaluru. NiYO helps you maximize your take home salary by enabling you to track, manage and claim various tax benefits like food, gift, medical, fuel, travel, phone etc. NiYO consists of three important components, namely NiYO app that makes mobile banking easy, NiYO corporate portal that is accessible by its corporate clients and NiYO all-in-one card that has role-based entity.
The core-objective of NiYO is 'Put salary where it truly belongs – in the employee's hands.' We had a discussion with Vinay Bagri, Co-founder and CEO, NiYO Solutions about the NiYO app, the overall market being addressed, how NiYO can help employees increase their take home salary, their fintech platform, future road-map, etc. So, let's get started with the Q&A…
Can you walk us through the NiYO platform that can be used by white-collar employees ?
NiYO is a digital platform for salaried employees. When we talk about salaried employees, they are broadly classified into two categories – White collar employees and Blue collar employees.
NiYO started with a product for white collar employees that is primarily into taxation. There are total 22 items where tax can be saved by the employees. Employees can avail tax benefits across 10~11 items like LIC Premium, Savings under 80C/80G, HRA, etc. Employees have control over other 10~11 items namely LTA, medical allowance, gift vouchers, meal vouchers, etc. Employee and Employer have to work in tandem in order to avail these tax benefits.
How does NiYO helps in maximizing an employee's take-home salary ?
What NiYO does is that it optimizes these taxation items for employee as well as employer. For employer perspective, NiYO makes these items paperless, easy to maintain and ensure that they are audit and tax compliant.
From employee perspective, employees can avail more benefits since the employer is now able to pass more benefits to the employee. In that process, emoployees are now able to significantly increase their take-home salary. NiYO also offers a virtual bank account.
What are some of the core components of the NiYO platform and what are some of the USP's of the product ?
The core product of NiYO consists of three main components:
NiYO offers a virtual as well as physical card. Unlike other cards that are offered by other companies, the card offered by NiYO is a combination of debit, credit and prepaid card and it plays an appropriate role based on the outlet/location where the card is being used. For example, when a NiYO user tries to withdraw money, it acts as a 'Debit Card'. When user swipes the card at a food outlet, it automatically pulls money from the 'Food Wallet'. When an employee/user uses the card for a transaction when (s)he is on an official trip and swipes the card for a reimburseable item, it takes the shape of a 'Credit Card'.
In a nutshell, the card that is offered from NiYO is a combination of Debit card, Prepaid card and Credit card.
What are some of the main pain points that are solved by NiYO ?
NiYO solves two major pain points:
Users now have the convinience, where they need not carry more number of cards since the card offering from NiYO is an all-in-one card.
Since our system is intelligent enough to identify the 'type' of transaction, it helps employees in saving more from their salary.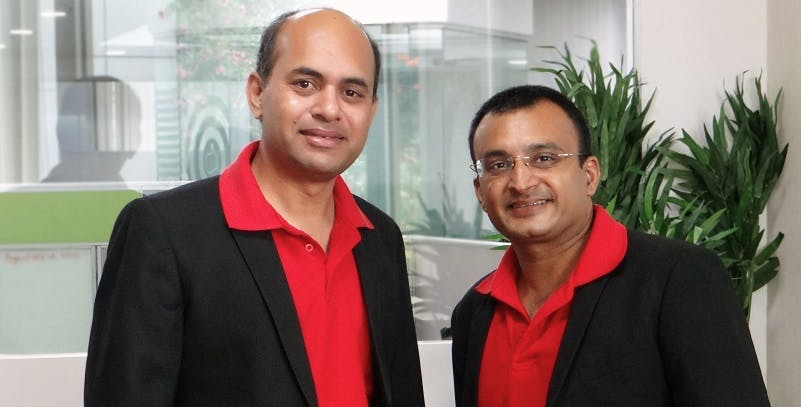 Please walk us through the NiYO mobile app and walk us through some of the interesting features of the app ?
The mobile app from NiYO has all the major mobile banking features. Employees can attach bills/other expense reports used for official purpose as a proof of expense to the mobile app. In order to ensure that there are no submission of fake bills by the employees, employer gets an intimation when the card is swiped for a transaction. This step acts as a 'Proof of Payment'. To take the security to the next level, employee has to also attach the copy of the bill at the location where the card is used. This mechanism is termed as a 'Proof of Expenditure'.
This lethal combination of Proof of Payment and Proof of Expenditure is an ideal way for our customers/organizations to make the reimbursement process tax & audit compliant and at the same time ensure that there is 'zero fraud' done during the time of submission of bills.
How do your 'corporate' clients ensure the authenticity of the transactions and facilities available at their front ?
HR department from NiYO's client organizations would have access to the corporate portal where they can view the details of the transactions incurred by an employee 'X'. The employer would have access to the details of the transactions where employees have applied for a reimbursement.
What are some of the advantages of the NiYO card over offerings by players like Sodexho ?
There are number of benefits of the card offered by NiYO when compared to offerings from Sodexho, some of them are listed below:
Sodexho is a single wallet card that can only be used for food items. On the other hand, the card from NiYO can do much more as already discussed earlier and these facilities are availble on a single platform.
With NiYO, you can use the card at any food outlet where they accept payment via VISA/Master/RuPay cards. Sodexho can only be used at around 40K food outlets where they have tie-ups. NiYO has more reach which is close to around one million outlets.
NiYO also has a very interesting feature – split wallet. For example, if 3K is spent at a food outlet but NiYO's customer [Employee] has only 2K in the food wallet, split wallet feature comes into action. In such a scenario, NiYO would automatically deduct 2K from the the Food card and remaining 1K would be deducted from the Credit card. In this process, a single transaction is automatically optimized for taxation benefits. NiYO acts as a technology provider and for the card, NiYO has tied-up with couple of banks.
Can you talk about the market size for a service like NiYO ?
There are close to 27 ~ 30 million salaried people in India who pay some kind of taxes. NiYO can be used as a salaried account/travel expense product/a fintech product where an employee can do 'Financial Planning'. Hence, NiYO would become a full fledged banking product for the employee.
Please share some insights into the Gift card aspects of the NiYO card ?
As far as corporate gifting is concerned, gifts worth INR 4900 are tax-free, beyond which the expense becomes taxable. There is a 'segregation' feature on the gift card wallet in order to ensure that an employee gets maximum tax benefits. Hence, there is no requirement for a seperate gift card and NiYO's client [organization] can seamlessly load money in the gift wallet.
Morever, all the features on the card are customizable and they can be controlled via the 'Employer portal'. Employers are free to keep it as an 'open system' or a 'closed system'. To summarize, NiYO is currently the only player that has all these features with no competition as of now.
What are some of the features around financial planning on the NiYO platform
For tax and financial planning, NiYO has tied-up with H&R Block, which is one of the largest tax planning companies in India. From the NiYO app, an employee can do tax planning, plan savings, etc. There is an option for 'Self tax planning & assisted filing', where someone from the H&R Block would call NiYO corporate customer and provide necessary support.
How has been the overall response to the NiYO App ?
Feedback has been very good, but there is an increasing demand for features like add-on card, etc. The core USP of the NiYO app is the best in-class 'field process'. For example, you can attach a proof of insurance towards 80D on the NiYO app itself and the review would be either performed by the employee's finance team or finance experts from the NiYO team. With such facilities at their persual, employees need not visit any other portal for financial planning.
As of today, NiYO has more than one Lakh customers/corporate employees using the NiYO platform. Out of one Lakh customers, around 60K customers use NiYO as a 'salary account'. NiYO is also used by blue-collar workers that have salary of less than 15,000. None of the financial institutions want to open salary accounts for blue-collar segment and even if the bank does so, they charge fees and there is a minimum balance requirement.
With a nominal fee, NiYO can open a digital salary account. Everything is eKYC compliant and there is no paperwork involved. Messages sent to NiYO's blue-collar customers are in vernacular language i.e. Hindi since NiYO for blue-collar workers is only rolled-out in North India. Card is charged for everyone, which is close to around 200 INR per year.
Can you share the product roadmap of NiYO?
In the future, NiYO will provide our customers with all the advice related to taxation and financial planning. Unlike other financial platforms, NiYO would consider taxation as a major factor for financial planning. For example, investing in a good Mutual Fund would yield 12~14% returns on a CAGR basis whereas investmets made via the NiYO platform would result in much more returns on the same investment.
Also, our customers can use the NiYO app to do a QR Code transaction since it would be leveraging the Bharat QR code mechanism. Our customers can opt for doing a payment via Unified Payment Interface [UPI]. The end goal of NiYO is to encourage employees go shift to 'Spend and Forget mode' since NiYO would be responsible for complete tax planning and savings.
We thank  Vinay Bagri for sharing his insights with our readers. If you are an SME and on the look-out for some good payroll solution, do give NiYO a spin. If have any questions for him or the NiYO Team, please email them here or share them via a comment to this article.