Industree Foundation launched its new initiative 'Mission Creative Million' at a round table, during the World Economic Forum's India  Economic Summit. Shri Chandrababu Naidu, Honourable Chief Minister, Andhra Pradesh, launched the initiative at an event that was held Hotel Taj Palace, New Delhi.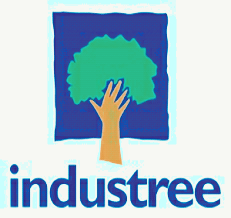 Established in 2000, Industree Foundation addresses the root cause of rural poverty in India by establishing ownership-based manufacturing enterprises for majority women micro-entrepreneurs in the farm and off-farm sector. Industree assesses the traditional skill base of communities, organises them into production units, develops products that appeal to modern markets, and creates consistent demand, opening up the 40 billion dollar global market for these entrepreneurs.
Industree Foundation has already trained 30,000 women artisans in India and Africa through collaborative efforts with organisations like Future Group, IKEA, the Commonwealth Secretariat, Grassroots Business Fund, and National Skill Development Corporation. Industree has also directly impacted over 2,000  producers and tripled their incomes, having built two of India's largest off-farm producer companies.
'Mission Creative Million', Industree's latest initiative designed to empower entrepreneurs and create jobs, aims to impact one million creative producers in the next 5 years, dramatically scaling up outcomes.
According to Neelam Chhiber, Founder and Managing Trustee
With the right training and tools, producers can become owners of their own businesses and leaders in their communities. That is why we have developed a model that empowers producers with skills training, market linkages and the professional management support they need not only to build sustainable futures for themselves but also create hundreds of new jobs.
Creative Million projects are already in various phases of execution in Karnataka, Tamil Nadu, and Odisha, and are in the planning phase in Andhra Pradesh, Telangana, Rajasthan and Uttar Pradesh. This is in partnership with the Ministry of Textiles, Karnataka and Andhra Pradesh state governments, along with companies such as Sonata Software, Mindtree, Mercuri Urval and impact organisations like MasterCard Center for Inclusive Growth, British Asian Trust, Social Venture Partners, Womanity, Dasra and UNDP.
The first few pilots have impacted more than 75,000 producers. Industree also partners with organisations like Fair Trade Forum India, All India Artisans and Craftworkers Association, to ensure the reach extends to a million people.
Speaking about the initiative, Shamina Singh, President of Mastercard Center for Inclusive Growth, a key partner, said
Unlocking the potential of artisan producers to earn, save and invest is critical to ensuring that India's economic growth is inclusive and sustainable. We are proud to partner with Industree, government ministries and other private sector leaders to realize the promise of the creative million business model.