Fin-tech is having a huge impact on the financial services in India. It has been largely dominated by the lending and payments companies in India. Initiatives like the India Stack [UPI, e-KYC, Aadhar] by National Payments Corporation Of India [NPCI] have been instrumental in leading the Fin-tech revolution.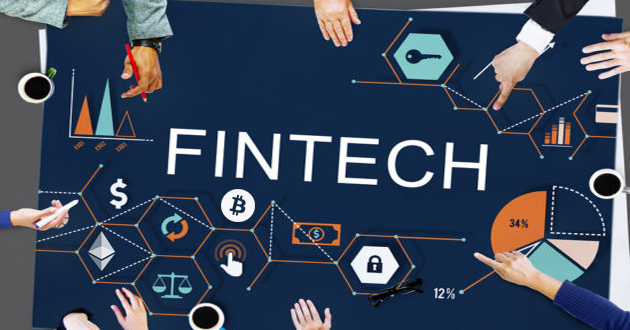 There are several companies in the Fin-tech sector that have innovative business models in the areas like Wealth Management [WealthApp], Digital Payments & other services [Paytm, Freecharge, etc.], Payment Banks [Paytm, Airtel, FINO], P2P Lending [i2iFunding, Lendbox, i-lend, etc.], Personal Finance Services [BankBazaar, Capital Float, etc.], Alternate/Unsecured Lending [Qbera, Loan Frame, etc.], Lending based on Credit-Line [MoneyTap], etc. Many of the fin-tech companies are leveraging Machine Learning, Artificial Intelligence, Social Data Intelligence, Blockchain, etc. in order to solve critical business problems. For example, with the help of AI, contextual data and transaction data, your wealth managers can now come up with a 'more relevant' financial plan that suits your requirements.
With the rising interest in fin-tech, there is a constant debate on whether Fin-tech would kill banks, but the fact of the matter is that mainstream financial institutions are also embracing change by inking partnerships with these players in order to utilize their services. Even after eKYC, there are significant challenges [that add up to delay] in customer onboarding, a problem that is being solved by few fin-tech start-ups. There is been a rising investor interest in this sector, with fin-tech topping the funding charts of H1 2017. Traditional banking institutions are utilizing this opportunity to co-create innovative solutions with entrepreneurs for building breakthrough banking products and solutions.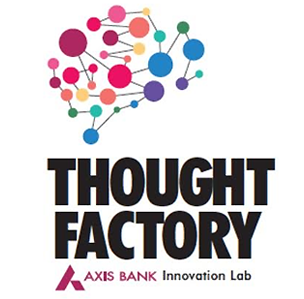 Last July, Axis Bank launched its flagship Accelerator Program for start-ups, the very first Indian Bank to do so. The program is run from Thought Factory, Axis Bank's co-innovation Lab, which is located in the city of Bengaluru. Axis Bank has partnered with Amazon Internet Services, Payments product company VISA and Singapore based Oversea-Chinese Banking Corporation for co-innovating in the rapidly evolving fin-tech space. The core ideology of the lab is #UnimaginedIsUndone. The ThinkTank for Thought Factory comprises of thought leaders, change agents, serial entrepreneurs, namely Sharad Sharma of iSpirit, Manish Chokhani of Enam Holdings, Vishal Gondal of GoQii & Shankar Narayan, a Singapore based serial entrepreneur along with Axis Bank Senior Management that guides the Thought Factory team in its various functions.
Over the past year, Thought Factory has been a major Fin-Tech ecosystem enabler in Bengaluru, hosting multiple events, workshops, international visitors and other corporate clients; thereby enhancing industry-start-up collaboration.
For the first cohort of its Accelerator Program, Axis Bank's Think Tank, from an application pool of 108, selected six emerging start-ups. Once on-boarded, the start-ups were given a structured mentorship program and access to Axis Bank's Thought Factory office space. Axis Bank's aim behind the program was to expedite the overall growth of these emerging start-ups along with exploring novel banking ideas with them. Axis Bank celebrated the Graduation Day of the first cohort start-ups, namely S2Pay, Pally, Perpule, Fin-techLabs, Paymatrix and GIEOM. All these start-ups target different business problems in the areas of Offline mobile payments, Analytics in lending space, Credit in rental space, etc.
Startups pitching their idea to the audience at the Thought Factory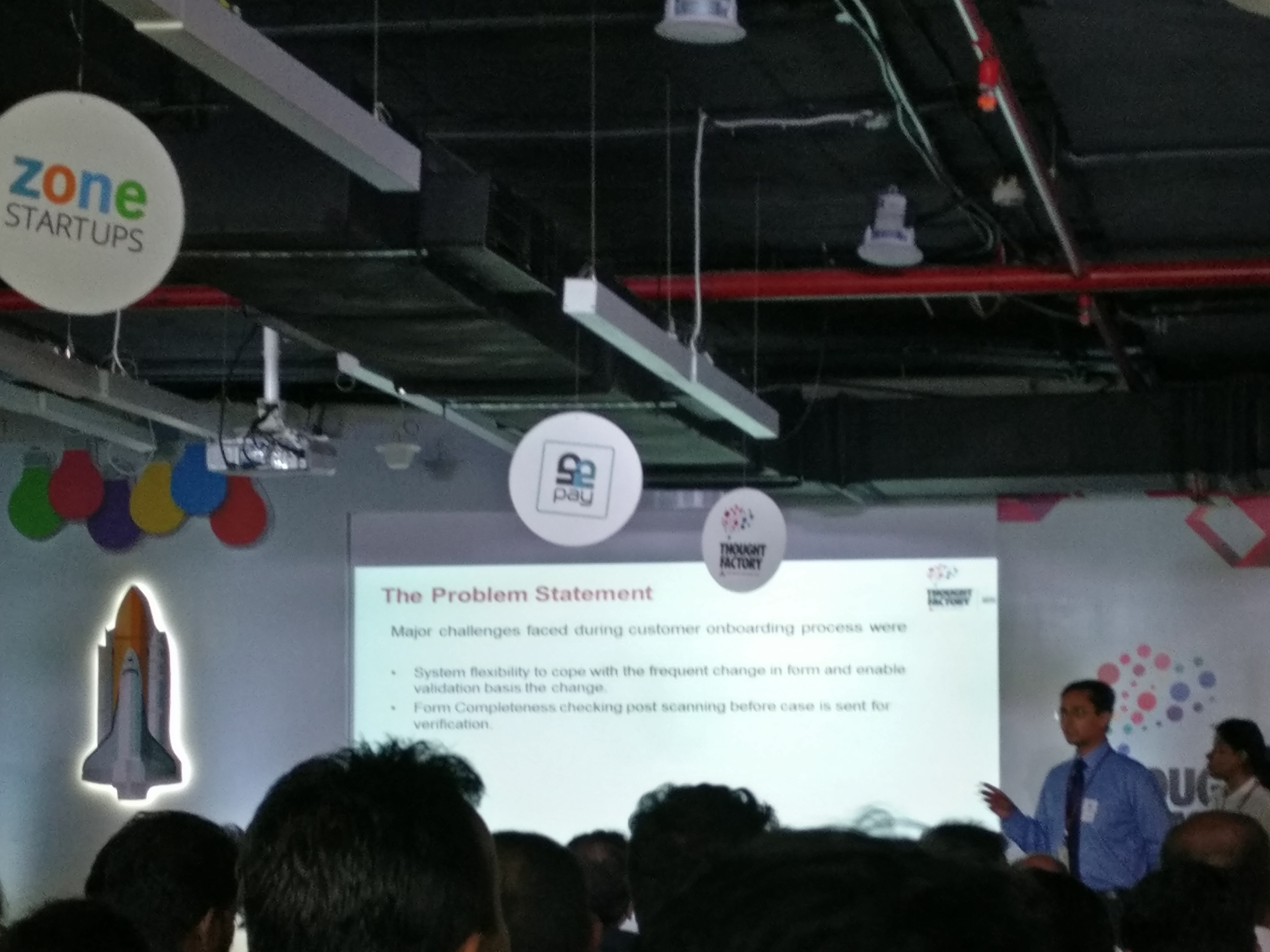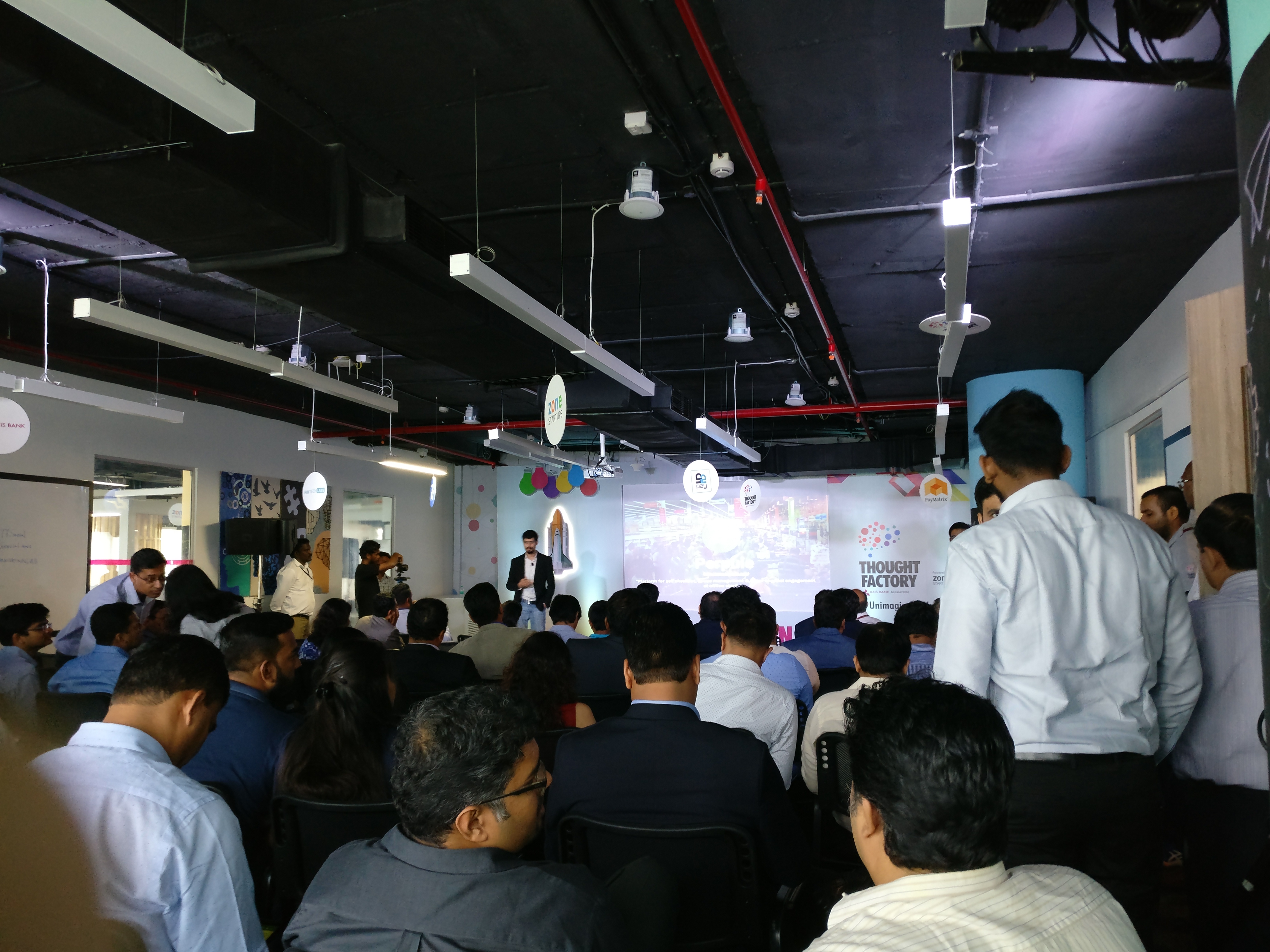 Below are the startups that graduated from the Thought Factory
S2Pay: Enabling Offline mobile Payments [Category – Payments]
S2Pay forms a layer over payments app and enables the end consumer to make secure payments from their mobile app, even when the consumer is offline. The technology is especially useful in remote areas where there is low data connectivity thus making digital payments a reality for everyone. For more information, please visit S2Pay
Pally: AI Stack based Chatbot for Investment Advisory [Category – Investments]
Pally has created a chatbot that on the input of an image of salary slip creates an investment portfolio which maximizes tax saving for the end customer. It uses AI, Machine learning along with other proprietary algorithms to come up with a customized investment plan for each customer. Pally was also selected for the EIR program at KStart. For more information, please visit Pally
Perpule: Self-checkout on mobile app [Category – Payments]
Perpule's app lets end customers scan the shopped products from their mobile app, and pay from within the app once the list is complete. Perpule integrates with retailer's campaigns, thus automatically applies discounts/offers on the go. It has partnered with stores like Hypercity, More, Spar etc. For more information, please visit Perpule 1Pay
Fin-techLabs: Analytics in lending [Category – Lending]
Fin-techLabs is a financial technology innovation start-up, with a vision of providing easy access to financing across the world by powering the lending ecosystem with technology. They make the lending process swift and optimized by automating repetitive management tasks like sending emails, managing files, preparing reports, complying with regulations, etc. For more information, please visit Fin-techLabs
Paymatrix: Credit in rental space [Category – Real Estate, Payments, Credit Cards, Liabilities]
Paymatrix is an analytics-driven property rent management platform that is trying to solve the problem of credit involved in Indian rental market via enabling payments to land lords via credit cards. They also help landlords in rent/property management. For more information, please visit Paymatrix
GIEOM: Software solutions on the Cloud [Category – Analytics]
GIEOM is a cloud based software solutions and analytics company. They offer a unique business visualization technology with Intelligent linking that monitors, controls and optimizes Operations while reducing risk and increasing compliance. For more information, please visit GIEOM
The past six months have been very eventful for the start-ups, Perpule won the semifinal round of Next Money Fin-techFinals 2017 and raised a seed funding of USD 650K from Kalaari Capital, S2Pay and GIEOM on-boarded multiple new clients, Fin-techLabs and Paymatrix expanded their services portfolio while Pally evolved in its product idea and expanded its team.
We were invited for the Graduation Day at the Thought Factory, where we pitched some questions to Rajiv Anand, Executive Director of Axis Bank. Below is the brief Q&A round he had with the media/bloggers where he shares his insights about the Thought Factory, impact it has on the fin-tech eco-system, etc.
Axis Bank has always been keen on adoption of technology in its systems and solutions. Besides the Accelerator start-ups, Axis Bank along with the Thought Factory team has been working with other upcoming start-ups too. With Active AI [a Singapore based start-up specializing in AI stack], Bank is building a chatbot that can take banking & customer service to the next level.
Axis Bank's innovation team is working on recruitment of start-ups for the second cohort of the Accelerator. For a much quicker implementation, Axis Bank is also developing a Development Platform – a sandbox environment of its APIs, which can be used by start-ups.
Additionally, they also conduct a start-up boot camp, a two-month program for grad start-up ideas under its 'Future of Jobs' initiative where five student teams of two members each will receive mentorship to convert their ideas into real businesses.
To know more about the Thought Factory Program, its structure etc., drop a mail to thoughtfactory@axisbank.com or visit Thought Factory