I am sure that most us would have watched [if not read] the Ramayana that used to be tele-casted on Doordarshan. I used to thoroughly enjoy it but for some reason I could not strike a cord with mythology as it was not my cup of tea !!! So how can someone re-tell the age-old Ramayana in a tone that co-relates to the modern era & still does not dilute it's core i.e. learning's we get from the great epic  ??
The book "Ramayana : The Game of Life: Rise of the Sun Prince" by Shubha Vilas is one such commendable attempt to re-tell the Ramayana for Modern Audiences.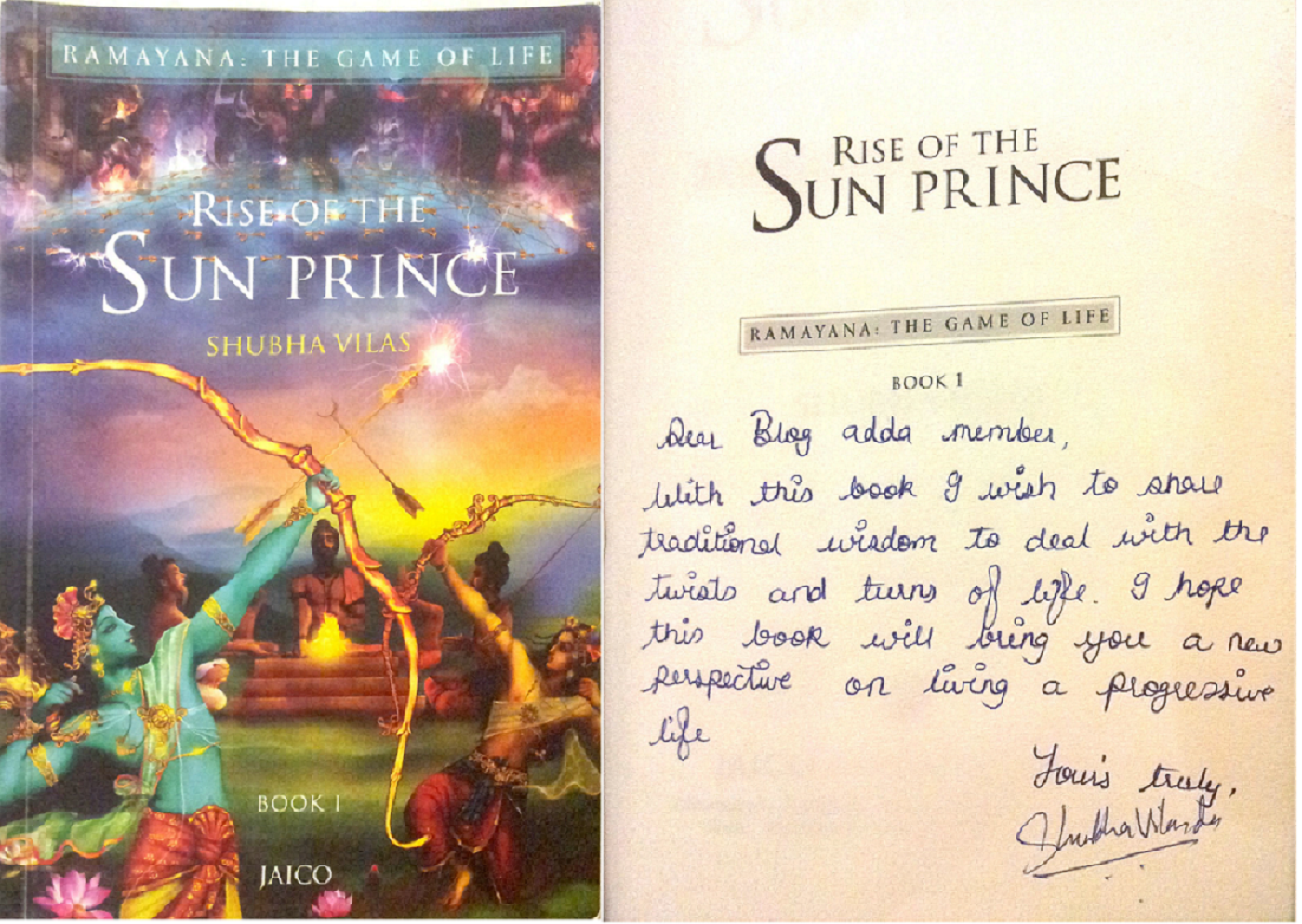 About the Author
Shubha Vilas is a motivational speaker, spiritual seeker with B.E in "Electronics & Telecommunications" and L.L.B specializing in Patent Law. You can find more about him here
Detailed Review
This is the first part [Bala Kanda] of the six book series that Shubha Vilas has come up with & takes us through the divine story of Lord Rama from his birth up-to his marriage. The narrative closely follows Valmiki's Ramayana, gently weaving in the folk tales as well as the beautiful analogies of the Kamba Ramayana.
The narrative throws fresh perspective on how Valimiki came up with the Ramayana, insights into Ayodhya, Lord Rama's life, His relation with Sita, tales of Dasaratha's leadership, Dasaratha's 353 wives, Vishwamitra's quest for power, origination of the island Lanka, Life of Ravana & intriguing story of a little-known stone maiden. Well, the list goes on, as the book details into each & every aspect of the Ramayana.
The author had to make sure that the reader finds the story interesting [and can co-relate to it] else it would have been "Me-Too" book on the epic. Shubha Vilas has succeeded in that task where each page is followed with foot-notes where he connects the content [from Ramayana] with real-life traits i.e. Leadership, Mentorship, Greed, Spirituality etc.
Honestly, for readers [including myself] who have less idea about the Ramayana, the footnotes added as "catalyst" that generated interest & gave us handy-tips on how we can apply the age-old principles of Ramayana in our day-to-day lives !!!
Key Takeaways

As mentioned earlier, each page has some "key" learning from it & that in our opinion is the highlight of the book. Some of the interesting excerpts from the book are mentioned below:
Mentorship, Failing & Learning
An advisor is like an able doctor who does not prescribe before diagnosing the disease. To lament from one's mistakes is important, but far more important is to learn from that mistake. To make mistakes does not imply lack of intelligence but a lack of foresight. Not repeating mistakes is a sign of intelligence.
Building an Effective System
King Dasaratha's brilliance & foresight could be gauged from the way he made systematic arrangements to make the kingdom self-sufficient. Ayodhya had two type's of water-storage systems – Devamatraka i.e. entirely dependent on rains sent by demigods & other nadimatraka i.e. dependent on effective water storage systems. Ayodhya depended on nadimatraka system which facilitated rain water harvesting to ensure abundant water supply. Today's society adopts the nadimatraka system of irrigation which is heavily dependent on rains.
Leadership Traits
Foresight is the hallmark of a leader; it enables a leader to build effective systems. The leader's quality lies not just in building such systems but also in ensuring effective functioning of those systems. An interesting type of leadership is "servant leadership", where the leader feels that being anointed leader is a gift to serve more people. Such a leader finds every opportunity to serve as God sent. Dasaratha had created a flawless system but when it was not as effective as anticipated, he considered it as his responsibility to rectify it at any cost, even at the cost of his life !!!
For a leader, four things are essential – physical strength, intellectual strength, emotional strength & spiritual strength. Physical strength is acquired by having a powerful army; intellectual strength by studying the scriptures and being guided by a wise counsel; emotional strength by being kind, generous and sensitive towards the weaker; and spiritual strength by taking some time off from the worldly pursuits to pursue one's goal in life and taking refuge in higher powers.
A good leader knows the "Art Of Delegation"; in addition he delegates himself the most demanding role, that of being an inspiration.
Teamwork
Dasaratha's leadership model
Dasaratha's strength was his Big M – a council of ministers [mantri's or mentors] carefully chosen by him. He had eight ministers – Drishti, Jayantha, Vijaya, Suraashtra, Raashtravardhana, Akopa, Dharmapaala & Sumantra. These eight ministers were men of pure mind & great integrity.
Their love for their country and it's people, along with their loyalty to the kind, encouraged them to use their foresight in devising policies and plans to help their country progress. Their words completed their actions.
Tangible & Intangible assets
Success is to follow a leader if he can create tangible as well as intangible assets. Tangible assets are essentially his abundant treasury and an unconquerable army. Intangible assets include the confidence of people in the leader's power and ability.
It is the intangible asset that is the soul of leadership, which leads to loyalty and unquestioned co-operation. To capitalize on the tangible and intangible assets effectively, the leader has to depend on a third type of asset, known as "Big M" [Ministers, Mentors & Mantri's of the king]
Be in "Better than yourself" company
However great an individual may be, it is impossible to achieve any kind of success alone. Those who do not believe in a team are afflicted by the disease of Insecurity. Deep insecurity about working with those stronger than themselves stems from the fear of being over-shadowed. Such people surround themselves with weaker people. When one dreams of a big goal, the team one chooses must be bigger then the dreams envisioned. Else, it would only remain a dream. Surely, you could co-relate this to the "Art of Recruiting" by Guy Kawasaki 🙂

Law of "Dependence"
Rather than being engaged in one-upmanship, one should focus on how combined strength can enhance individual capabilities. When one engages in competition, it results in destruction of the other & one becomes oblivious to the pain of the other.
Capitalizing on mutual strengths leads to success. The law of dependence states that one's real strength lies in realizing the strength of another. Dependence releases one from the burden of being an exclusive controller & leads to the freedom of accepting higher powers to realize one's goal.
Taking shelter in one's own strength leads to taking pride in being the controller. By being amiable enough to depend on others strength, one can focus on achieving the goal. Vishvamitra realized that for so long he had exclusively depended on his own strength. He learnt his law of dependence from his mother Kaushalya.
Guided intelligence leads to the right direction. Personal choices have to be sacrificed at the altar for the good of the whole.
Closing Thoughts
Rise of the Sun Prince is very interesting take on the Ramayana. At 252 pages, it is an good read & definitely there are learnings in it for everyone i.e. be it leader, mentor, entrepreneur, teacher or any other individual…
We complete this review with the following thoughts from the author Shubha Vilas
Rise of the Sun Prince reveals to us the range of principles that underline the healthy relationships in our lives – between parents & children, between husband & wife, between brothers, between a leader & his followers, between a teacher and his/her students.

The Ramayana is not a book; it a way of life !!!
Thanks to Blogadda for sending us the review copy of this book 🙂 This review is a part of the biggest Book Review Program for Indian Bloggers. Participate now to get free books !!!