After the successful completion of its flagship conference Apps India 2015, Brite Exhibitions has announced the launch of Incubation India 2015. A conference of its time where startups and incubation are the new whiz kids of the resurgent emerging India. Incubation India is the first of its kind niche conference attracting delegates from the startups/VC/incubation business eco-system to be held on 2nd December 2015 at Hotel The Grand, New Delhi.
Themed Creating value 360o, the Conference will highlight specific areas of growth opportunities and challenges being faced in and by the incubation ecosystem.

Incubation India 2015 event offers an ideal interactive business platform for the key decision makers, Start-ups & young entrepreneurs alike across the Incubation business ecosystem in India [Incubators, Corporate Biz labs, Co-Working spaces, VC's, Accelerators, Angel Investors, Advisory & Consultancy firms & many more]
The Incubation India 2015 conference will include panel discussions on Creating Value 360o, Initiatives taken to promote the concept of technology and business incubation in India, Marketing & communications strategies for early stage startups, Incubating in Healthcare sector.
Panelists/speakers at Incubation India 2015
Detailed agenda is below
[Click on the image to Enlarge]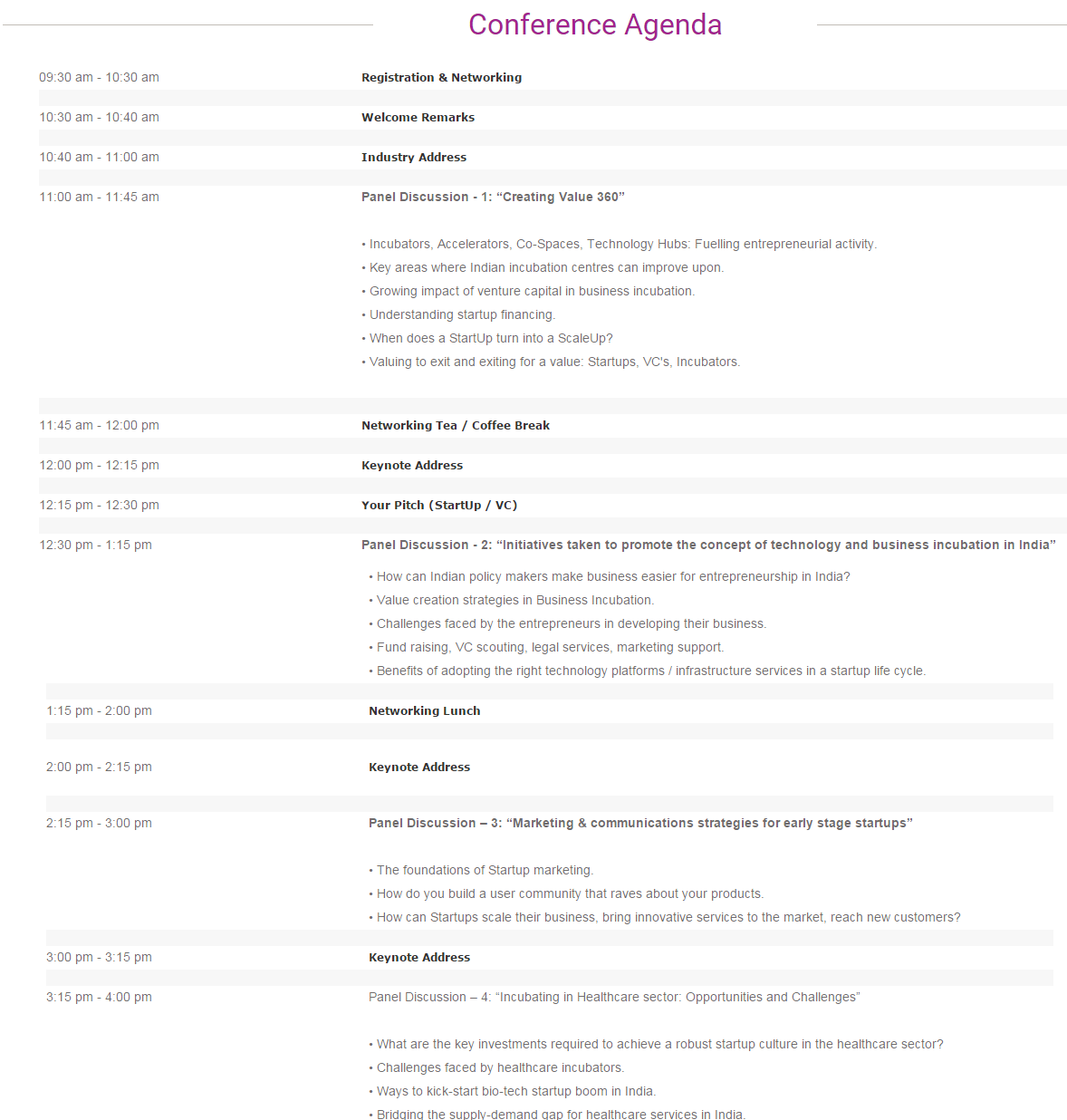 Apart from the varied experienced speakers/panelists, the conference has two niche concurrent programs :
Biz Zone – An exclusive Business Zone for the ecosystem to introduce their technology and solutions to a focused audience.
Startup idea to IPO – A workshop conducted by Rajan Bhatia on behalf of NSE Emerge
Ms. Bunny Sidhu, Project Director, Brite Exhibitions, organizer of the conference said
Brite Exhibitions serves as a representative office and sales agent in India for international exhibition organizers. The young at heart team has combined experience of 50 + years in exhibitions industry. We are a group of professionals, who believe in working with passion to create various niche business networking platforms.
For more information, please refer IncubationIndia