Entire 2015 had revolved around startups in the Hyper-Local segment that aimed at bringing more convenience to the customers by delivering daily chores at the doorstep. This was all done at the click of a Button i.e. through an app. Be it Peppertap (that recently shut down it's Grocery Business), Grofers etc., each one of them wanted a share of the pie.
With the Hyper-local segment getting over-crowded with many players & customer-acquisition costs rising, it gave rise to the next wave of commerce namely 'Conversational Commerce'. Here the consumer has the privilege to locate nearby businesses, chat with the business-owners and place order on the App. Once the order has been confirmed, logistics team delivers the order at your doorstep (free of cost). This is termed as O2O (Online to Offline) commerce. The startups that pre-dominantly operate in this market segment are GoodBox, Look Up, MagicX etc. Some of them use AI to reduce manual intervention when answering questions from customer over the chat (thus resulting in reduction of overall operational costs).
The core of all these 'Conversational Commerce' startups is to leverage medium of chat so that customers can order anything (food, grocery etc.) on the app. For curiosity purpose, we happened to give a shot to GoodBox and the experience was overall satisfactory (right from Items Search-> Adding them to cart-> Placing the order and doing the payment). In this article, we review GoodBox App from features, reliability, UX, payment etc. point of view; so let's get started.
GoodBox : What's in the Box
GoodBox is a conversational m-commerce startup that has is co-founded by Abey Zachariah [ex-RedBus core team], Anand Kelaginamani [IIM-B], Charan Raj [ex-Accenture], Mahesh Herle [ex-National Instruments], Mayank Bidawatka [ex-RedBus core team & co-founder The Media Ant], Mohit Maheshwari [IIM-B] and Nithin Chandra [NIT-K & IIM-B].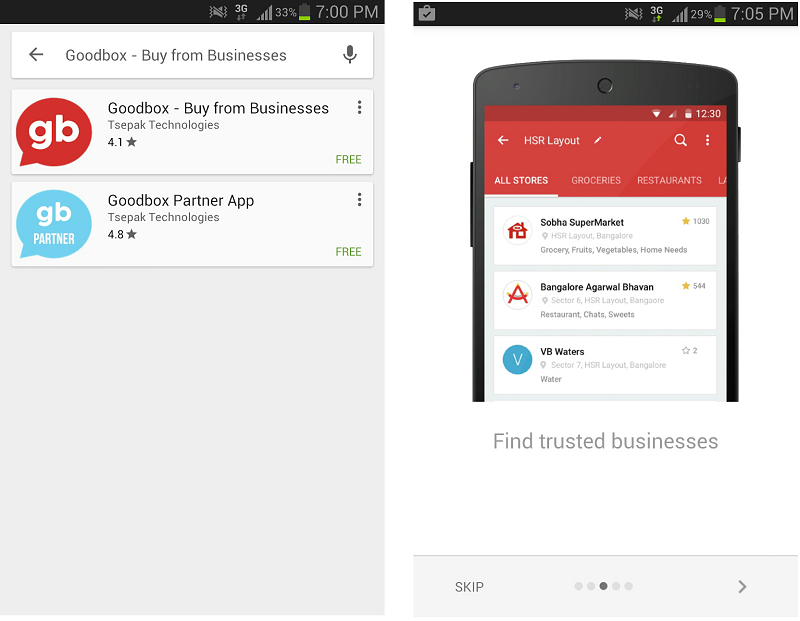 It aims to bring neighbourhood Kirana stores, saloons, spas, restaurants etc. online and helps them create a store-front [using the GoodBox Seller App] within minutes. Just like traditional e-commerce companies, there is a customer facing app and the other is Seller app [that seller can use to manage his inventory]. It provides the seller Seamless Discovery, Ordering and Payment. It was recently in news when they acquired SmartPocket for an un-disclosed amount. It had earlier raised $2.5 Million in Series-A funding from Nexus Venture Partners.
GoodBox : Key Features
As mentioned earlier, GoodBox wants customers to connect, chat and buy (the final transaction) from your local businesses without any compromise on the privacy. On launch of the app, it shows the registration page where user needs to enter his/her mobile number and email. An OTP is then received to complete the verification. We found the registration process very simple and less time-consuming (since un-necessary fields were not required to be filled at the registration time).
The App only requires access to GPS and the number is kept private (since the entire transaction occurs over chat)!! Some of the key features of GoodBox are:
Discover : Find businesses around you which might otherwise might take time to locate.
WhatsApp like easy chat interface : Since virtually every mobile user in India is present on WhatsApp, hence it was primarily important that their chat interface did not have many deviations in it's UX. The customer facing GoodBox app is very well designed and is easy to use (since we are all familiar with WhatsApp)!!
No Middleman :  There is one to one chat between the customer and seller that results in lesser delay (in responding to chats).
Business Profile : You can check the Business Profile, Business Timings, Last online status of the seller, location etc. What we liked about this feature is that there was a specific mention about the seller's average response time (on chat) and that coupled with Last Online might result in customer-stickiness i.e. if Seller response time is fast, than there are high chances that customer might not look for similar seller in his/her vicinity.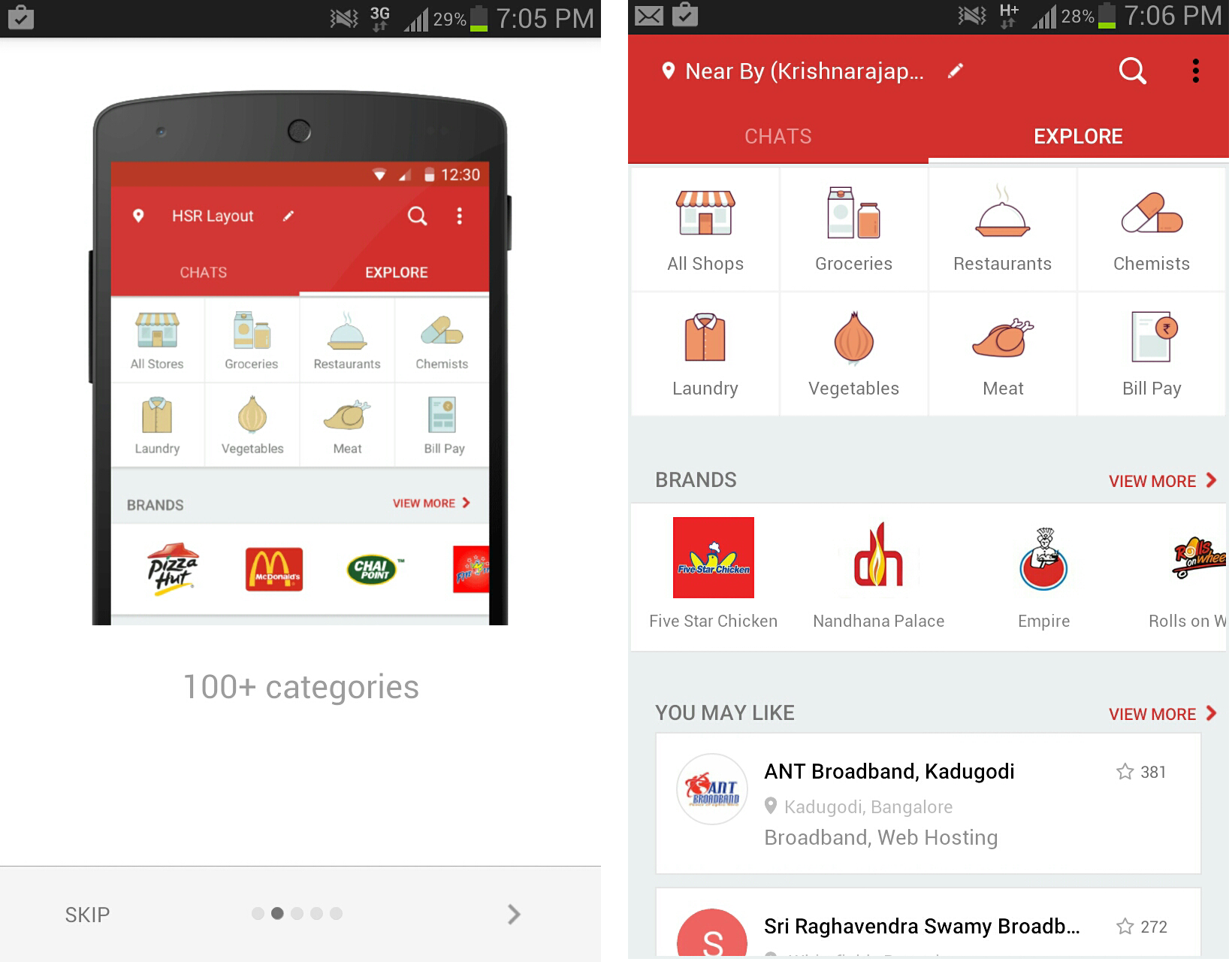 Payment : Payment can be done either via Card or Cash. Surely, the team at GoodBox would be working with the SmartPocket team for their in-house wallet integration that would result in better margins on every per-transaction.
Online Catalogue & Prompt Delivery : 100+ categories (Groceries, Restaurants, Chemists, Laundry etc) are present on the app. It has tied-up with major super-markets and local grocery stores in Bangalore (for the areas where GoodBox is currently operational). There are 10000+ grocery products and browsing (and comparing them with similar products) is very easy.
BESCOM Bill Payment : You can pay your BESCOM bill on GoodBox without any hassles. You need to just enter your Account ID to make the payment.
GoodBox : Detailed review
Once the user logs-in to GoodBox, it takes you to the home screen. You can now search for Businesses who are present on GoodBox (and available in your vicinity) via the 'Explore' button. What we really liked is that the Seller rating is also displayed along with the search, this results in making informed decisions since user does not have to go to 'Seller Profile' to check the rating!!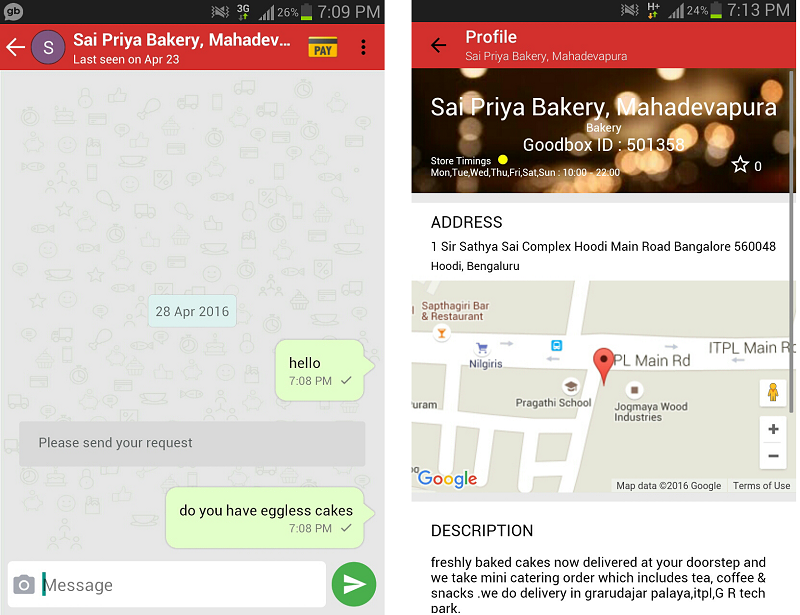 Once you have short-listed the seller, you can start chatting with them. In case if the seller does not respond in stipulated time (which is the average response time), the Reminder feature is turned ON. Once the user selects Remind, GoodBox would ping the seller once they are online. It is a very good approach so that the seller does not loose a prospective customer (which might result in customer retention).
The Seller Business Timings are also mentioned in the address bar that is necessary so that it is clear to customer whether any response from seller is expected (at that very moment).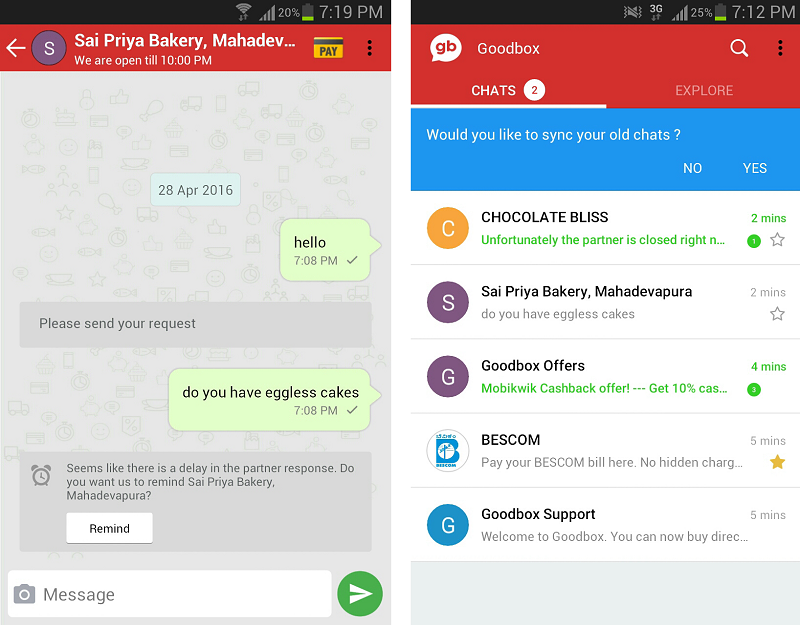 For the review, we ordered cake from nearby Cake Shop (that is listed on GoodBox) and the entire process was seamless. Payment was done using Mobikwik and delivery was prompt (within 30 minutes) & was fulfilled by the Cake Shop itself. Similar to Hyper-local businesses, GoodBox relies on Seller's logistics capabilities (if they have it) or might have tied-up with logistics providers that provide last-mile delivery (which is useful for sellers who do not want to own logistics).
GoodBox : Scope for improvement
Last online : When we searched for sellers, we noticed that there are many sellers who were 'last online on GoodBox' 2~3 months back. For the purpose of the review, we pinged them but there was no response from them (even after 30 minutes). On the other hand, some sellers did not respond even after having read the message!!
This might result in bad-customer experience and hence, it becomes primary for the GoodBox team to educate sellers about timely communication.
Pin Code suggestion : GoodBox is currently present in selected areas of Bengaluru. Hence, in order to target their next 'area of expansion'; it would have been better if a text-box was provided where customer could enter his/her pin-code. Once GoodBox is present in that locality, customer can than be notified about it thereby resulting in better customer stickiness.
Bar Code support : Similar to Amazon Dash, where user scans bar-code of the product and is prompted to add the product to the cart;  GoodBox can add support for bar-code scanner (in it's app) so that user can scan the bar-code and continue with the next step for completing the purchase.
Once product is searched, it can then list down the 'Sellers in customer's vicinity' making the entire cycle of 'Product Discovery and Purchase' more friction-less !!
GoodBox : Closing Thoughts
We liked the overall look and feel of the GoodBox app. The customer-facing app is very well-designed (we could not look into the seller-side app). The entire concept of interacting directly with business owners is very unique and saves lot of time in communication (which might not have been the case if an agent was involved).
As mentioned in their mantra, GoodBox is definitely taking "Buying from local businesses" a notch higher!! GoodBox for Android is available here, GoodBox for iOS is available here. If you have used the GoodBox App, please leave your experience in the comments section.