There has been a rapid transformation in each and every sector due to technology, much of which can be attributed to the advent of the internet. Though every device is becoming much more 'smart'er; be it the phone, refrigerator, washing machine, etc., there are still some devices/tools that are still very 90'ish and had to make the technological shift. One such tool is the Screwdriver and it was about time that the screwdriver also went smart along with a major design overhaul!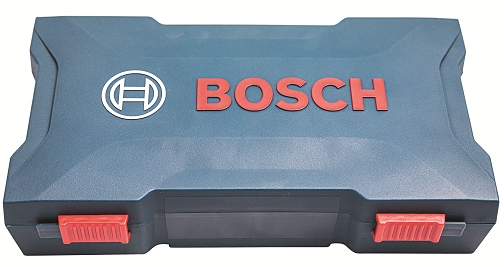 Today, consumers expect a smart device for an enhanced performance, longer lifetime, and faster charging cycles as well as compact designs. A couple of days back, Bosch Power Tools India, leading manufacturer and marketer of power tools for construction, woodworking, and metalworking industry, announced the launch of a smart screwdriver 'Bosch GO'. This new smart screwdriver combines all these features and is bound to boost engineering standards.
Bosch GO Smart Screwdriver
'Bosch GO' smart screwdriver is a perfect tool for screwing tasks, it is not only cordless but also has a very compact design that makes it very easy to use. 'Bosch GO' is the smart screwdriver where a simple push gets the work done and it's intelligent E-clutch system knows when to stop on reaching the target torque. The strong spindle lock closes the gap between manual and automatic operation helping users to stop impending work on demand.
Bosch GO is powered by a lithium-ion battery and is compact & easy to carry around anytime, anywhere. The tool is designed to be as close to the shape and size of a manual screwdriver in order to help the Indian user leapfrog from manual effort to effortless working with minimal discomfort. With the smart screwdriver, you no longer need to worry about the misaligned screws since it has excellent precision. 'A simple push, A perfect finish' perfectly suits the Bosch GO.
Advantages of the Bosch GO Smart Screwdriver
Compared to the normal screwdriver, this tool has the following advantages:
Powerful – Four times more powerful than the existing screwdriver
Intuitive – Intuitive operation style, just push to drive screws [Push & Go]
Precise – Intelligent E-clutch system stops when you want to stop
Lightweight – It is just 0.28 kg making it easy to carry and enabling hassle-free working for a long time.
Torque setting – The torque setting has six levels, 1 is for small screws into soft surfaces, e.g. Softwood. 2~4 is for standard screws & 5~6 is for big screws on hard surfaces, such as metal, teak wood, etc.
Features and Technical information of Bosch GO Smart Screwdriver
Developed with an extended UX approach and with a user-friendly design, it adds an aesthetic value to repair tasks. From tightening to loosening screws, this smart screwdriver comes with adjustable 5/2.5 Nm torque and the speed goes up to 360 rpm. The user can even use the product manually as it has a spindle lock that allows him to carry on the screwdriving operation without any hassle.
'Bosch GO' is powered by the 3.6V 1.5Ah in-built battery for longer run time and 90 mins of charging attains a full charge. 'Bosch GO' features new innovations that deliver unprecedented run-time and efficiency for any kind of application. It has a Micro-USB charging point and a 3-LED charging indicator. The screwdriving functions can be carried on with absolute ease due to the rotary brush plate that assists with the forward and reverse rotation.
To summarize, below are the major features and in-depth technical information of Bosch GO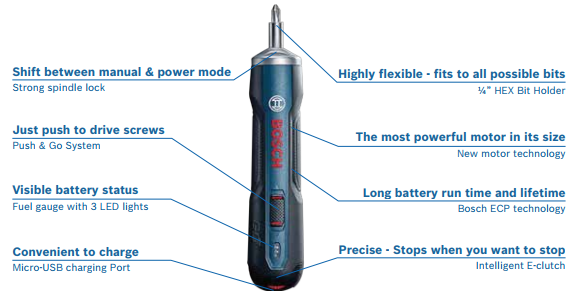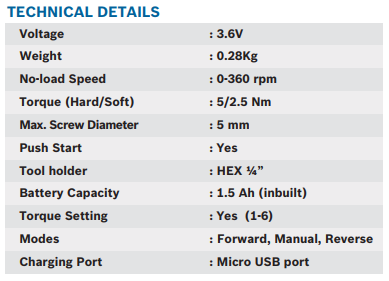 What's in the Box – Bosch GO Smart Screwdriver
The Bosch GO kit comes with the following:
Bosch Go smart screwdriver in a plastic case
33 pieces screwdriver bits
USB Adaptor and USB cable
Be it tightening door hinges, fixing electrical switchboards, repairing cycles, furniture installation, etc., with the smartness of Bosch GO you can now enjoy effortless & high-precision screwdriving 🙂
Bosch GO Smart Screwdriver – Pricing and Availability
Bosch GO is available on Amazon India and Flipkart at a price of Rs. 2,199 & Rs. 2,399 respectively. The retail price is Rs. 4,450 and the product will be available at dealer stores across India from October onwards. Customers can reach at 18004258665 & bpt@in.bosch.com