Each one of us wants to make our loved ones feel special 🙂 So what comes to our mind – Gifting, Holiday, Partying etc. But what if someone could make that "Special Day" or occasion unique & memorable!! This is where Oye Happy can come to your rescue.
Oye Happy is a startup that provides a unique platform for making special occasions memorable through gifts, experiences or even simple wishes of the day.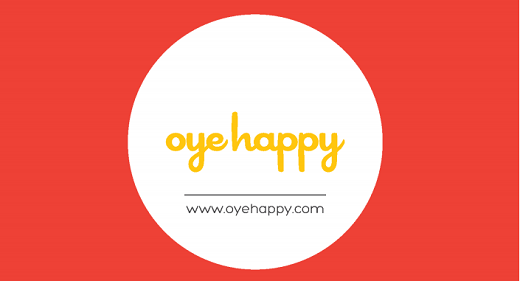 We caught up with Varun Todi & Harshvardhan Khemani, Co-Founders of Oye Happy who shared their thoughts on Oye Happy, Startup mantras & Entrepreneurship.
Note : "I" in the conversation refers to Varun Todi.
Can you give a small background about your start-up and it's founders?
I worked as a copywriter and creative consultant for several advertising agencies and Harsh was a strategy and operational efficiency consultant at KPMG before Oye Happy.  We are cousins.
Oye Happy was started as a passion project by us in 2009 while we continued working in our respective fields. It wasn't till 2014 that it evolved from a fun project to a serious business. We launched our e-commerce portal last year and soon grew into a team of 12 delivering surprises across the country.
Every idea is born out of a problem, what was the trigger of starting Oye Happy?
Harsh and I have always been great at making special occasions extra special for our loved ones. A friend once requested us to surprise her boyfriend at the airport as he was flying in from the US. We actually held a mock swayamvar to welcome him! We had a blast getting it together and they couldn't have been happier. This led to a whole bunch of similar requests coming our way from friends and friends of friends who wanted to pay us.
It didn't take us long to realise that the Indian customer had evolved. People don't spend enough time with their loved ones so the time that they do spend together, especially on special occasions, matters a lot. Buying a gift is a form of expression and people look for emotional connect in the gifts they get.
We noticed that unique experiences were valued much more highly than traditional gifts and various studies backed up our observation. People chose to create memories rather than invest in expensive material presents. Our surprises helped in building that connect in a way flowers and cakes simply couldn't.
How did your team come up with the name Oye Happy?
We considered a lot of names at first. We wanted it to be bigger than gifts or even surprises because, as we like to believe, what we're ultimately delivering is happiness. Harsh came up with "Oye Happy" and I thought it was perfect.
What are some of the unique services offered by Oye Happy?
At the moment we have two distinct products – our gifts and our experiences. These gifts are unique ideas conceptualised by our in-house product development team. We then create them ourselves and have it mass manufactured by external vendors or tie-up with professionals who handle end-to-end making of them. Experiences too are similarly conceptualised and executed.
This essentially makes the majority of our products unavailable elsewhere. Our customers are usually more than impressed with what have to offer considering they have never encountered similar services especially in India. You can treat your loved one to a play date with puppies, get a pani-puri stall set up at a chaat lover's doorstep and do so much more beyond the usual cakes and flowers through us.
Which are the cities where Oye Happy is currently operational?
We have delivered our gifts to more than 50 cities and towns since our launch. Our immediate plan is to have a physical presence in every metro to start offering the experiences as well since we have already gotten queries from across the country, including smaller towns for them.
Does it cater to enterprise segment or Oye Happy only caters to B2C segment?
Besides our retail operation, we have launched Oye Happy 'Excite' which are experience boxes for businesses. This will allow companies to gift a memorable experience to their employees and clients instead of conventional gifts. Employees can choose to do what interests them from a host of options like wine tasting, horse riding, Zumba classes, etc. available in the experience box.
What are some of the customer retention policies followed by Oye Happy as special moments for every person might be few.
70% of our repeat clients order again with us within 3 months of their first order. They do not necessarily employ us for special occasions that only involve their inner circle [spouse, best friends and kids/parents] but also beyond that like valued colleagues and relatives with typically lower cost products.
The key customer retention policy we have followed so far is only limited to good and prompt service. Even without customer referral or loyalty programs we have seen a steady increase in repeat and referral customers.
How does Oye Happy stake up when compared to other startups in more or less similar market segment?
We are the only company that not just creates our own unique gifts but also creates experiences. While companies like Giftxoxo, etc. are essentially curators, we go a step beyond by also creating products that fit our customers' need perfectly. What is currently and widely available in the market no longer cuts it for the customer and we constantly provide them with more options that are not otherwise available.
What are some of the factors that entrepreneurs should consider while naming their start-up?
Two important questions to consider would be – "Does this work for the brand I'm building and will customers be able to relate the name to the service I provide?" and "Is this a name my target audience will like and be able to recall?". And they should also probably ask themselves, "Is this a name I can repeat over a hundred times a day for a long time to come and not cringe?".  We're glad "Oye Happy" fit all three criteria!
What are the major changes that you experienced when paved your way into entrepreneurship?
Both Harsh and I were leading our teams in our respective workplaces before we started Oye Happy so running the show wasn't new to us. And as far not having a boss is concerned, we're still answerable to each other so it helps having a co-founder. You keep each other in check.
What are your key advice(s) to people who want to start-up?
The only advice we have for entrepreneurs is that they should be truly passionate about the industry they are getting into and to be able to admit it when they are wrong. If you're willing to invest several years of your life in an idea, you need to enjoy every moment of it and constructive criticism is always more helpful than blind agreement.
Can you give some pointers on Scaling Up & Customer Acquisition?
Every entrepreneur must acquire the first few customers themselves for proof of concept. It is imperative that the business grows organically in the initial stage through repeat purchases and word of mouth marketing for an objective view of your product in the market.
How important it for startups especially web, mobile to follow Lean Methodology?
The idea behind using technology aggressively is to make a business process-driven. Scaling up a business need not to be in proportion to scaling up the manpower. A company that follows the lean methodology from the beginning allows you to focus on perfecting the process without it being dependent extensively on manpower, especially applicable for startups that use web and mobile platforms.
Thanks Varun & Harsh for your time and sharing your thoughts with us. We hope that Oye Happy grows leaps and bounds to make 'Gifting' unique & memorable.
If you have any questions for Oye Happy or their founders, please leave them in the comments section…