NetApp, the data authority for the hybrid cloud, announced the graduation of its first cohort of six startups during the NetApp Excellerator Demo Day. Located in the heart of Bengaluru's technology neighbourhood, the NetApp Excellerator program is NetApp's first ever startup accelerator, designed to help enterprise startups to achieve  their full potential through mentorship with one of NetApp's largest R&D teams.

Ravi Madhira, CEO, Scalend Technologies, one of the startups graduating from the NetApp Excellerator, said
NetApp mentorship helped us focus our market research, and identify the right target market and target customers we could go after. Offering us the support of its large and experienced sales machine, NetApp made the program even more compelling. Our new-found status as a NetApp Alliance Partner has given us a sure foothold in the data driven enterprise domain.
The first NetApp Excellerator Demo Day event commemorated the completion of the first cohort, all six participating start-ups : Lightmetrics, Adya, Vaultedge, Vitacloud, Enclouden and Scalend, demonstrated their achievements & progress to venture capitalists, NetApp executives and prominent industry leaders present. Sports icon and entrepreneur, Anil Kumble, was the guest of honor for the demo day event held at the NetApp campus in Bengaluru. The event marked the culmination of the first cohort's technology and market acceleration journey. Now as alumni, the startups will have continued access to mentorship and go-to-market opportunities with NetApp, as well as eco-system connects. They will also share their experiences with startups in the future cohorts.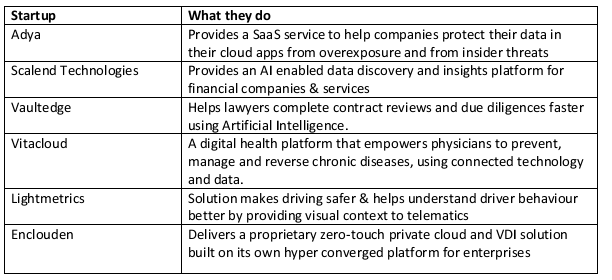 Ajeya Motaganahalli, Director and leader of the NetApp Excellerator program, said
With our rich history of innovation and expertise in data management, we have been able to provide the right mentorship, both technical and sales related, to the startups in our first cohort. We leveraged expertise from across NetApp to help the six best startups selected from the 250 applications received. In addition, we got them the best-in-class global industry experts to help them qualify the target markets better and supplement their technical capabilities.
Strong mentorship helps build credibility and confidence for the participating startups. For example, during their time in the program, one participant, Adya, raised an angel round of funding to the tune of USD 250,000.
Commenting on the program, Deepak Visweswaraiah, Senior Vice President & Managing Director, NetApp India said
Mentoring the start-ups in our very first cohort was a valuable learning experience for us. It allowed us to reconnect with the startup that we remain at heart. We will continue to support the startups through the NetApp Excellerator program and provide them with the best ecosystem to achieve success.
Applications for the second cohort are now open. Selected startups will receive technology and business mentorship as well as access to markets and investors to realize the full potential of their ideas and products in the global market place. Applications are invited from startups working in the areas related to IOT, cloud, big data and analytics, machine learning, virtualization, data security, storage and data management, and other adjacent areas. To know more please visit http://startup.netapp.in/
About NetApp Excellerator
The NetApp Excellerator Program has been designed to help start-ups create innovative world-class products and solutions that are market-ready. The program enables start-ups to use NetApp expertise and its ecosystem of partners, subject matter experts and customers to realize the maximum potential of their innovative ideas. Startups that are selected will have access to NetApp platforms and technologies, tools, co-working space, HR, marketing, legal and tech support. NetApp will provide an equity free grant of USD 15,000 to these startups upon completion of the program. The startups own their IP and NetApp would not seek a stake in the same. For more information on this program and to apply, please visit http://startup.netapp.in; follow #NetAppExcellerator