If you are on the lookout for All In One solution to Bill payment, DTH/Phone recharge, Online shopping etc. than Mobikwik could be the destination.

What is Mobikwik
As mentioned on Mobikwik website, it is a Prepaid wallet powered by Zaakpay [Payments gateway founded by Upasana Taku & also Head of Merchant Operations for Mobikwik]. Adding money to your wallet lets you pay for your services and recharges in just one click, or even via SMS or by dialling a number.
User can register via their website, Android App, iOS App or Windows App.
In this article, we review the "Mobikwik Android App" & look at some of it's interesting features …
Review of "Mobikwik Android App"
User Interface
The UI of the mobikwik app is simple & elegant. The color combination is very good. Navigating between different sections in the app is very simple. Just like other recharge applications available on the internet, in this app as well you can keep a track of "Recharge History", "Recharge Status", "Refund/Transfer status" etc.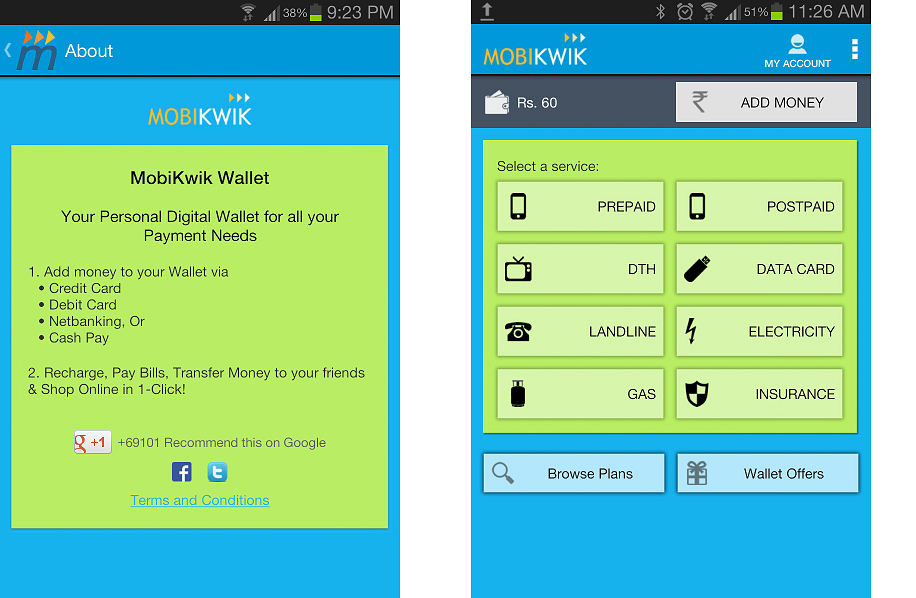 As mentioned before, user needs to add money to the wallet in order to use the services. For reviewing the app, we recharged the wallet with Rs. 100. The overall process of adding cash to the wallet was very simple & the entire transaction took around 20 odd seconds to complete. Once the wallet recharge was done, it took us merely 5 seconds to do our airtel online recharge
1-Click
As mentioned before, user can navigate through the "Recharge/Transfer history" so that "repetitive tasks i.e. recharging same mobile number" comes very handy & is a "great time saver".
Mobile Recharge & Transfer of money
Another feature which was interesting is "Transfer of money from the wallet to another mobile user/email-id/Mobikwik user". For testing the feature, we transferred around Rs. 50 from another Android Phone to our Mobikwik account for doing vodafone online recharge. Just like a banking transaction, the initiator receives an OTP [One Time Password] to complete the transfer. The transfer was smooth & completed within few seconds !!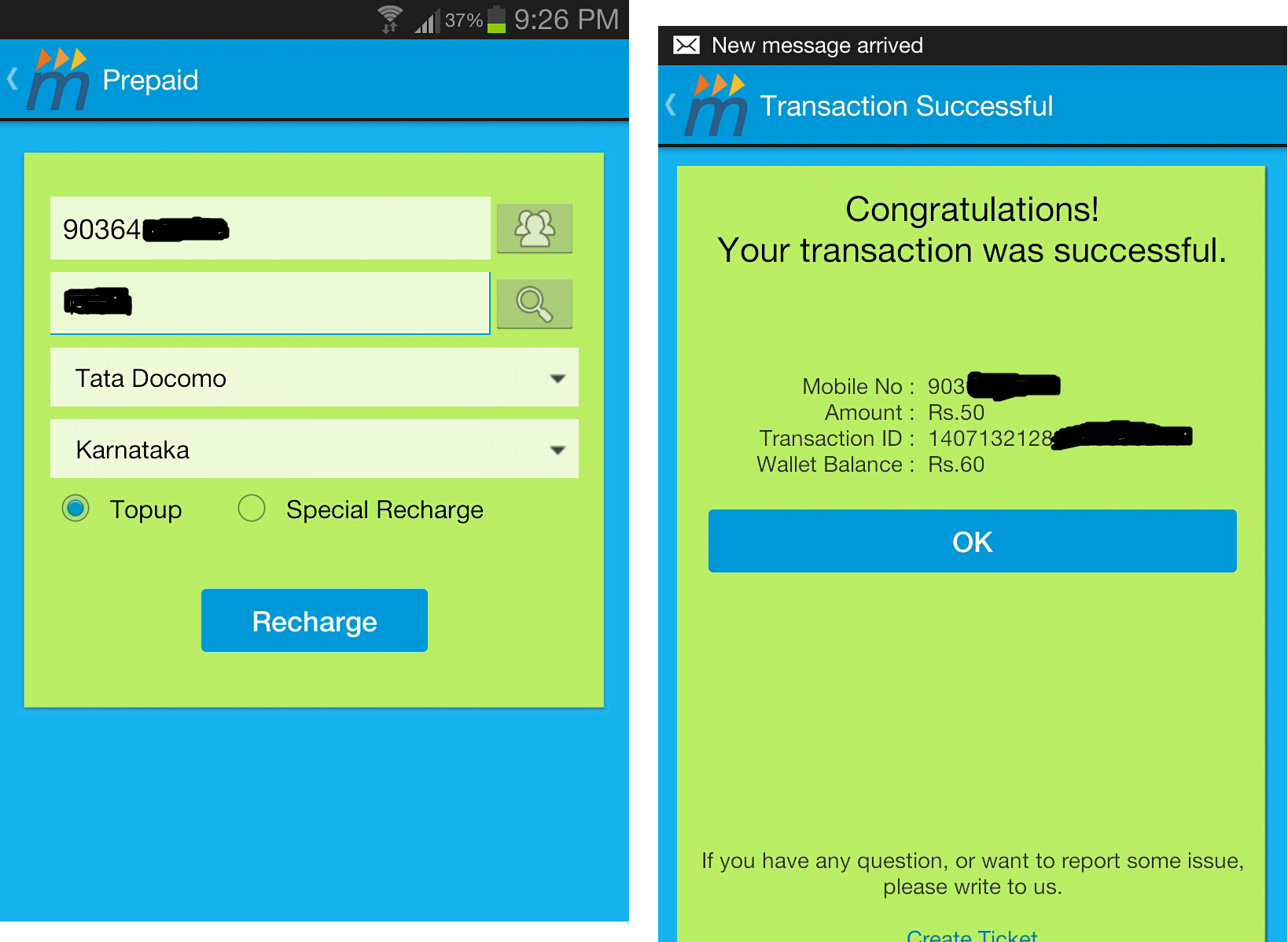 Email snapshot & Mobile Update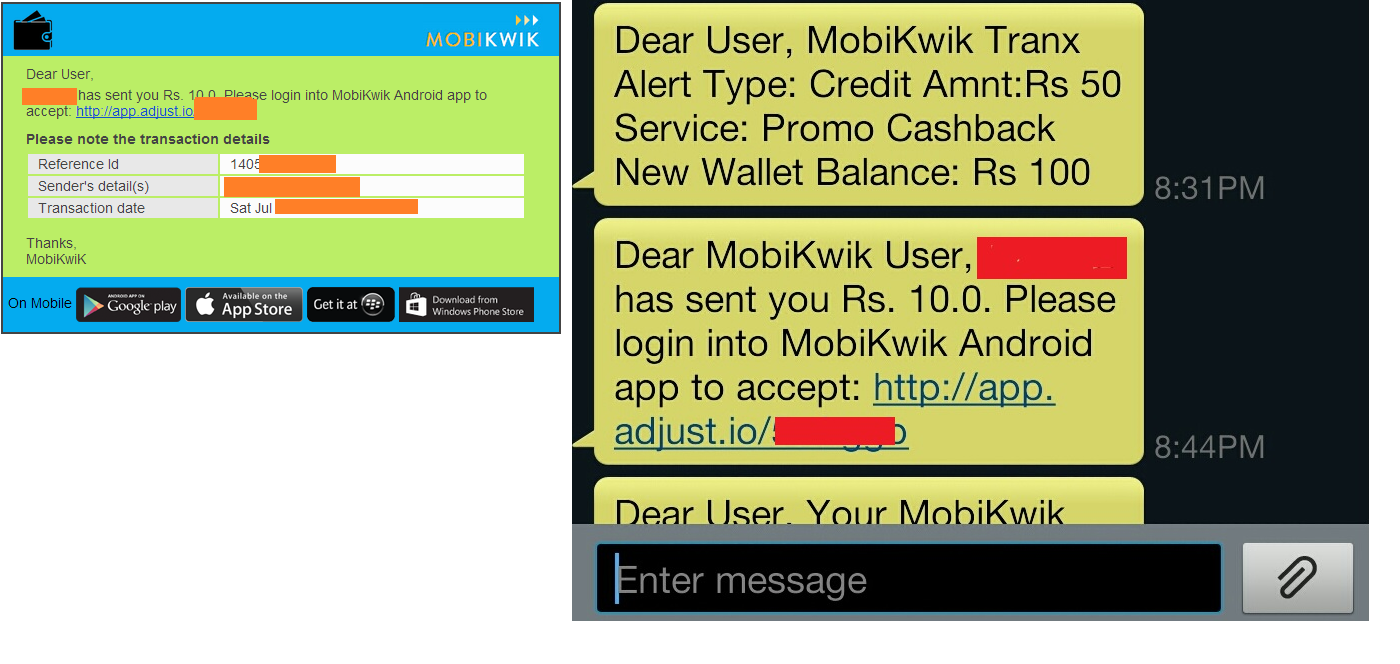 Improvement Areas
Mobikwik is primarily a "Digital Wallet Based Application" that facilitates bill payment, recharge etc. but there are couple of features which we still feel are missing:
1. Direct recharge

Recharging Phone/DTH without maintaining balance in the wallet i.e. direct recharge option is required. This feature is available in other recharge applications like Paytm, Freecharge etc.
2. Added perks

It would have better "more appealing" if Mobikwik could provide user's with perks on every transaction i.e. discount coupons from e-commerce companies, deals etc. There is a "Deals" section in the app but we could not find only limited number of merchants… may be it is work under progress 🙂
3. Special Recharge
For special recharges eg. 3G recharge pack [all packs apart from top-up's] Mobikwik does not come handy !!
Closing Remarks
Keeping improvements aside, Mobikwik is very user-friendly, simple & handy application [my favorite feature being money transfer which I have been using it very frequently since the time I installed Mobikwik :)]
Do give Mobikwik a spin & share your experience in the comments section …