How many of us out there in the crowd have the following feeling:
"Sigh, I am in the wrong profession"

"After engineering, I wanted to go into Web-Development but I am currently working as an Embedded Engineer"

"I should have been an Entrepreneur instead of working in an organization"
When I completed my engineering [and that too not from a well-known college & I only played Cricket :)], the only aim each one of us had is " To have a STABLE JOB in TCS/Wipro/Infosys irrespective of the kind of work that might be assigned" without knowing what we wanted from life after Engineering !! And as you might have guessed, I was not selected on any of these companies from Campus !!!
On a lighter note this post is not about my "Life History" [and surely readers would be least interested in it
] but to stress the point that "What if as STUDENTS, we would have received proper GUIDANCE from industry insiders i.e. If you need Entrepreneurial guidance, you would turn to an Entrepreneur/ If you want to work in a startup, you would be turn to a startup employee";  Mantra being "Turn for an advice/guidance to someone who has been there, done that !!"
"Become An Engineer not just an Engineering Graduate" by Mr. Sivakumar Palaniappan is a book that acts as a "Holy Grail" for engineering students/fresh engineers.
About the author
Sivakumar Palaniappan is an Author, Motivational Trainer, Key Note speaker, Career Coach & Happiness Consultant, a hands-on engineer who has worked in companies like NXP, Qualcomm etc.
Detailed Review
"Become An Engineer not just an Engineering Graduate" is written with the aim of encouraging engineering graduates to be passionate engineers, help them enhance their employability potential & enable them to sculpt their career as an engineer. Please note, it is not a placement guide but it is a culmination of research done by the author through analysis of engineering education, discussion with placement officers, HR managers, parents etc. & trying to solve a pain-point – "Don't be an Engineer for the heck of it but be a PASSIONATE engineer".. doesn't this sound like the 3-Idiots dialogue "Beta kabil bano kabil, Kamyabi to sali zak mar ke tumhare piche ayegi.." [Source - Galmsham]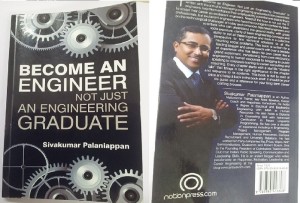 Is this book for "YOU" ?
The book [Around 150 pages] is a breezy read with the message that "the reader i.e. engineer/student" should act on the tips. The book is structured in a nice manner where every chapter starts with a "Student Tale" i.e. a real-life incident that triggered the need for that particular chapter.
The book acts as a guide for "would be engineering students" to select the right stream of engineering so that when they are done with engineering, their interest/hobby also becomes their "profession". Every chapter ends with a "Mantra" so that the reader can bring the "words" in each chapter into "formidable action".
Key Chapters
As mentioned above, right from basic things like "Why choose an Engineering Degree" to "Why be a Student Entrepreneur"; the book tries to answer those tricky questions. Some of the notable chapters from the book are:
Chapter (5): Why should I develop a Useful Hobby - Having a USEFUL hobby [not sleeping, watching TV etc.] is very much important and you never know when your hobby becomes fulltime profession when you are bored of your day job.
Chapter (8): How to do What I Love to Do -
Choose a job you love, and you will never have to work a day in your life – Confucius
10 steps approach to do what you love to do:
Find your passion
Find your finances
Find your core strengths
Find your weaknesses
Focus on your strengths & improve upon your weaknesses
Have the commitment
Don't ignore the present
Get ready to give up
Have a strong belief in yourself
Have a big dream
Chapter (10): How to Use the Power of Social Media in Career Crafting
We don't have a choice on whether we do social media, question is how well we do it - Erik Qualman
5 ways to use Social Media for Career Crafting
Use the power of top three social sites i.e. LinkedIn, Twitter, Facebook
Build a positive online identity
Learn through social media
Demonstrate your expertise & credibility
Use your online presence effectively