Happn, the hugely popular dating app which helps daters find people they have crossed paths with have today unveiled an innovative new element to their app – happn map.

Launched in India in 2016, happn has been a huge hit with people on the lookout for romance, particularly in cities, as it uses geo-location to help individuals crush with those they have walked past in the street, sat next to on the train or spotted from afar who appear on their easy to view timeline. But now, the interactive mapping feature will give individuals the opportunity to tap any location they have visited over the past seven days and see other individuals on the lookout for love.
So – you remember crossing paths with someone that took your fancy three days ago, but you haven't seen them since?  If you remember where, in a matter of seconds, just open the mapping feature, click on the location and see if they appear as the location of all happners you have crossed paths with over the past seven days will appear.  For example – if you were at a concert, a sporting event or a bar – he or she can find others at the same event – or within a 250 metres radius – and immediately have something in common!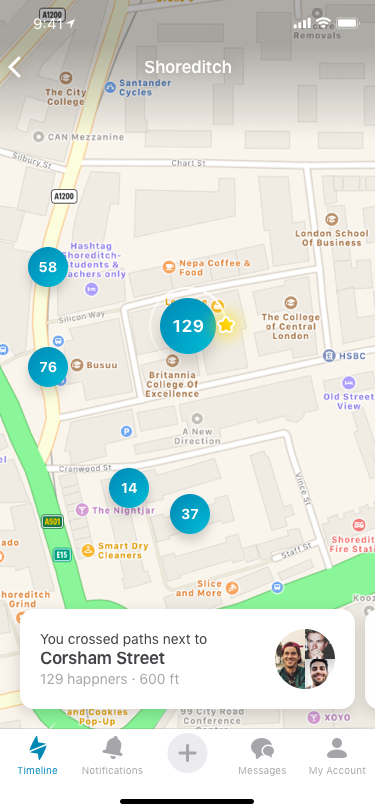 The launch coincides with the announcement of happn having 50 million users worldwide which founder Didier Rappaport describes as 'an incredible achievement for the team'.
Didier Rappaport, CEO and Co-founder – Happn, said
The crossing of paths between two people has always been the DNA of happn. With happn map, we go further in our promise by separating the dimensions of space and time, because time flies, but places stay still!  The profiles are no longer only sorted in chronological order and in real time but also according to your place of geographical crossings.
The new timeline we launched in spring quickly appealed to users as we saw a significant increase in their activity in the app.  However, we felt something was missing – the possibility of having an over-arching view of people you have crossed paths with is a massive win that we hope will be very popular.  Scroll your timeline or explore the map – it's your choice!
happn is constantly evolving depending on the needs of their users.  Earlier in the year happn launched a new version of its timeline that allowed for more prominent and easier to read profiles while last month they announced a new 'invisibility mode' feature that gives users the freedom to make their profiles invisible during certain points in the day – something that has proved hugely popular in the workplace! The new mapping feature will use the same geo-location data that happn use already to help individuals scroll through their timeline.