Technology and businesses are changing at a rapid pace and enterprises have to be more agile in accepting changes and challenges. Companies like Nokia and Kodak that were once considered torch-bearers in their respective businesses were outpaced by their competitors since they showed resistance in adapting to change. The same thinking is also applicable to managers, leaders, as well as employees in an organization. This is where 'agile thinking' or an 'agile mindset' can make a huge impact on the growth of any business/organization. One of the biggest challenges that enterprises are facing today is how to deal with disruptions arising from fast-paced change. This change is largely driven by technological innovation to the extent that it is forcing enterprises in every sector to put technology to the core [Tech@Core] of their business.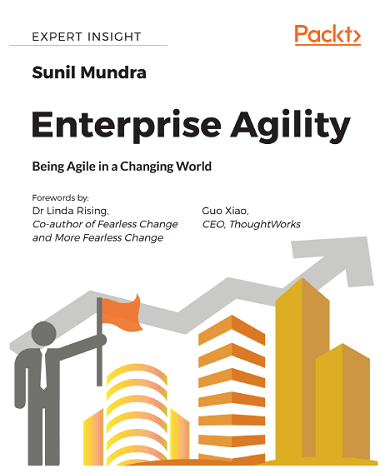 The change is so disruptive and fast that no enterprise regardless of its age/size can take its survival for granted. Hence, enterprises modeled after 'mechanistic systems' will struggle to deal with fast-paced change. 'Enterprise Agility' is the solution that will enable enterprises to deal with the fast-changing environment, but more importantly, to leverage change for competitive advantage and customer delight. This is the basic premise of Sunil Mundra's book 'Enterprise Agility – Being Agile in a Changing World' that shows how an enterprise can address the above mentioned problems and thrive in a dynamic business environment. We earlier had a detailed interaction about Agile, his insights into Enterprise Agility, etc.; you can find more details here.
About the Author
Sunil Mundra is a Principal Consultant at ThoughtWorks with decades of consulting experience, working with some of the world's largest enterprises. He has helped organizations tackle their most urgent business challenges and has worked with senior executives to shape and execute their roadmap for change. You can learn more about Sunil through his LinkedIn profile.
Enterprise Agility- Detailed Review
Before we deep-dive into the details of the book. It is very important to have a look at the sentiment of agility as mentioned in the Agile Manifesto – Agility is the ability to both create and respond to change in order to profit in a turbulent business environment. In order to understand agility, we can have a look at a scenario where 'Your car is sent for servicing and neither Uber/Ola is available. Your end-goal is to reach the office'. You either take the approach of car-pooling or use an altogether different transport system like the Bangalore metro to beat the traffic. This is where 'Agile Thought-Process' kicks in, where you have to come up with options, evaluate their pros and cons, and shortlist the best possible transport option [taking into account parameters like travel time, distance, cost, etc.]. This is a simple example of how an individual can deal with uncertainty, and the impact of 'Agile Thinking' becomes multiplied when organizations have to deal with change. This is where 'Enterprise Agility' by Sunil Mundra provides a step-by-step guide to facing and accepting uncertainty head-on. There are a lot of subtle comparisons in the book to drive interest and engagement. One such example is the comparison of 'agility' or 'enterprise agility' to the human body. Below is an excerpt from the book where the author draws that comparison
The approach of enterprise agility must be based on treating the enterprise like a living system, say a human body, rather than treating it like a machine, such as a car. When the machine slows down or breaks, the relevant part of the machine can be fixed or even replaced. However, if the overall health of a human being is not good, it can rarely be cured by just fixing a specific part or parts of the body.
Similar to the example mentioned above, the book talks about mechanisms to achieve optimal agility at the enterprise level, taking the key stakeholders – people, processes, organization structure, governance, technology, customers into consideration and how they can be enabled/leveraged to achieve enterprise agility. The book is partitioned into different sections as mentioned below

Let's have a detailed look at each of these sections
Part 1 – This section examines the challenges of fast-paced change both from an opportunity and threat perspective. It also showcases how the capabilities underlying agility can help the enterprise to leverage change to its advantage.
Part 2 – This section examines the three foundation blocks of enterprise agility namely; modeling the enterprise of a living system, mindset, and culture and leadership. This section provides a lot of insights on how to migrate from a close-ended system to becoming a living system. It also sheds light on how leaders in an enterprise can maneuver the mindset and promote a culture of agility in the organization.
Part 3 – This section examines the critical components of an enterprise – organization, structure, process, people, technology, governance, customer, and patterns on how to unlock and enhance the agility of these components.
Part 4 – This section is helpful for managers and leaders who manage distributed teams and technology partners. It also shares insights on how to leverage them for enhancing enterprise agility.
Part 5 – The concluding part of the book provides a framework/action plan on how the learning can be implemented in the specific context of an enterprise.
The overall organization of the chapters in the book is uniform since it follows a common structure – Significance, Inhibitors to agility, Enablers of agility, and further references. The book provides detailed insights into Complex Adaptive Systems [CAS]
Complex Adaptive Systems are complex in that they are dynamic networks of interactions, and their relationships are not aggregations of the individual static entities, that is, the behavior of the ensemble is not predicted by the behavior of the components. They are adaptive in that the individual and collective behavior mutate and self-organize corresponding to the change-initiating micro-event or collection of events.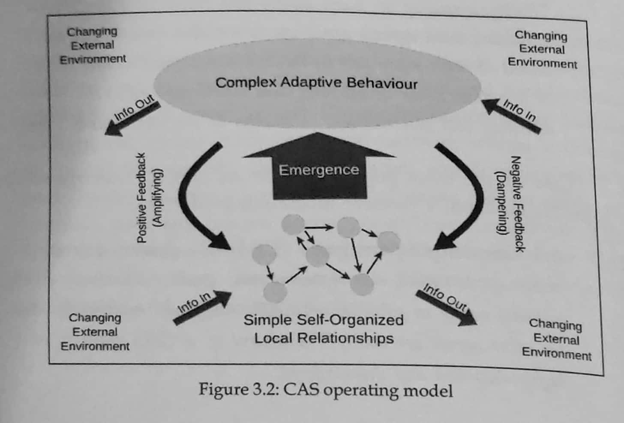 Some of the key characteristics of CAS are
Continuous evolution
Autonomous and self-organizing agents
Agent's interactions influence system behavior
Agent's behavior is driven by purpose
Variety as a source of strength
Agents are the change-makers in the CAS and CAS behavior is driven by inter-relationships, interaction, and inter-connectivity of the agents within a system and between a system and its environment. The table below highlights the summary of the implications for businesses, which are derived from the characteristics of a Complex Adaptive System [CAS]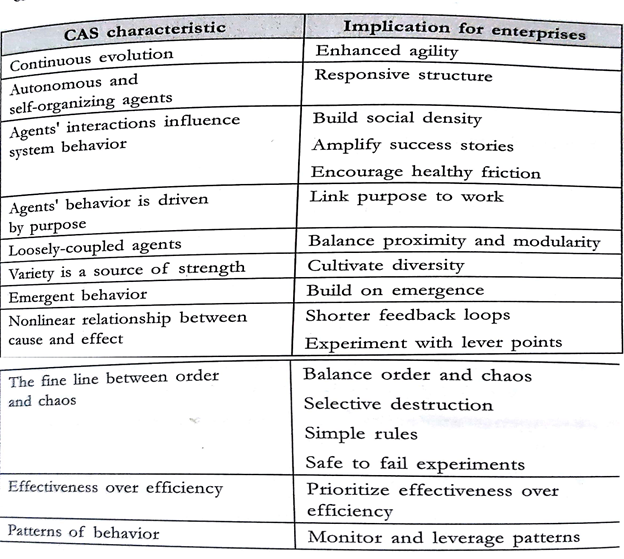 Some of the key-takeaways from Sunil Mundra's book 'Enterprise Agility' are
Drive agility-oriented change across the enterprise.
Understand why agility matters [more than ever] to modern enterprises.
Adopt and influence an Agile mindset in your teams and in your organization.
Understand the concept of a CAS and how to model enterprise and leadership behaviors on CAS characteristics to enhance enterprise agility.
Understand and convey the differences between Agile and True enterprise agility.
Create an enterprise-specific action plan to enhance agility.
Become a champion for enterprise agility.
Recognize the advantages and challenges of distributed teams, and how Agile ways of working can remedy the rough spots.
Enable and motivate your IT partners to adopt Agile ways of working.
Unlike other books on Agile and Agile Methodologies, Enterprise Agility by Sunil Mundra deep dives into the concepts of organizational agility with apt examples and well-developed framework for leaders. The author illustrates how to transition from Agile to agility at scale and sustain it to delight customers. The most interesting part about the book is that author Sunil Mundra has come up with learnings and examples based on his experience in delivery and consulting.
Target Audience
The book is apt for C-level executives, delivery managers, enterprise and leadership coaches, or any person who has influence in enabling change within an organization. The learnings from the book can be used by executives, irrespective of the size and scale of the organization.
You can buy 'Enterprise Agility: Being Agile in a Changing World' by Sunil Mundra from here.
Have you read 'Enterprise Agility'?, please leave your key-learnings in the comments section…