Ather Energy, India's first locally designed and manufactured intelligent scooter brand, has added additional subscription plans for the Ather 450 & 340, based on the success of Ather One, the complete hassle free ownership plan. The new plans will offer more flexibility to the customer to choose services of their choice based on their usage. Public charging at AtherGrid will remain free till 31st of December 2019 for all Ather customers.

Ather One, Ather Energy's flagship plan, will continue being available, and customers will enjoy its free services for a year from their date of delivery. Ather One has been designed to manage all the hassles of the current automobile ownership. The plan covers all expenses & scooter maintenance, including data charges, public fast charging, home charging expenses, periodic service including consumables and roadside assistance.
Upon completion of their the first year, customers will be free to migrate to any other plan of their choice. Since flexibility in choosing services basis usage and individual preference was a pertinent ask, Ather Energy's new plans will cater to requirements on demand. Ather scooters being intelligent mobility solutions, data will be a constant feature across the plans that will help the auto company understand individual's ride, scooter's health, riding conditions and subsequently, push over-the-air updates, provide ride recommendations and run services like navigation.
For individuals intending to pre-order from today, Ather Service plan will be applicable for free for a limited period. Free Ather One plan for pre-order customers stands discontinued from 31st October, 2018.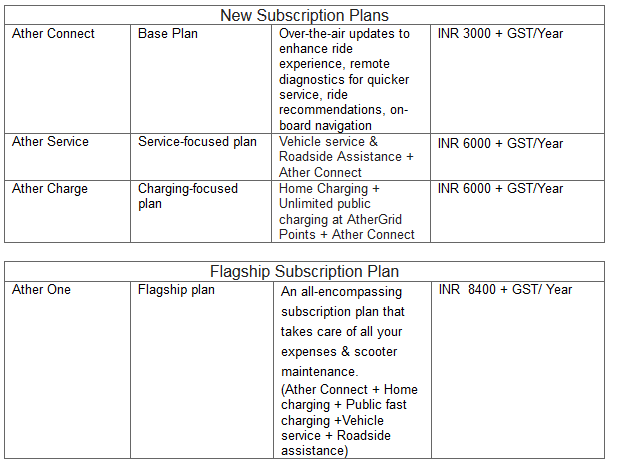 About Ather Energy
Co-founded in 2013 by IIT Madras graduates – Tarun Mehta and Swapnil Jain, Ather Energy is one the few automotive startups in India. The company has designed India's first truly intelligent electric scooters – Ather 450 & Ather 340 and is backed by the founders of Flipkart, Tiger Global and Hero Motocorp. Ather Energy has filed 43 patent applications along with 11 international patent applications and 122 design registrations of their products that have been designed and made in India.