Technology is having a far-fetched effect on every aspect of our lives, whether it is shopping, communication, transport, banking & finance, manufacturing, etc. Every sector is positively impacted with the advancements of technology including the 'Education' sector. When we talk about Education, the thing that comes to mind is school, books, rote learning, assignments, etc. but gradually schools are also embracing technology in order bring a fun & interactive flavor to the traditional learning approach.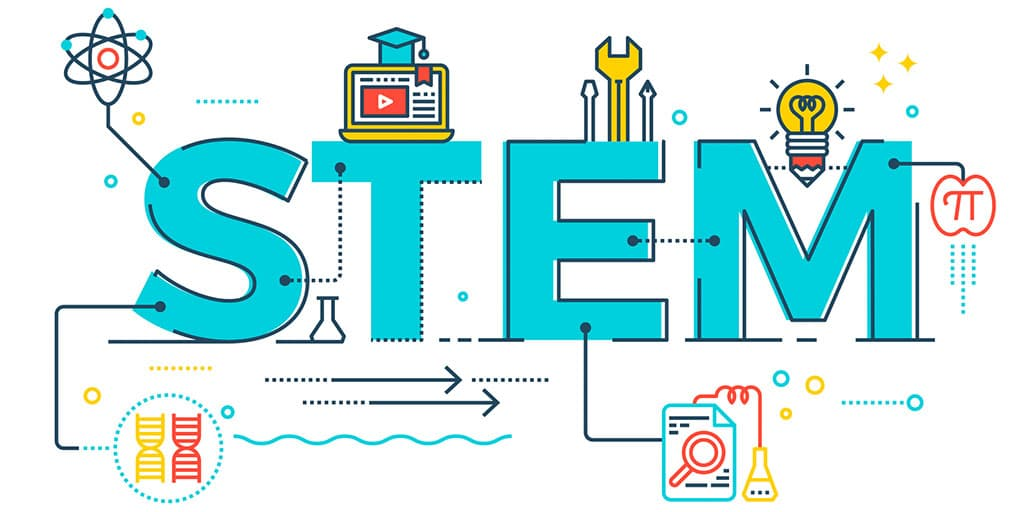 Before mobiles, computers, tablets, etc. became mainstream, students were primarily judged by their marks, but that could have also been achieved by doing rote learning. But now, kids have access to many more avenues from where they can acquire knowledge due to which the traditional learning approach has shifted from 'Rote Learning' to 'Application based (practical) learning'. Traditional schools are definitely not going away, but the key-stakeholders in the education eco-system namely, students, teachers, parents, have come to realize that 'The best learning can often be self-taught'.
In the next 30 years, according to UNESCO more people worldwide will be graduating than since the beginning of history. Adding to this effect of technology on work, demography & explosion of population is changing the employment picture drastically.
– Sir Ken Robinson, Jan – 2007

To succeed in this new information-based and highly technological society, students need to develop their capabilities in STEM to levels much beyond what was considered acceptable in the past.
STEM Education – Building new India
With fast changing times, STEM education & DIY based learning approach is gaining more popularity in the educational space. STEM stands for Science, Technology, Engineering and Mathematics. STEM education is gaining more popularity with each passing day and the specialty about STEM education is that these subjects are taught as cohesive subjects instead of  independent ones. Unlike the traditional class-room approach, where the flow of information is mainly one-way [from teacher to students], the STEM based approach follows hands-on and project-based approach. In a traditional learning approach, students compete with each other to get better grades which is a 'competition based methodology', whereas STEM follows 'an amalgamation of competition-collaborative approach'.
It is more experimental, fosters learning, creativity as well as team-work. Since it is experimental, kids also get a chance to experience 'failure' which is an important step in the journey to success. Just like the industry is slowly shifting its direction to more DIY [Do It Yourself] and MOOC [Massive Open Online Courses] in order to ensure that working class employees are updated with the current trends, the STEM style of education also ensures that students get a chance to work on things that they like and collectively learn via the DIY method.
Western countries have acknowledged the importance of STEM education and have taken significant steps towards inclusion of STEM in their education system. At India level, 'Atal Tinkering Lab' [ATL] program by Government of India is the first significant step in the direction of STEM education in India. Parents are also recognizing the need and engaging their child into various STEM programs such as robotics, electronics making etc.
As per a report by Indeed.com, India's STEM talent sees shortage despite maximum graduates. The average level of shortage of skilled talent in India has risen from 6 per cent in January, 2014 to 12 per cent in January, 2018 in the STEM sector. Shift towards higher education will not only give a boost to STEM sector, but also help expand India's contribution to the global talent pool.
Indeed's data also indicates that job seekers in the age group of 21~25 show 12 per cent more interest in STEM jobs than in any other sector.
To summarize, whether STEM education can be integrated as a part of the main curriculum is a point of discussion, STEM definitely helps in nurturing our kids for the future & in the process make them employable [and not just educated] for jobs of the future. It also helps in creating talented innovators, scientists, engineers, etc. which is the need of the hour for a rapidly-developing country like India.
STEM Education – Challenges and Road Ahead
While STEM is important, schools or parents face number of challenges while implementing STEM via electronics, robotics and automation.
Just to name a few, need of skilled teacher/mentor, availability of right electronic components, risk posed by activities such as soldering, wiring etc. This could hinder limit school activates in STEM area.  Add to that compatibility of component and availability add to the difficulty.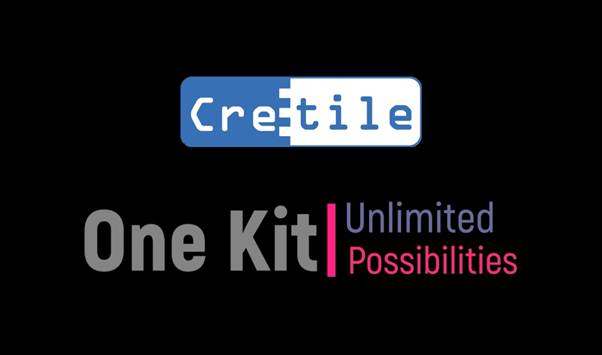 Due to these factors, the Edtech sector has been grabbing attention from entrepreneurs as well as investors. Whether it is about online tutoring, MOOC, skill development, differentiated learning, test preparation, etc. ed-tech still provides a huge opportunity [Source]. MakerInMe Technologies, a Bengaluru based startup aims to create a dent in the STEM education market with it's modularized electronic kits, also called as Cretile.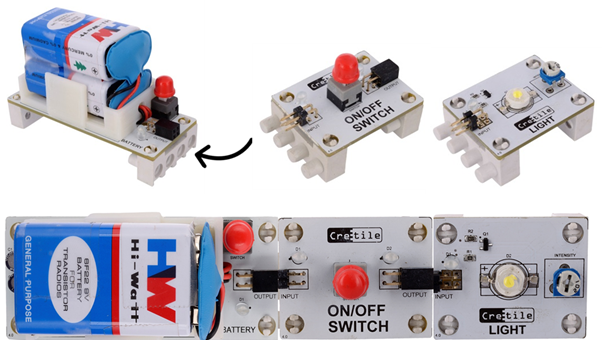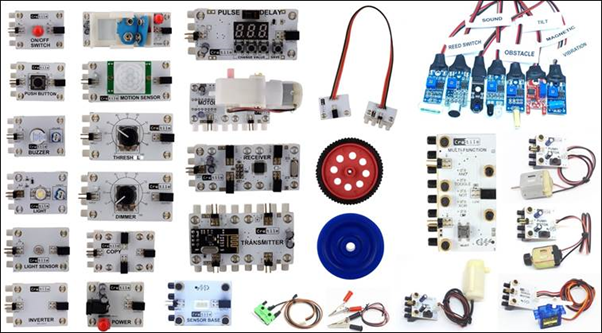 Cretile is a kit of modular Electronics, Robotic & IoT modular building block. Cretiles are like 'LEGO' of electronics/robotics world making an excellent tool for STEM Education. With its super-easy patent pending technology, one doesn't need any wiring, soldering. To begin with, you do not need programming skills. You can connect Cretiles to each other like building blocks and they start to work.
Cretile has an exhaustive set of building blocks. With its 35+ building blocks You can create virtually unlimited combinations. Typically any kit claims a certain number of projects that can be done using it. With Cretile, you can build any number of projects. Your creativity shall decide what Cretile can do for you.
To help you get started, Cretiles has its own YouTube channel where a large number of projects are showcased. As a next step, Cretile also enables you to learn programming very easily. It comes with Arduino® based programmable block called ProLogic. To program this block, it provides an easy to use drag-n-drop programming environment. With it, child can easily learn to code without having to worry about syntax of a programming language.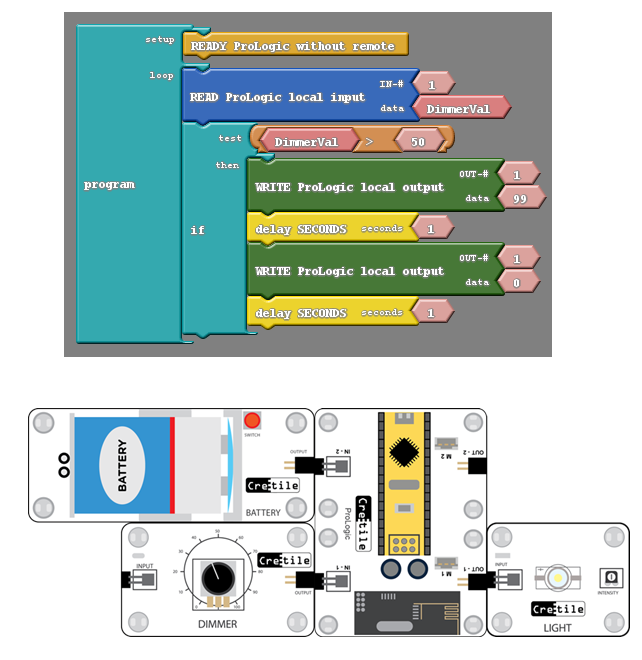 Cretile projects need not restricted to the boundary of the box. It offers SmartSwitch with which you can control your home appliances too. e.g. If you want to switch ON a table lamp as soon as you enter the room, Cretile Motion sensor and SmartSwitch can do the job for you.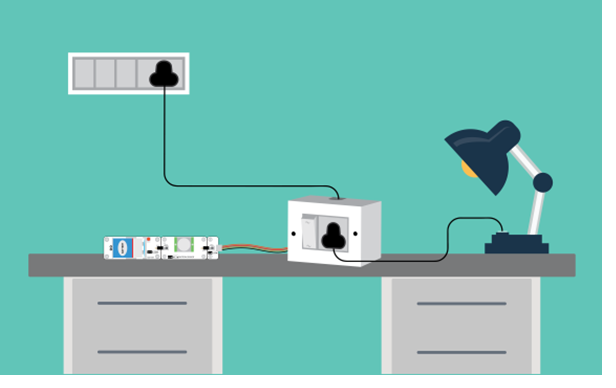 Some of the sample projects are listed below
Automatic Motion sensor based light control
Automatic night lamp using light sensor
Burglar Alarm
Switch ON/OFF appliance automatically after a certain time
Open the door and switch ON the light
Moisture sensor based irrigation system
Programmed irrigation
Operate any appliance e.g. Table Lamp with a TV Remote
Clap and operate an appliance
For college going students, Cretile is an excellent rapid IoT prototyping tool. Cretile is also being integrated to Android Development platforms.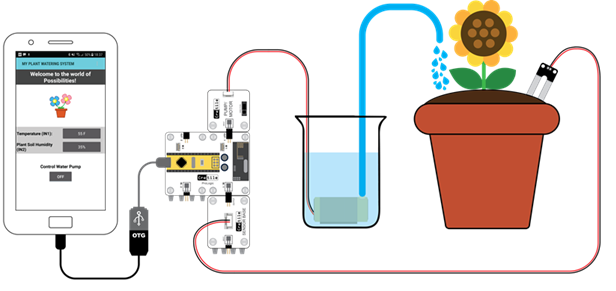 Cretile APIs are integrated with MIT's App Inventor. With App Inventor you can build Android Apps easily and quickly and control Cretile via these applications.
Summary
Cretile is an excellent STEM education tool that should be in the hands of every child. It offers numerous benefits over traditional making.
With Cretile, you get the following benefits-
Learner gets early results. This keeps the learner highly motivated.
Highly Reusable.
No hazard risk associated with soldering or wiring.
Programming skills are not essential.
Start with fun project and use it all the way for serious engineering projects.
With Cretile, we can Engage students in STEM education early in the cycle. With it, we can align their skills to industry step by step over the course of education.
Cretile addresses needs of all the age groups – the exact same product can be used right from middle-school students all the way up to engineers.
Most importantly it is also very affordable kit. The starter kit [Explorer Kit] is available on Amazon at just Rs. 2599/-, needless to say with excellent customer feedback.