There is a very famous saying when it comes to investing – Risk & Rewards are two sides of the same coin and just like every person has some personal & unique traits, investing is also personal as it depends on investor's age, his assets & liabilities, dependencies, etc. Many investors take a very 'conservative approach' to investing as they perfectly fine getting steady returns on their investments as these investments are less-impacted by market volatility e.g. Fixed Deposits, Post office schemes, etc. The other category of investors take a slightly 'aggressive approach' since they are well-informed about the local & global investment scenarios & possess a more 'long-term vision' when it comes to executing their investments.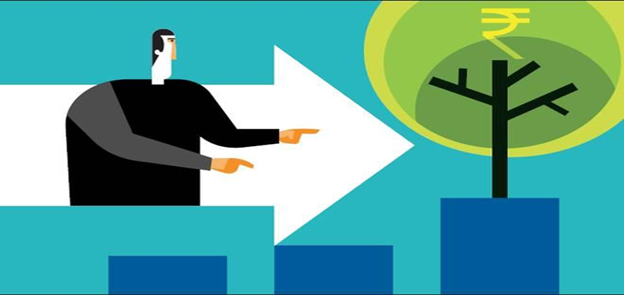 Mutual Fund is one such investment vehicle which has been gaining popularity amongst investors as it is less risky than investing directly in stocks, with returns that can be significantly higher when compared to traditional investments. The #MutualFundsSahiHain campaign initiated by SEBI & AMFI has driven interest from many investors who are willing to invest in Mutual Funds for 'long-term wealth creation'. There are different types of Mutual Funds – Fixed income funds, Growth Funds, Money market funds, Equity Funds, Growth Funds, etc. and each of them has varied investment strategies and cater to a varied set of investors. Growth Funds are called as 'Blue-Chip Mutual Funds' and today we have a close look at the same.
What are BlueChip Mutual Funds
Unlike other categories of Mutual Funds where funds might be invested in small-cap or mid-cap companies, in BlueChip Mutual Funds the investment is done in select large-cap companies that have established business models and a proven financial track record. Some of the BlueChip companies are Tata Motors, Reliance, Infosys, ICICI Bank etc.

Portfolio of large-cap/BlueChip stocks comprise of large-cap companies from diversified sectors and are selected by experienced fund managers. Even in adverse market scenarios, BlueChip stocks are capable of generating profits for its investors since they have been in business for a long time. ICICI Prudential BlueChip Fund [earlier called as ICICI Prudential Focused BlueChip Equity Fund] is one such fund that has an AAUM [Average Assets Under Management] of Rs 17,496 Crores [as on 30th June 2018]. It is an open-ended equity scheme that predominantly invests in large-cap stocks. Below is the performance of the fund since last one year, an indicator that it is able to manage steady performance even in turbulent times.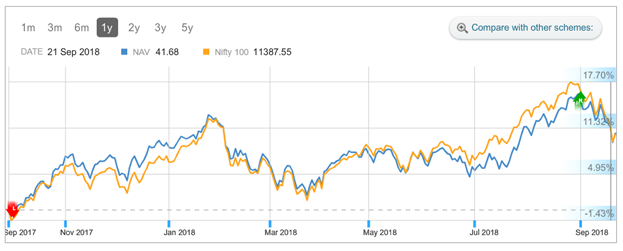 Why invest in BlueChip Funds?
Though different funds follow different guidelines, there are some BlueChip Mutual Funds that also invest in mid-cap companies. From an investor's perspective, BlueChip funds are more suited for investors who have a moderately high-risk appetite and are in the market for long-term wealth creation e.g. retirement planning, higher education for children, etc.
By investing in the scheme, investors get an opportunity to get some of the best minds in the country [who are running these BlueChip companies] to create wealth for them. For example, ICICI Prudential BlueChip Fund follows a 'Buy and Hold' approach and takes exposure in high conviction stocks with an aim to generate alpha. The scheme follows a benchmark-hugging approach where the portfolio is diversified and the investment is made across different sectors. The fund aims to Make big companies work for you so that you can create wealth in that process!
Though Bluechip stocks have high price/share, they are normally considered a safe investment option as they remain largely unaffected by an economic downturn and are less volatile. Even in today's times when the entire market is on a downturn, BlueChip stocks are still consistent in performance. This makes BlueChip funds a worthy investment for wealth-creation.
BlueChip Mutual Funds – Worth the hype?
So far we have discussed BlueChip Mutual Funds, but you might ponder whether it is the right fund to have in your investment portfolio? Let's have a look at 'Why' in BlueChip Mutual Funds.
Risk Diversification
Any investor would want his portfolio to be more diversified so that his investments are not affected by the impact on 'one particular sector'. BlueChip Mutual Funds are the ideal way to diversify your portfolio and also mitigate risk.
Dividend
You would follow any BlueChip stock e.g. ICICI, Reliance, Infosys, etc. very closely when they have their Annual General Meeting' as most of the companies also declare dividend at that time which is passed on to their retail investors. As BlueChip Mutual Funds invest in such large-cap companies with a proven track record, they also reap good returns. Hence, Dividend becomes an additional income-source/bonus when it comes to these funds. Below is the snapshot on how ICICI BlueChip Mutual Fund generated dividends for its investors. As seen from the snapshot, in order to diversify risks & generate good returns, it has invested funds in companies catering to Technology [IT], Energy, Telecom, Housing, etc. [Source]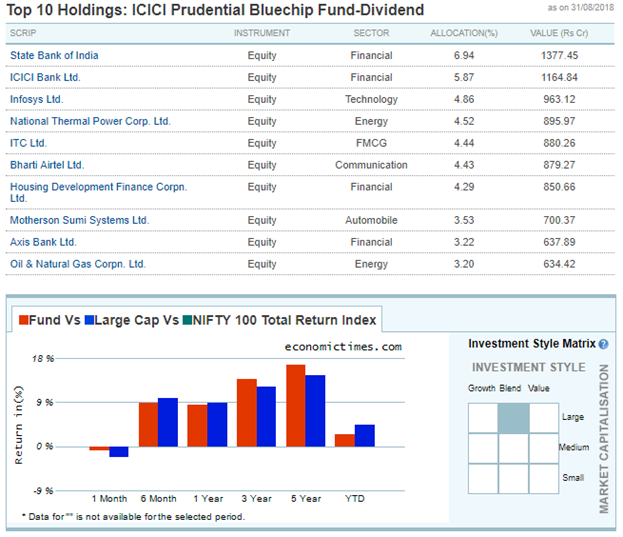 Steady Returns
As BlueChip companies have a strong & experienced management team, they are able to show consistent performance thereby showing increased investor confidence. Hence, investors in BlueChip Mutual funds can expect consistent returns from their investments as BlueChip companies have a significantly low debt-to-equity ratio.
These factors summarize why BlueChip Mutual Funds are here to stay and a very good investment option for retail investors. ICICI Bluechip Mutual Fund is one such investment option that has been ranked number 2 in Large Cap fund category by CRISIL [quarter ending June 2018)] and investment gurus are recommending to stay invested in the scheme due to its consistent performance [Source]. Below are some of the features of the ICICI Bluechip Mutual Fund.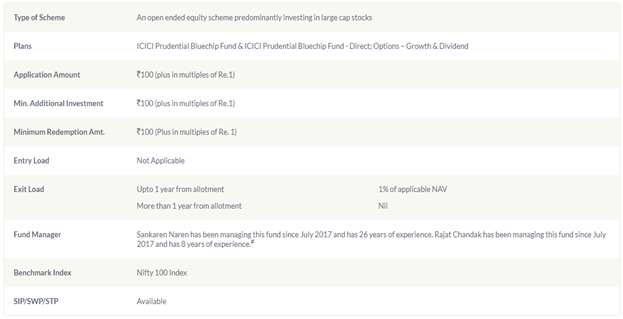 Conclusion
If you are an investor looking at long-term wealth creation and do not want to invest directly in stocks, BlueChip Mutual fund is an excellent investment vehicle to diversify your portfolio to generate good returns.
Note – Mutual Fund investments are subject to market risk. Please read the offer document carefully before investing. The author has come up with the article based on his knowledge and investments made in mutual funds.