Your brand is what other people say about you when you are not in the room – Jeff Bezos
Completely agreed! I know several startups who have created an attractive website, their business is located at prime location, they spent a good amount of money on digital marketing, they are owning a team of skilled staff but still waiting for calls from customers. Is it happening to you too ?
If your answer is a big yes, don't worry! You are at the right place. But before diving into the article, remember what Jeff Bezos has said. According to him, it's all about your brand. Your brand represents your business and reputation. So, be sure to have a good one.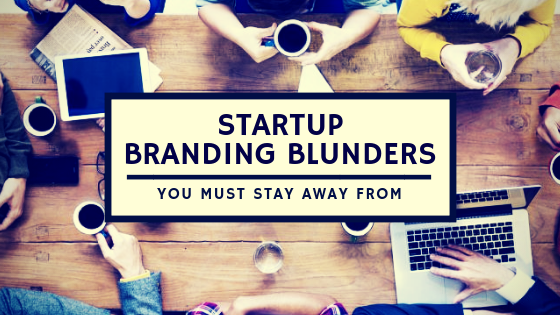 Many people argue that they already have a good and attractive logo, what else is needed in branding? Do you really think having a good logo is enough for the branding? No, definitely not.
Here I am going to mention some common startup blunders that businesses are making and how one can fix it.
Blunder #1 – Inconsistency
What is the color of the logo of social media giant Facebook? Blue, right? Did you ever see Facebook using its logo color as red in any of its marketing campaigns? No, I am sure. Consistency is very important in building a brand. If you are using yellow as your logo color on the website, keep it yellow everywhere. Otherwise, it confuses users and perhaps they won't be able to recognize your brand at a glance. Inconsistent branding can lead to customer confusion and a high bounce rate.
Solution – Be consistent. Be consistent with your designs and brand color. It will not only help you in building brand image but also provides recognition.
Blunder #2 – Replicating competitors
This is another blunder that most of the startups make. It is good to know and research what your competitors are doing but copying exactly their marketing strategies lead you to a pitfall. Understand first, you are in the starting stages of your business. You don't have enough capital like your already established competitors to spend a lot on everything. It is also possible that their marketing styles and trends will not work for your business.
Solution – Do a good competitor research, try to understand what they are doing in promoting their business. But don't copy everything from them. Don't try to replicate their marketing styles in hope of getting better results. You can also try some DIY. Tools like Canva help you create your own visual identity.
Blunder #3 – Marketing it everywhere
Do you join every function you are invited to? Certainly not. Likewise, every marketing platform is not a perfect place for showcasing your products. Just because, your company's name can be somewhere, you started posting everywhere. Representing your brand at wrong places can directly affect your branding campaign.
Solution – Research and figure out what are the best-suited places for running your marketing campaign. Don't try to be present everywhere.
Blunder #4 – Ignoring social media
Today, everybody has gone online. Even a 10 years old kid is hanging out with friends on several social media platforms. Social media has enormous power. Businesses, politicians, and everybody is seeking the help of social media in promoting their brand name. One can't ignore the power of it especially startups should be more active on such social media platforms to reach out to the targeted audience. They are the best platforms to build your brand value.
Solution – Be active on social media platforms. Figure out which one works best for you out of a lot. Not every platform is of use to you. Post offers, spread awareness and post attractive contents regularly.
Blunder #5 – Neglecting the power of analytics
Do you really think posting and commenting on social media platforms is enough in branding? It is not. If you ask any digital marketing expert, he will explain to you the importance of analytics. The analytics will help you in knowing which type of content is driving more traffic than other.
Solution: Always have an eye on analytics. With the help of analytic tools, you should know what type of content you need to post and who is your targeted audience.
These are some blunders that most of the startups are making while building their brand. Try to avoid such mistakes and show your customers your real value. Build a brand in a right way. Don't forget Jeff Bezos.
Don't make these mistakes and before doing anything, do analyze your business well.
About the Author
Kavita Paliwal is Independent Marketing Analyst and Blogger. When not glued to her laptop, she can be found making travel plans that rarely happen. Connect with Kavita on Twitter & Linkedin