Who isn't into riding bikes these days? Riding a motorcycle is the new cool. It's not only the millennial that are attracted towards bike rides but even the people who have crossed their 30's love to hit the road in style. Choosing the right bike for you is a tough affair. No doubt, there are so many of them available in the market, but picking the ideal one for you needs some research. Also, keep in mind to buy a good two wheeler insurance policy for your new bike.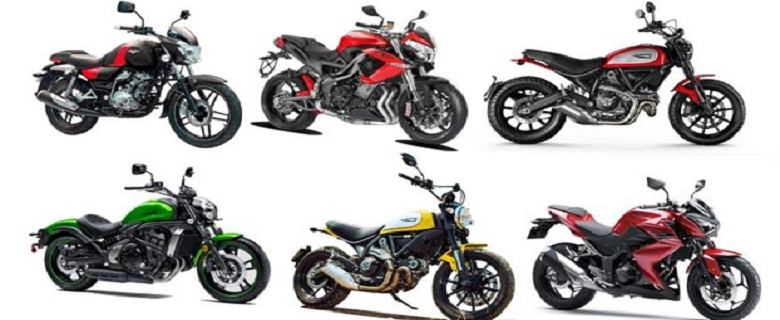 Here's a list of different types of two wheelers you can choose from
Standard
Also known as 'naked motorcycles', standard bikes boasts an upright riding position with low to mid-range bars and mid foot controls. These bikes are usually equipped with a longer, flatter two-up seat and feature a single headlight with no fairing. The upright position helps the riders to maintain a comfortable position while riding.
Also, they have moderate-size engines and user-friendly design, which make them an ideal option for new riders. You can ride them to work, load them up with gear for a long trip, and even take them to a track for quick high-speed fun.
Cruiser
If cruising city streets on a sturdy, low-slung machine is your dream, then cruiser is the perfect pick for you. Taking inspiration from the design of Harley-Davidsons, these bikes flaunt a low seat height, torque-rich, V-twin engine, fat rear tire, high handlebars, and forward foot pegs. Cruisers are incredibly comfortable to ride but are not ideal for beginners who are going to ride at higher speeds for an extended period of time.
Dual-sport
Dual-sport bikes are available in a wide range of size, style, and colour. They are referred to as dual-purpose bikes as they can be used as both on- and off-road motorcycles. These bikes combine long-travel suspension with a powerful motor, which makes them suitable for both off-road and long distance riding.
Also, they feature high seats and a high centre of gravity that contributes to better handling on rough ground. Dual-sport bikes are similar to dirt bikes with mirrors and lights. Thanks to their small engines and lightweight frames, they make an excellent choice for a new rider. Just make sure you can straddle the bike with both feet planted on the ground.
Touring
Scratch away your travel itch with none other than touring bikes. They are also known as dressers and are specifically designed for long-distance riding. With bigger engines, large fuel tanks, and lots of carrying capacity, these bikes will take care of all your travelling needs while on the go.
These bikes offer riders with a comfortable, upright seating position, which makes them perfect for globe-trotters. Equipped with high-end technologies, touring bikes are expensive and require a lot of maintenance.
Sports bike
Packed with the latest and greatest technology, sports bikes are optimized for high speeds and acceleration. These bikes are equipped with sophisticated suspension systems and high-performance brakes.
Featuring high foot pegs and long reach to the handlebars, these bikes are perfect when riding into the wind at higher speeds. However, at lower speeds, these bikes can be tiring because they put more weight on a rider's hands and wrists.
Sport touring
What do you get when you mix the comfort and carrying capacity of a touring bike with the handling and looks of a sports bike- a sport touring bike. These bikes have aerodynamic fairings, detachable hard luggage, and a lot of horsepower.
Sport touring bikes are bulkier than sports bikes and lighter than touring bikes. They offer a more relaxed seating position and are often big, heavy and sturdy.
Now that you have learned about different types of bikes, it's the time to purchase one for yourself. But, don't forget to insure it with comprehensive two wheeler insurance as it is mandatory to protect your bike before hitting the streets. Also, to avoid unforeseen circumstances, buy two wheeler insurance now.