Bengaluru-based CoinSwitch, a multiple cryptocurrency exchange platform has partnered with four leading crypto-assets exchanges, across the globe. The association will make available the offerings of Live Coin, Cryptopia, Hitbtc and KuCoin to the Indian users. By its extension, digital assets available at these platforms will be up for grabs for Indian crypto traders and investors.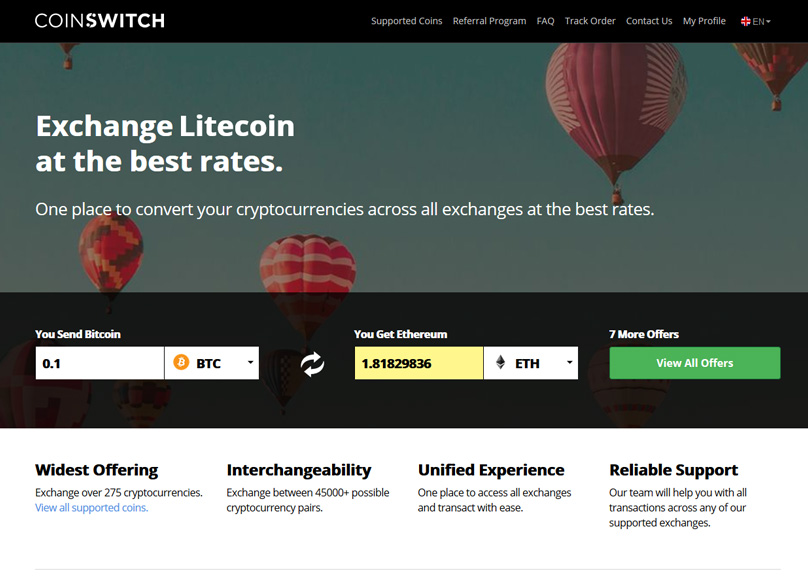 As an exchange aggregator platform, CoinSwitch allows Indians to participate in the global phenomenon of cryptocurrencies and blockchain technology. Supporting over 100 cryptocurrencies in India and 300 across the globe, CoinSwitch hosts daily transactions worth more than USD 1 Million. With the entry of these four globally leading exchanges, the aggregator platform aims to offer further ease, convenience and choices to Indian crypto enthusiasts.
Commenting on the latest development, Ashish Singhal, Co-Founder & CEO of CoinSwitch said
We started CoinSwitch with a vision of making it easier for everyone to transact in crypto-currencies, bringing in transparency and trust in these transactions. To the same end, we are glad to partner with four of the global leaders crypto exchange platform and provide our Indian users with more investment alternatives. At CoinSwitch, our users can expect parity with the international standards and find easier alternatives to bank upon the growing wave of cryptocurrencies.
With the latest development, CoinSwitch users will enjoy a truly world-class experience. For instance, Live Coin is multi-cryptocurrency exchange supporting both, newcomers and experiences digital assets traders. Cryptopia is a powerful exchange supporting over 400 global crypto assets. HitBTC is a world-renowned exchange, allowing users to transact in Bitcoin, Ethereum, Monero, Zcash and others, while KuCoin supports Bitcoin, Ethereum, Litecoin, Monero, ZCash and more. With the addition of these exchanges, Indians at CoinSwitch will also be able to trade in Tron, EOS, Zilliqa and BAT [Basic attention Token], Request network, and a lot more.
About CoinSwitch
Headquartered in Bengaluru, CoinSwitch is a blockchain-based cryptocurrency exchange aggregator platform that supports transactions in over 100 cryptocurrencies in India and 300 across the globe like altcoins, tokens like Bitcoin [BTC], Ethereum [ETH], Ripple [XRP], Litecoin [LTC], etc. Given its diverse offering, CoinSwitch.co has been driving daily sales volumes upwards of USD 1 Mn.
CoinSwitch aggregates multiple exchanges, facilitating transactions in all coins that are available with partner exchanges. Users can easily compare the price across multiple exchanges and opt for the best bargain. CoinSwitch further allows users to convert their existing crypto-assets into other pairs, supporting over 7,000 currency pairs in India and over 45,000 across the globe.