KaHa, a Singapore-based end-to-end smart wearable IoT platform company, has launched a concept smart wearable body and wellness-monitoring T-shirt prototype developed in partnership with SIMTech. KaHa has been working alongside SIMTech as a key strategic technology and supply chain partner for the research institute's latest Collaborative Industry Project [CIP] on Smart Apparel Innovation. This CIP program, focusing on Flexible Hybrid Electronics [FHE], aims to accelerate the adoption of advanced technologies to tap the huge potential of smart wearable electronics and help enhance the local smart wearable manufacturing ecosystem.

The global apparel market currently stands at US$3.6 billion [S$4.4 billion], and the latest IDTechEx Report forecasts the global wearable tech market to reach US$160 billion by 2025. Singapore's Smart Nation initiative is designed to develop key pillars of growth, with wearable tech being one of them. The rising global demand in wearable tech and apparel dovetails with Singapore's building of technological and strategic capabilities to propel the nearly 130 manufacturers in the country and apparel manufacturing industry ahead of emerging competition around the world.
KaHa is one of the few companies globally that provide customizable end-to-end smart wearable IoT solutions which offers flexibility for launching smart networked devices and a one-stop solution for brands to bring exciting smart wearables to their customers. The successful demonstration of the smart garment prototype alongside KaHa's other wearable products and solutions, builds a promising foundation platform for Singapore's nascent smart wearable ecosystem.
The smart apparel prototype will be showcased today to over 200 attendees at the CIP's Kick-off Seminar for the second batch of CIP participants. The event is attended by garment manufacturers for international brands, companies from the electronics, consumer lifestyle, healthcare, hand tools, apparel, textile and fashion industries. The first batch of 10 CIP participating companies started in February 2018.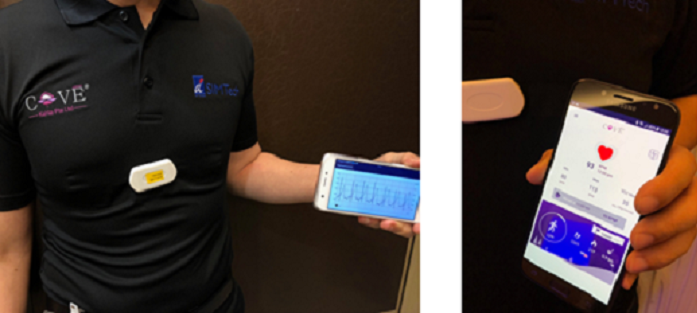 Over the next five months, KaHa and SIMTech will help bring businesses to the forefront of understanding cutting-edge wearable technology and their applications, and help create prototypes that incorporate smart apparel technology into consumer products. KaHa as the CIP's strategic partner will help guide local manufacturers, brainstorm for application ideas, and partner them to spin-off the prototypes for the manufacturer's desired product, such as footwear or for customized use in nursing and healthcare. Adoption and adaption of KaHa prototypes and technologies reduce the initial go-to-market time as well as research and development costs for manufacturers. 
Wirelessly Weaving the Foundation of a Robust Smart Apparel Ecosystem
Co-developed by KaHa and SIMTech, the smart apparel prototype has printed Flexible Hybrid Electronics which captures body vitals and transmits it to a detachable Smart Module on the apparel. The module cleans the data, which is then shared with KaHa's IoT platform to be analyzed.
It monitors heart rate and automatically alert users when their individual maximum prescribed heart rate reaches 80%. It also tracks electrocardiography [ECG or EKG], and VO2 Max [maximal aerobic capacity], and can be extended to cover other biometric data such as blood pressure and breathing patterns – which will have wide-ranging applications, for example, from sports performance to health and wellness and uniforms for specialized industries such as construction.
Pawan Gandhi, Founder and CEO of KaHa, said
Wearable technology is becoming invisible and incorporated within clothing, jewellery and across all wearables. By becoming inconspicuous and seamlessly weaving it into everyday life, we are bringing the Internet-of-Things to consumers at an entirely different level. In the case of sportswear, this will help people reach their full potential in fitness performance and wellness. With this prototype T-shirt as concept, we open the door to many possible applications beyond sports apparel.
We are excited to share and explore the various possibilities with garment and apparel companies as well as various other manufacturers, and work together to commercialise technologies faster and more cost-efficiently, and rapidly bring benefits to the consumers. We welcome development in technical and specialist uniforms as well, for instance creating a bio-feedback circuit for safety monitoring. We can also see application of smart wearable technology into other sectors such as fashion, healthcare, consumer lifestyle and electronics.
Dr Lim Ser Yong, Executive Director of SIMTech, said
The Collaborative Industry Project initiatives assist Singapore industry to accelerate the adoption of technologies and create innovations in a disruptive global markets. By pooling together resources of small and medium sized enterprises in Singapore and supporting them with innovative capabilities, SIMTech and KaHa gear industries to meet future challenges and capture new markets.
About KaHa
KaHa is the parent company for brands such as COVE and COVENET, unique end-to-end IoT wearable platforms. The company's leadership team is passionate about the consumer journey, and the platforms have been developed to achieve rapid innovation and learning through data analytics to provide innovative use cases and exciting user experiences. The platforms include electronics design, printed circuit board assembly, application framework for iOS and Android, cloud services, data analytics and smart after-sales service tool. This makes the COVE and COVENET, platforms a one-stop solution for large brands to bring exciting smart wearables to their customers. The platforms enable several services verticals to be incorporated into smart wearables. For more information, please visit KaHa