One thing that makes Bengaluru [formerly Bangalore] unique from other cities in India is the awesome climate and the greenery, but that differentiation seems to be dwindling very fast. There was a time when you would not even need to switch on the fan even during summer, but lately the temperatures have been higher during winters as well. Huge amount of urbanization in the city [which could have resulted diminishing amount of greenery], rising population [due to the opportunities it provides to the IT engineers], increasing number of apartments [resulting in a concrete jungle] and Global Warming are some of the factors that have added woes to the rising temperature in the city.

Energy Savings – Need of the Hour
The scene is no different in other cities in South India where they experience a high amount of humidity, due to which the residents require Fans/Air Conditioners to be constantly running to keep themselves cool in the scorching summer. However, constant use of these equipments adds up to the overall electricity costs and since Air Conditioners require much higher voltage, they might not function when your house/flat is getting power from the generators. Though air coolers have become a source to maintain cool temperatures, they can never replace the age-old reliable 'Fan'. It is a known fact that operating the ceiling fans could keep the room cool, but operating them at higher speeds results in more noise and disturbance. Higher speeds mean a significant increase in the power consumption.
Due to these factors and changing customer demands, the overall ceiling fan market is inching towards the super-efficient ceiling fans due to the push of Bureau Of Energy Efficiency, India [BEE] for super-efficient appliances in India. By saving some electricity by using smart appliances, we can do our bit in contributing to the noble initiative of Pradhan Mantri Sahaj Bijli Har Ghar Yojana [SAUBHAGYA] that aims to connect thousands of villages with power.
Electric Fan Market in India
The electric fan market is broadly divided into the organized and unorganized category where the organized segment is largely dominated by the Indian companies where the unorganized segment is led by the Chinese competitors. The revenues for organized electric fan market are growing with a CAGR of 12.29% from the last five years.
Higher disposable incomes, increased availability of continuous power & a faster shift to the organized sector has propelled the electric fan market in India, with much of the growth has been through organized players now as consumers move towards branded and more technologically efficient fans [Source]. With the central government's push towards 'Electricity For All', a significant amount of effort and money is spent in marketing & distribution by the companies to reach their every expanding rural customer base.
In terms of revenue share, South India is the largest market followed by the West and North. Due to this, companies in the Fan Market are making a conscious effort to listen to the changing market demands & consumer's requirements, particularly in the Southern part of India.
Orient Electric, a significant player in the Ceiling Fans & Home Appliances category has some interesting findings on the customer's needs in South India:
Major parts in South India have a huge amount of humidity where air-coolers do not work effectively, due to which there is an increasing demand for Table Wall Pedestal [TPW] fans along with the normal ceiling fan.
Though there is no load shedding in many parts of South India yet there is an increasing number of power cuts [especially during the rainy season and sometimes in the summer season as well].
TPW Fans that are available in the market provide high air-flow but also make a lot of noise causing disturbance. They also consume a huge amount of electricity.
Wind Pro Series – Fan with High Performance, Less Power Consumption
Based on the customer inputs mentioned above, one thing was clear that there was a pressing need for a TPW Fan that could deliver high air-flow with low-noise and consume less electricity than its existing counterparts. All these requirements needed to be achieved without compromising on the quality and reliability.
The answer to all these requirements is the recently launched 'Wind Pro Series' by Orient Electric.
Features Overview
The current breed of portable three blade high-speed fans available in the market may have higher RPM but give out lesser CMM of air with lesser thrust and come with lots of noise. To counter this problem, Orient Electric has launched its 5 blade Wind Pro range of portable fans which delivers 95 CMM of air delivery with high thrust and has far lesser sound levels and also consumes less power.
A unique combination of Motor and Impeller.
More Air thrust, 20% lesser power consumption and improved thermal overload protection that other High speed fans.
Refreshing white body with stellar looks.
Performance Overview
Wind-PRO has the highest air velocity or Air Thrust; it is 26% more than normal speed fan and 5% higher than a high-speed fan.
Air Delivery also is highest for Wind-Pro fan; it is higher by about 16% than normal speed fan and by about 4% higher than a high-speed fan.
In terms of power consumption, wind-PRO is 20% more efficient than a high-speed fan
In terms of noise as well, wind-PRO performs significantly better [around 9 dB less] than a high-speed fan.
Formats, Pricing, and Availability
The Wind Pro range of portable fans come in a table, stand and wall mounted versions and aptly provides a long-awaited solution for the consumers in southern India which is the key focus market for Orient Electric. Orient Wind Pro fans have a sweep of 400 mm and give an impressive air delivery of 95 CMM/5700 CMH and have oscillation & speed control. An important feature of Wind Pro fans is concentric winding which eliminates electrical imbalance at low and medium speed, thus reducing the motor noise. This is the first time that concentric winding is used in the Indian manufacturing sector.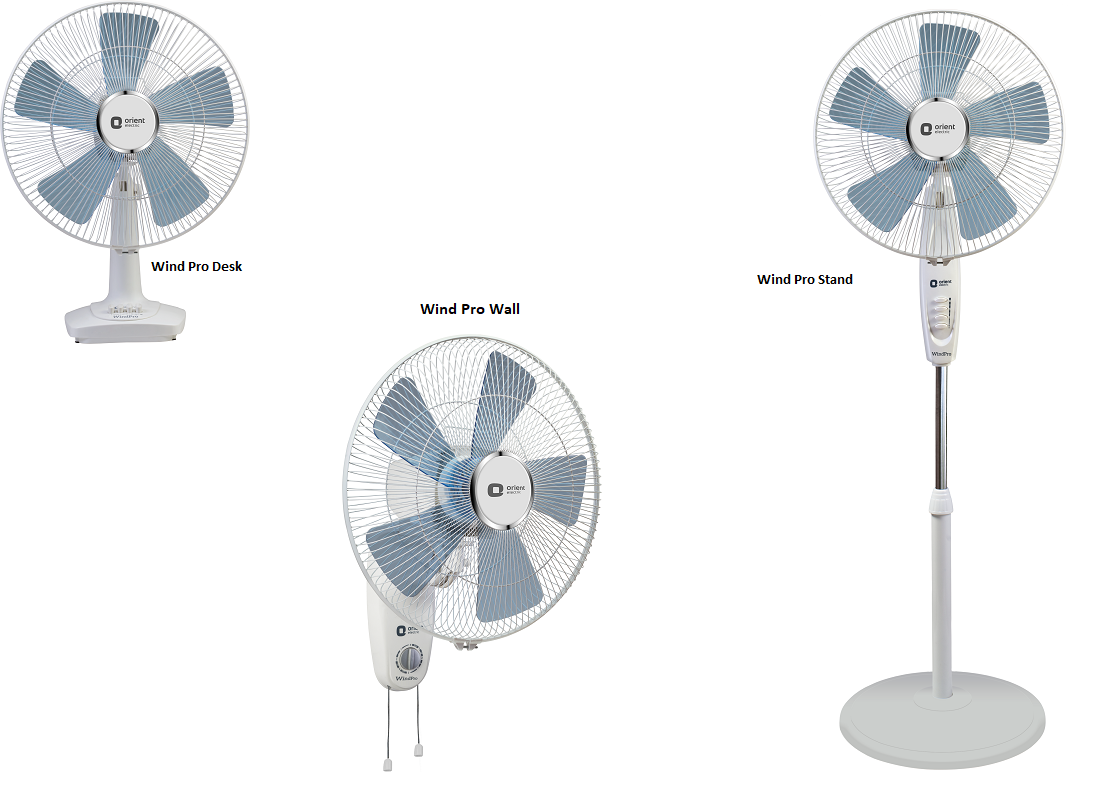 Pricing for the new range of 5-Blade Wind-Pro fans starts at an MRP of Rs. 2,370. The fans are available at all leading outlets across India and can also be bought online at Orient Electric's e-commerce portal
Orient Electric's long-standing brand ambassador MS Dhoni features in the new campaign for Wind Pro fans emphasizing on high air thrust.

With Wind Pro series, the company plans to consolidate its portfolio and also strengthen its presence in South India. From a consumer's perspective, it is a product that could beat the burning summer heat with something that is #SuperQuietSuperPowerful.
What is your take on the TPW market and the Wind Pro Series, do leave your feedback in the comments section.