Capital Float [Zen Lefin Pvt Ltd], India's largest digital lender has raised $22 Million [INR 144 crores] in equity funding from Amazon. This latest fund raise takes Capital Float's total equity funding to nearly $110 million from Amazon and other existing investors including Ribbit Capital, SAIF Partners, Sequoia India, Creation Investments, and Aspada. In addition, the company has also raised debt amounting to $130 million till-date [INR 840 crores] from leading banks and NBFCs. Capital Float has enabled large numbers of SMEs with customized credit solutions and is actively expanding into new customer segments. The company's unique model of lending from own balance sheet as well as a co-lending model of loans for other lenders [banks and NBFCs] gives it access to large pools of capital to serve a vast customer base.

Gaurav Hinduja and Sashank Rishyasringa, Co-founders, Capital Float, said
We are tremendously excited to bring Amazon on board as an investor at this key juncture in Capital Float's journey. This partnership has enormous potential. In the past 6 months alone, we've added several new products and crossed INR 1,200 crores [$185 million] in overall loan portfolio outstanding. We have also achieved tremendous growth on the customer acquisition front, adding 50,000 new customers across the country. With this investment from Amazon, we enter FY19 with relentless focus to add 300,000 customers and originate over INR 5,000 crores [$800 million] in loans this year.
The funds will be used to bolster Capital Float's proprietary end-to-end digital loan origination system and to design innovative credit solutions for customers.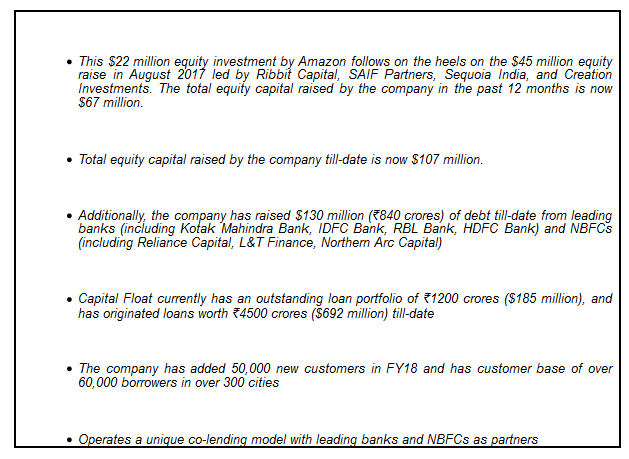 Amit Agarwal, SVP and Country Manager, Amazon India, said
We are excited to work with Capital Float and invest alongside other investors. We are highly impressed with what Gaurav and Sashank have built and we back missionary entrepreneurs and management teams. Credit in India is highly under-penetrated and Capital Float is bringing the right kind of credit solutions to the underserved and informally served segments of SMEs to help realize their full potential. The company is well positioned for the digital age with its strong technology and data-driven approach to lending.
About Capital Float
Capital Float is the pioneer of digital lending in India. The company leverages technology and big data analytics to deliver innovative credit products to businesses and individuals across the country. Through its proprietary digital loan underwriting and origination platform, it has been able to deliver financing solutions to large sections of the economy traditionally underserved by large financial institutions. It has also developed partnerships to finance SMEs across various ecosystems such as e-commerce, manufacturing supply chains, retail, travel and hospitality, and digital remittances.
Founded in 2013, Capital Float is the trade name for Zen Lefin Private Limited, a Non-Banking Finance Company [NBFC] registered with the Reserve Bank of India. For more information, please visit Capital Float