'Ownership' is a word that has a lot of sentiments attached to it. Whether it is owning a commodity like a car, bike, mobile phone, electronic appliance, etc. or owning a house, it brings a deep sense of accomplishment to the owner. Many years back, owning either of them would be considered a herculean task, but with the rise in urbanization, increase in the overall disposable income of the urban Indians, changing lifestyle and easy access to financial tools [like Equated Monthly Installment], the rate of consumption has increased rapidly.

Changing Financial Landscape
If a consumer has a good financial track record and an exceptional CIBIL score, getting a home loan/personal loan/vehicle loan is a piece of cake and consumers can pick and choose from the best possible options, since financial institutions do not want to lose the customer and they would try their best to retain/bring a new customer on board. However, EMI comes with a baggage full of responsibilities and missing the EMI on a consistent basis can have serious implications on your financial track record. In some scenarios, you might be looking for a short-term loan or a relatively smaller amount for which you might not want to take a bank loan. In such scenarios, you either lend money from family, friends or from companies operating in the burgeoning fintech sector.
The overall financial landscape is also changing at a very rapid pace in order to accommodate the changing sentiments of the customers. Innovations like Unified Payments Interface [UPI], India Stack, India Chain, push towards Digital India, increasing internet penetration, etc. have resulted in many innovations in the Fintech Space. Though startups catering to Payment services [PayTm, FreeCharge, PhonePe, etc.], P2P Lending [LendBox, EasySalary, etc.], Personal finance [BankBazaar, Capital Float, ScripBox, etc.], Lending based on credit-line [MoneyTap] have resulted in major customer and investor interest, there is still a lot of room for innovation in the fintech sector. In many cases, Banks and Fintech players are working together and utilizing their relevant expertise to create a better experience for their customers.
#SmartlyOwn – Better Option to Own Things
As reiterated earlier, ownership brings a sense of pride, but it comes at a cost. Though consumers have options to buy furniture, bike, electronic appliances, etc., by utilizing the financial services of banks as well as fintech companies, they still have to worry about repaying their loan on time. Unlike in the past, young population is more comfortable to switch cities in case they find better career opportunities. In case they opt for relocation, they need to take the important decision on whether they carry the commodities they own like car/bike/electronic appliance along with them or sell them at the best possible price. Since each of these is a depreciating commodity, hence their overall value depreciates from the very moment you own them.
Hence, consumers need to take the important decision on whether they need to own them or use options like 'renting' so that they can save money and #SmartlyOwn the items. This is the problem being solved by new-age rental companies that are using technology to offer better options to their customers. Even if you own a house, you still need to worry about setting up the home and good home interiors might burn a hole in your pocket. L Rather than blowing up hard-earned savings in owning up such items, the millennial generation has better investment options like Mutual Funds, Stocks, CryptoCurrency, etc. Due to all these factors, many urban Indians are switching to a #SubscriptionLifestyle since they have options to rent bikes, appliances, furniture, etc.

RentoMojo – Consumer Leasing Company to a Fintech Startup
Rentomojo, India's leading consumer leasing company has various plans so that customers can buy a bike, furniture, electronic appliances on rent for a minimum period of three months. Founded by IIT alumnus Geetansh Bamania, RentoMojo is a first-of-its-kind consumer product leasing business that raises lease-capital from financial institutions for products rented to consumers for long-term periods, typically 12-18 months.
With an option like Rental Monthly Installment [RMI], you can own a product like a piece of furniture, a bike or an appliance without being bonded with a lifetime commitment. How is RMI better as compared to EMI? There are so many benefits that come along with it, which are not available with EMI and flexibility and non-commitment to the products is the biggest of them. You can take the products till the time you want and return when you don't. The other important benefits include free delivery and maintenance, a swap of the products and much cheaper payouts monthly as compared to EMI. This is how the concept has broadened to a wide universe of the customers who have always considered renting as a financial decision.
Since many customers rent products for a long-term period of 12~18 months, they might want to increase the rental tenure or own the products as well, making a lot more financial sense. This is the thought with which they announced an exciting proposition of Rent-to-Own [#RentToOwn], where now the customers will be able to rent till whatever time they want, return or own the products. This is a whole #NewWayToOwn!
#RentToOwn – A Smarter Way to Ownership
Though it was started as a rental business, Rentomojo has evolved as a fintech model where the customers can lease furniture, appliances, and two-wheelers by paying an extremely affordable RMI. With the new offering of 'Rent-To-Own', the customers will have a new way of ownership, where after paying some RMIs if the customer feels like buying the products, it can be done. Customers also have an option where they can 'try and then buy' through product trials at their doorstep.
Eminent content contributors were invited for the launch of this event where the idea and concept was introduced for the first time to a larger audience. Sharing his views on being the first fintech startup to have this feature, Geetansh Bamania, Founder & CEO of Rentomojo, said
Usually renting is considered for a longer duration. A lot of customers also get a strong sense of ownership once they buy the products. What we also realized that, although the perception of renting could be for a smaller duration, the average rental tenure of our customers is 12-18 months, which itself makes us very different than a typical rental model. With an option of owning if the customer wants to after he has rented, where he is paying a nominal RMI, is a new way of ownership.
The below table summarizes the advantages of RMI as compared to EMI and 'Option to Own' is definitely a feature that would lure customers who rent for a longer duration since they now have an option to own the item they have been using on rent!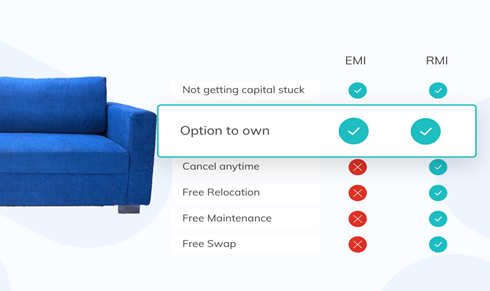 Some of the questions asked during the launch event were:
Should customers opt for renting items even if they have the financial capability to own them?
Since Rentomojo provides 'Free Maintenance', how does it educate its customers about product quality so that maintenance expenses are kept to the bare minimum?
Who are the partners of Rentomojo in the bike, electronics appliance sector?
Does Rentomojo plan the omnichannel route in future so that customers can also get a touch and feel of the products [especially the furniture]?
Does Rentomojo service only the B2C sector or they also have B2B customers?
What are some of the unique offerings of Rentomojo as compared to other companies operating in the same sector?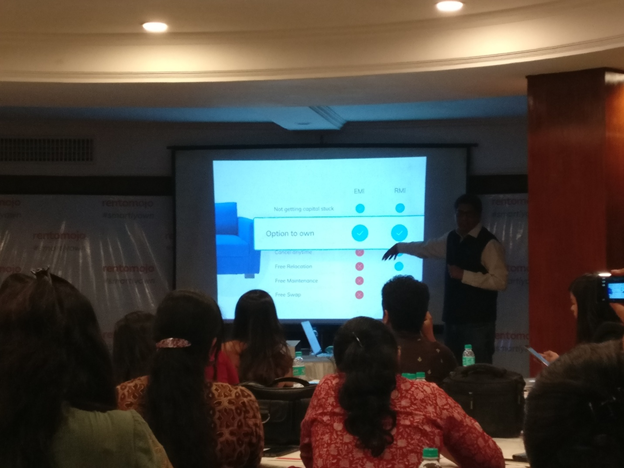 Geetansh and his team answered all these questions with ease since they are very confident about their offerings. Since their team has extensive experience in technology, e-commerce, retail, their main focus has been on unit economics rather than chasing a vanity metric like Gross Merchandise Value [GMV].
What are your thoughts about the RentToOwn concept? Do leave your feedback in the comments section.