The popularity of platforms like Twitter, Facebook, LinkedIn, Instagram, etc. has not only affected the manner in which people interact, shop but also how they socialize. Social Media coupled with Digital Marketing is a powerful tool that businesses use for marketing their products. With the rising internet penetration, growing popularity of affordable 4G phones and increasing number of Indians consuming local content, etc. users are always connected and hence they are able to access Social Media accounts when on the move!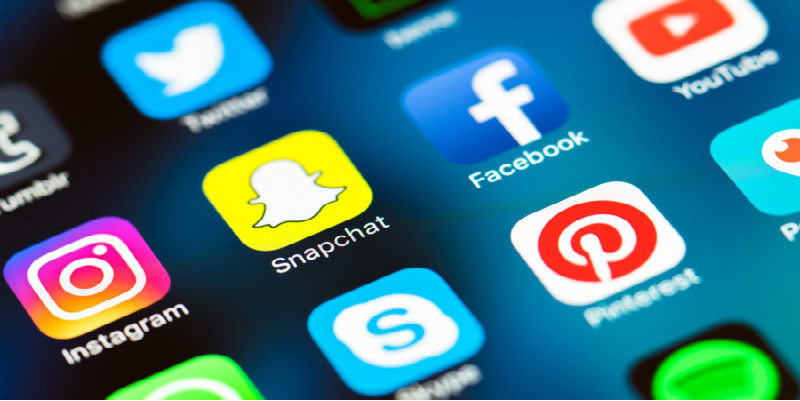 With the e-commerce trend catching up big time in India, online shoppers are always on the lookout for some lucrative deals while they are shopping online. The deal could be in the form of a huge discount while shopping online or in the form a cashback from the e-commerce site or discount by applying 'relevant' coupon from a couponing website. It goes without saying that even while shopping online, we discuss with our family & friends before making a final 'Buy' decision!
People spend a considerable amount of time on Social Media, but since there are a number of social networking apps, many of them spend time in hopping from one app to the other. Also, none of the apps incentivize their users for spending their precious time on social media. There is not a single platform where an avid internet user can perform all the above-mentioned activities. This is the problem that a Delhi based startup is trying to solve with their app Sagoon,  a multi-app platform. Today we review the Sagoon app on Android, so let's get started…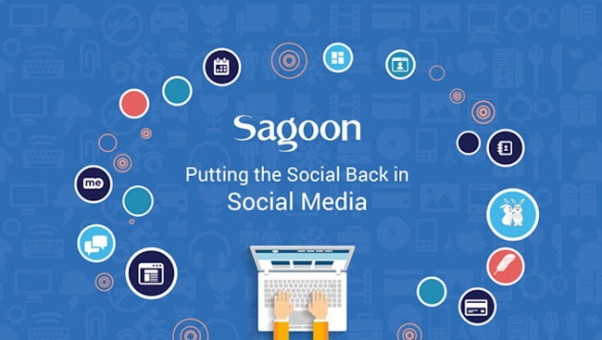 Sagoon – Connect, Share and Learn
As mentioned earlier, our mobile device has so many apps and every mobile user would be spending a good amount of time in hopping from one app to another. This is where an app like Sagoon can turn out to be very useful since it is a multi-application platform and wants its users to build a rewarding life by following the innovative social path: Connect, Share and Earn.
Swati Dayal, co-founder of Sagoon came up with the idea of the app when she along with her other co-founders realized that there is a dearth of a good social e-commerce platform.  Sagoon intends to tap the market worth $300 billion by offering the users the best of social media and social gifting at one place.
In a nutshell, Sagoon enables you to share secret messages, strengthen your relations with family & friends and express your emotional state clearly. Following the social path Connect, Share & Earn, it intends to transform negative experiences on social media into positive ones [Source]
Sagoon – Detailed Review
Sagoon aims at untangling your life and wants you to be Smart, Productive and Connected. Currently, the app is only available for Android users however, users can log in to Sagoon on mobile using their mobile website until the time the app is not live on iOS.
On Android, the app is ~45 MB in size which is definitely not a deal-breaker for the target segment which is very active on social media channels like Facebook, Twitter, Pinterest, Instagram, etc. Most of these apps occupy much more real-estate on the mobile!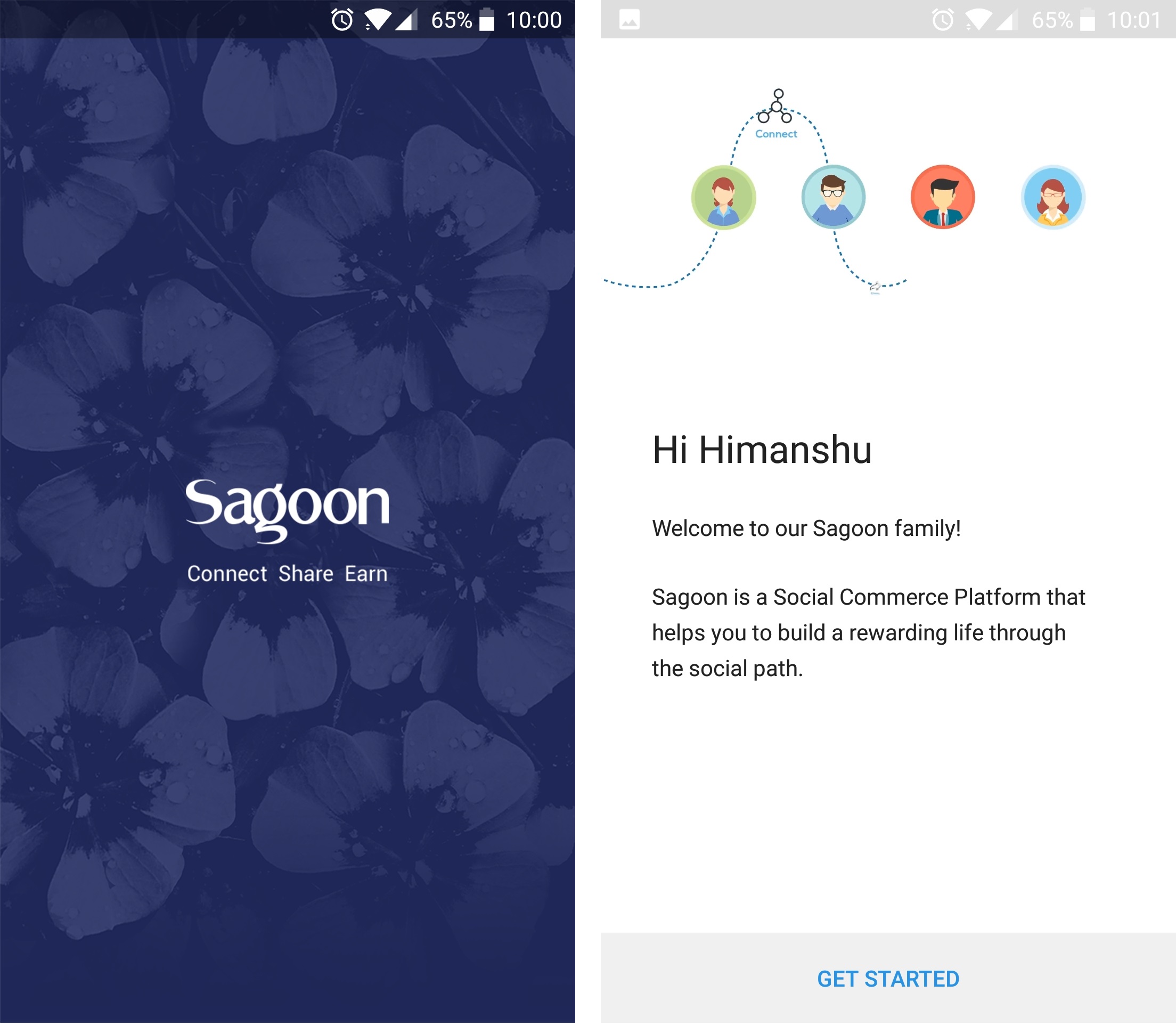 Sagoon aims to be a one-stop shop for all your needs, be it setting reminders, sharing content, planning & scheduling, chatting and much more. Each product has unique features and a different customer presentation strategy; the purpose of each application is to strengthen true connections and be productive. This is evident from the feature set that Sagoon promises for its users.
My Day:  A few years back, if we had to set reminders than we used to pen the schedule in a diary and at the end of the day check how many of the planned tasks are completed. However, with the advent of mobile, scheduling & planning has got a new avatar since apps are now used for the same. My Day feature in the Sagoon app can be used for creating schedules, setting reminders, etc. It can be used as a smart organizer for your personal as well as official purpose.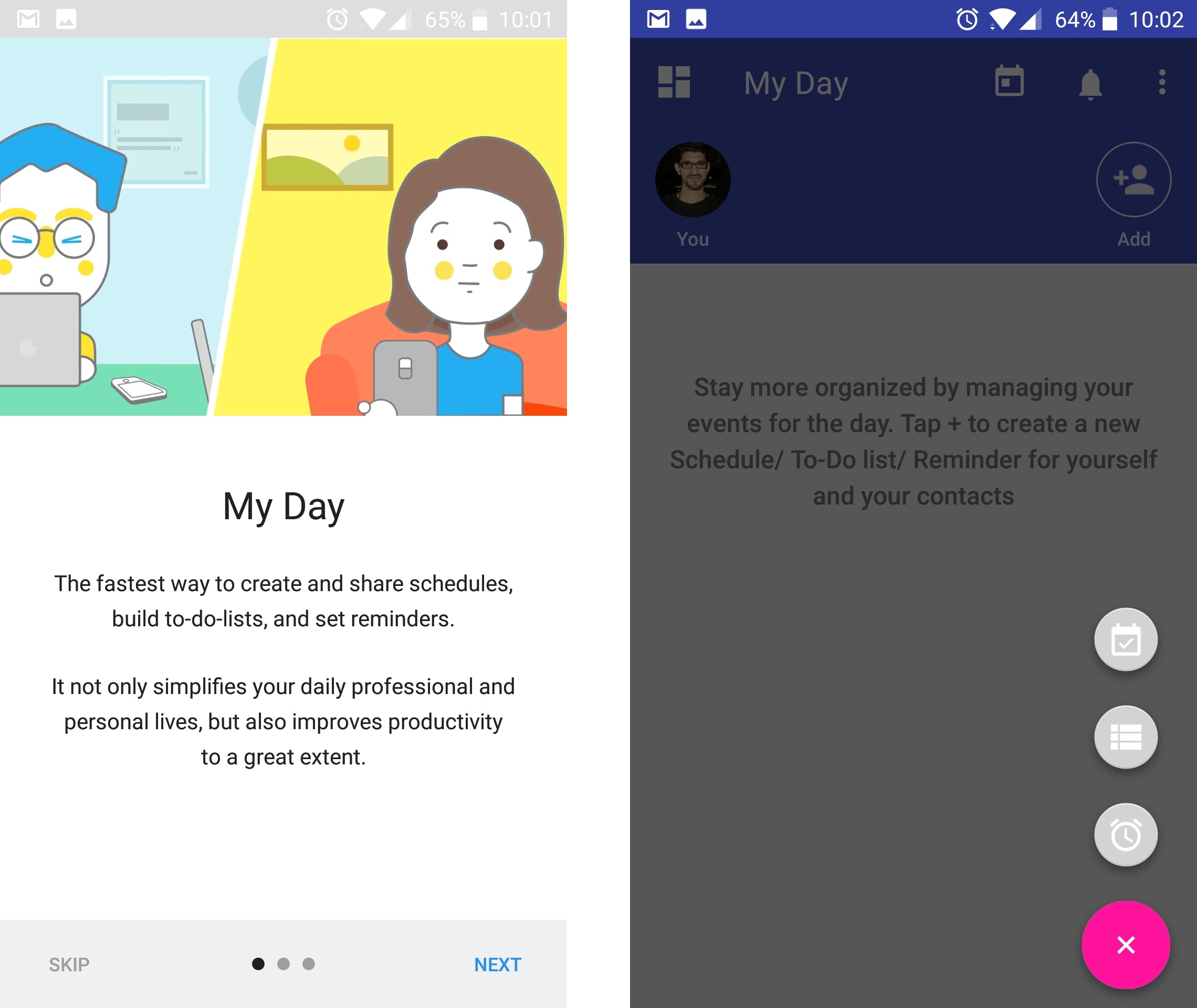 My Day has the following features
Multi-Location Clock
Weather
Schedule
Reminders
Sharing of Calendar
To-Do List
The UI is simplistic and you can share your schedule with others as well. Though there are many To-Do List apps, we liked the sharing feature in Sagoon that makes 'collaborative planning and tracking' to a micro-level.
Story Sharing/Secret: Each one of us gets different thoughts that are dependent on our mood, surrounding environment & many other factors and you want a platform to express your feelings. Secret in Sagoon can be used to share your thoughts, learnings, experience with others, in anonymous & non-anonymous mode.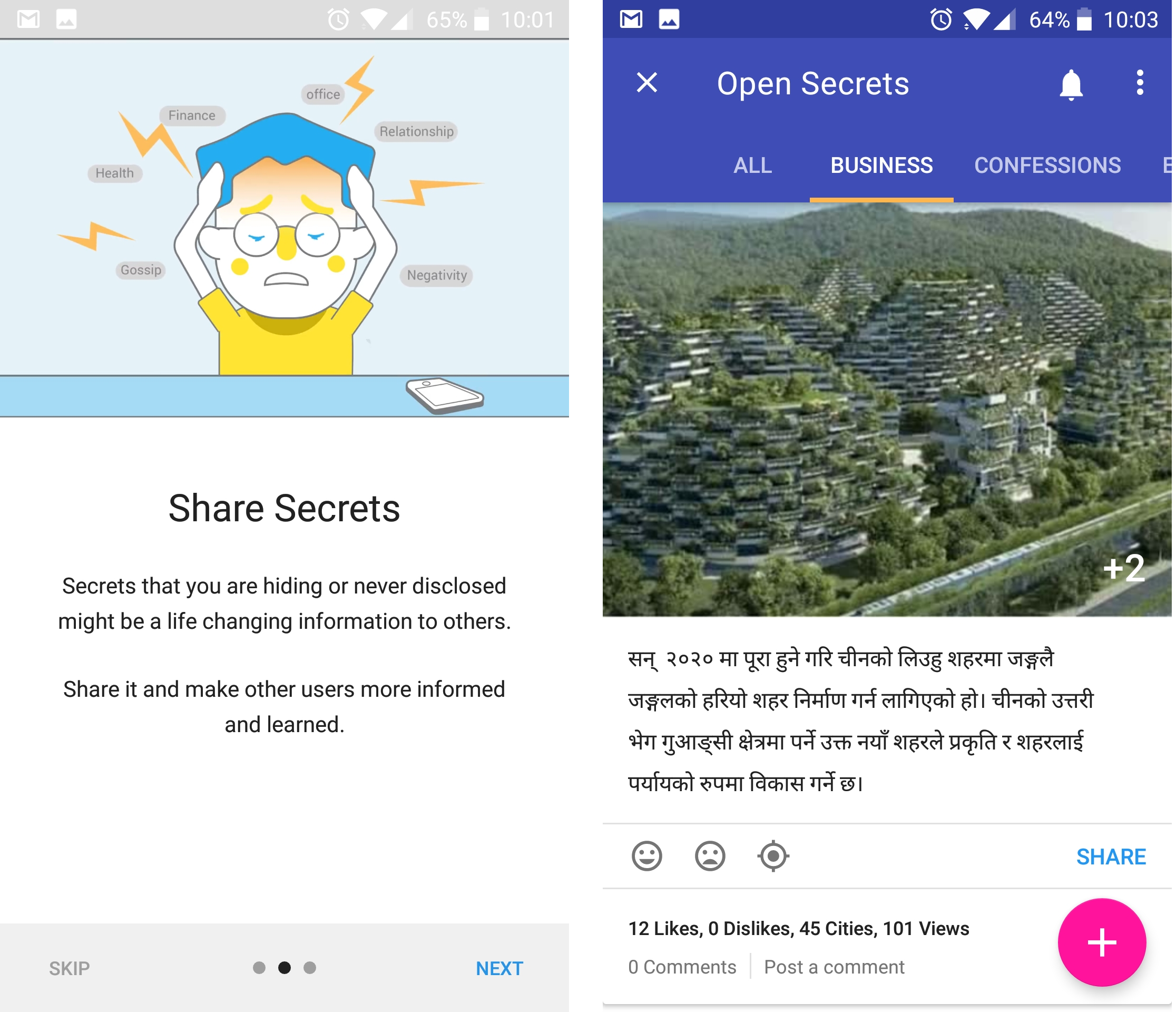 It also helps you e-meet and learn from like-minded users on the platform. Since users can post anonymously, Secret can also be used as a scratch-pad by many to just express their emotions online. You are allowed to use 220 characters and up to three images to post a story. As a user, you can post your story [photos and video] under the 'Open' category, allowing all of your contacts to view, like, dislike or comment on it. While posting you can also choose to hide your identity. You can also send one-on-one story messages which will vanish after they are read.
It also supports tracking/analytics so that you can check the post insights – likes, dislikes, shares, comments. Thus, the Open Secret feature helps in creating a transparent society and transforms users into change-agents.
Secret has the following features
Create Secrets
Set Privacy
Track Secrets
Attach Multi Images
Like, Dislike, Share or Comment
Hot/Trending Secrets
MoodTalk: It is very commonly said 'Let your mood do the talking' but it is next to impossible to express different emotions – happiness, sadness, sickness, etc. online since you never know the treatment your mood talk would receive at the recipient side.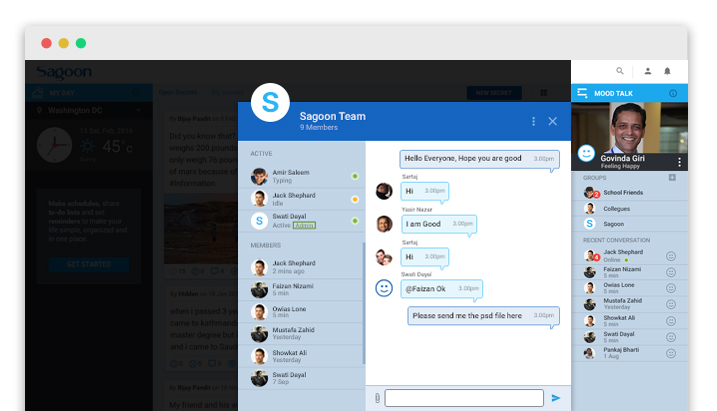 With MoodTalk from Sagoon, you can break those shackles of fear & anxiety and express freely as per your emotional state. MoodTalk is a simple chatting tool which lets your mood do the talking. If you are sick and set your mood to 'Sick', your near & dear ones would be notified about the same via an SMS and they can then re-connect with you and re-build long lost relations. Since our mood is dependent on many factors and is never permanent, hence in MoodTalk your chats also vanish automatically after 24 hours.
Me Page, Unique ID and more: Sagoon also provides a 'Me Page' which can have a mix of personal and professional information. You can customize your profile with a photo, description, interests, etc. since the Page is a reflection of your identity. It can also be used to meet like-minded people. Its functionality is somewhat similar to the offering by about.me
In order to ensure that the app is secure enough, Sagoon uses a combination of email-id and phone number to sync into one, instead of using a customary user-id and PIN. Along with security, the secondary intent of following this approach is to ensure that Sagoon user gets his/her revenue share when they introduce the Social Smart Card option in a couple of months.
Sagoon has a very sleek interface and the same philosophy is also carried forward on its offering for Desktop and Mobile Web. The experience was good on all the platforms, be it Android, Mobile Web or Desktop!
Sagoon – Earn Money by Shopping and Socialising
The Social Smart Card will enable the users to buy things online, send gifts and also buy from physical retail outlets. Every Sagoon user would get the card for free when they create their profile.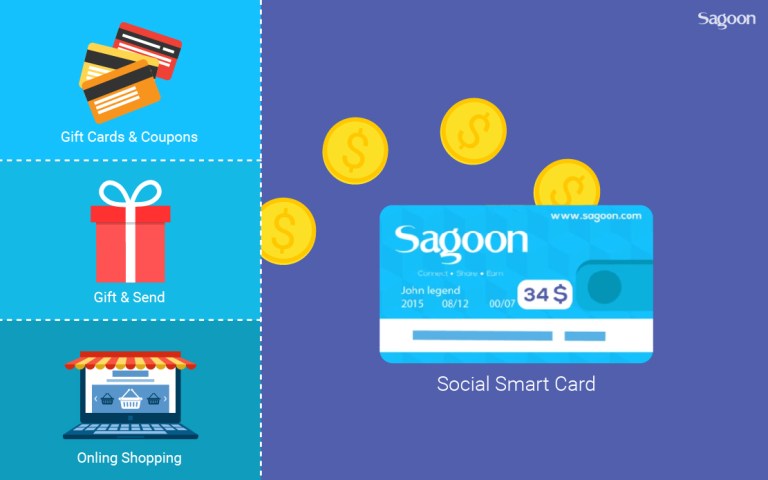 Since social commerce is an integral component in the Sagoon app, each user will get 5 percent cut for the transaction they perform on the platform. This is loosely similar to affiliate marketing but this feature can definitely be a huge game changer! Along with that, Sagoon user would also be incentivized for the time they spend socializing on it.
We are sure that you also found Sagoon interesting as well as useful 🙂 Why to wait, you can download the Sagoon app for Android from here
Sagoon – Conclusion
Sagoon is a promising app, both for social media users as well as social media influencers. With promising features like MoodTalk and Story Sharing, it brings 'human touch' that was so far missing in social media. Social Smart Card is a very innovative manner to give back some revenue to the ever-growing lot of social media addicts and we hope that it is released at the earliest 🙂
If you are Sagoon user, please leave your feedback or suggestions in the comments section