In the good old days, you had to step out to shop for clothes, books, grocery and had to refer to mass media advertisements [TV, Radio, Newspapers] in order to hunt for the best offers. Fast forward now, all these services are now available on the tip of your fingers due to the affordability of smart-phones, rising internet penetration, evolution of digital technologies, etc. Due to these factors, there is a rapid shift in the overall strategy in which companies market products to their customers.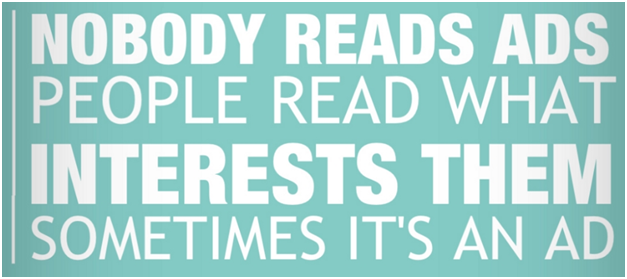 Marketing is an essential part of any new start-up or business. To succeed in whatever domain you are targeting, you need to pay more attention to direct mail marketing as it is still a fundamental marketing tool. Though there are many channels to acquire/retain customers, email marketing is still one of the most productive ways to win over customers. Email still delivers the highest ROI for marketers, for every $1 spent; email marketing generates $38 in ROI [Source].
The Era of Hyper-personalization
How many times have you opted out of a newsletter from an Online Travel Agency [OTA], e-commerce website, etc. since it was not relevant to you or you found that there was zero personalization in the newsletter? It would be an annoying situation if you receive offers for a product that you have never searched for on an e-commerce website or receive promotional emails for products not pertaining to your profile. Marketers can now utilize plenty of data-points from customer generated data – social media information, browsing history, purchasing history, user preferences, location & demographics, etc. to provide them a near-about 'Personalized Experience'. There is a shift to Hyper-Personalization so that customers are offered hyper-personalized experience, an experience tailor-made for them.
Hyper-personalization can be applied to entire umbrella of the digital-marketing strategy, but it is the most effective when applied to email marketing. One more problem that marketers face is the low open rate of emailers and newsletters, but with the advent of AI, Machine Learning and other evolving technologies, they can now leverage AI that learns to automatically maximize open rates of email campaigns. Startups are working on solving this problem so that they can help their clients in achieving maximum conversion rate thereby acquiring as well as retaining customers.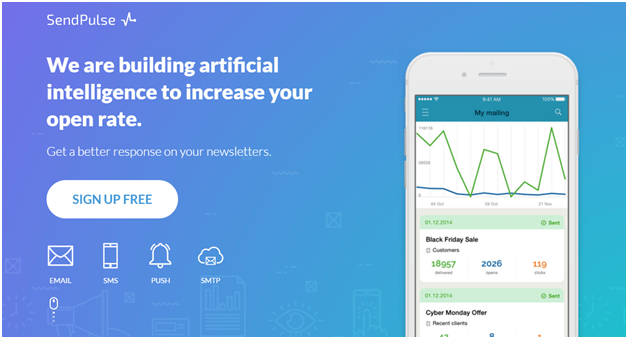 SendPulse – Making Marketing Simple
SendPulse, a US based startup is leveraging AI, Hyper-personalization, Predictive analysis for email, SMS, Web Push, SMTP in order to make Marketing Simple
It maximizes the core metric of e-mail marketing – newsletter open rate – automatically. SendPulse collects tons of data about billions of subscribers in their system and predicts the best time and channel for each subscriber when to deliver the next message to him. The result has been fabulous where their customer's see 50% open rate increase in average. When compared to other popular email marketing solutions, the core USP of SendPulse is that it is an all-in-one integrated solution that offers bulk email, bulk SMS messages and web push notifications.
SendPulse follows a freemium model, which means that customers can try out all the features that SendPulse offers in the trial period. Though the email marketing space is largely dominated by MailChimp and GetResponse, the major advantage of SendPulse is its advanced email service As a part of the review; we would be digging deeper into the email service of SendPulse.
SendPulse was among the 3 finalists of The Next Web SCALE 2016 program. It was recognized as one of the best startups of 2016 by The Next Web.
SendPulse – Detailed Review
As mentioned earlier, major concern that digital marketers face with emailers, newsletters is the Low Open Rates. SendPulse leverages the potential of AI that helps its customers to increase email and message Open Rates & overall audience reach. When compared to the existing Email Marketing Services [EMS], SendPulse provides 70% increase in the Email Open Rates resulting in much better ROI.
The AI solution in SendPulse will choose an optimal communication medium [email, SMS, web/mobile push] and optimal time to send out the message so that there is maximum probability of an interaction with the subscriber.
Sending Personalized Emails
Once you have signed up with SendPulse, you can start using the plethora of useful features available in the product. We discussed about the importance of Hyper-personalization and SendPulse takes that to a whole new level with its email offering.
Customers have the option to choose from the Free Email Templates on their website that cater to different segments like Travel, e-commerce, Business, Healthcare, etc. or prefer to design their own template using the WYSIWYG drag & drop email editor. If you are well-versed with HTML, you should definitely give a try to design your own personalized template.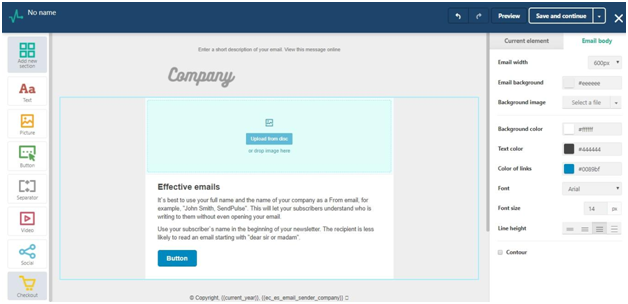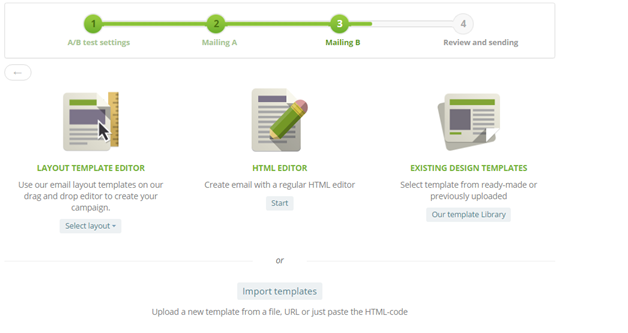 The look & feel of the emails are adapted as per the device and display resolution so that there is uniformity in the design when the users switch from one device to another.
Create Unique Mailings with Personalization and Segmentation
Mailing Lists are a very powerful medium where companies can connect with their customers. With SendPulse, you can create a template that is tailored for each and every recipient.  The best part about the personalization is that it is all in the form of Macros. A sample is shown below

There is a huge difference when you refer a person by his/her name e.g. 'Hey Himanshu' when compared to 'Hey'. SendPulse takes personalization to a different level, where multiple fields like Gender, Company, Position, etc. can be customized in order to Wow their customers.
Segmentation consists of dividing your customer base up into different groups according to the criteria you set. In order to deliver unique experience to every recipient on the mailing list, customers of SendPulse can do Segmentation on the basis of Gender, Place of residence, users' subscription details date. Segmentation according to users' subscription details date are useful for sending personalized offers, sending re-activation emails to customers who have been in-active after sign-up.
Web Push, Analytics and REST API
Customers of SendPulse can leverage the power of Web Push that lets them reach their customers when they are active on their devices.
SendPulse provides support for REST API that can be used by developers/engineers for their app/web development. SendPulse API's can be integrated with existing CMS and CRM systems like WordPress, WooCommerce, etc.
A product is in-complete if there is no Developer Support and if there is no way to track What approach has worked and what hasn't? Google Analytics is a powerful tool used by marketers for detailed tracking and measuring the CTR & taking appropriate actions. Emails that have been sent via SendPulse can be tracked using Google Analytics, hence there is no learning involved in it. Along with the number of emails opened, links clicked and other details, customers of SendPulse can track the activity of the subscribers, segment their mailing lists and work with clients with an individual approach.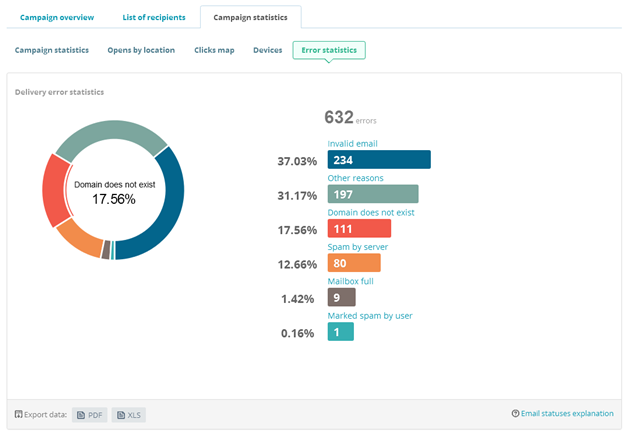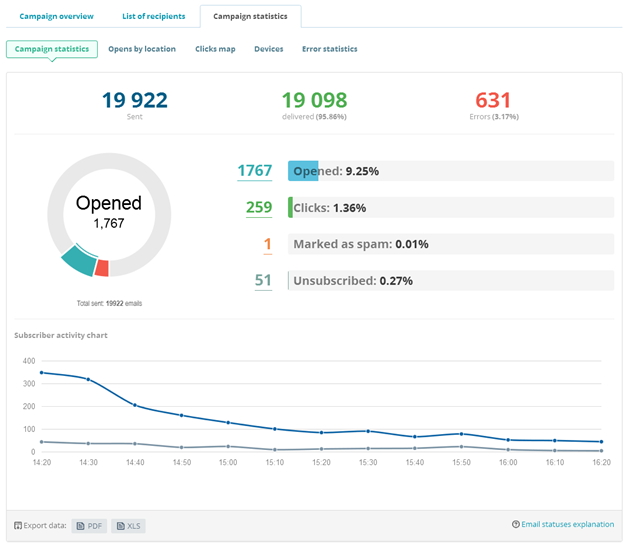 SendPulse Pricing
As mentioned earlier, SendPulse follows the Freemium model so that it can cover a varied spectrum of customers right from startups to MNCs. Below are the different plans of SendPulse
Free Plan – If you have less than 2,500 subscribers you can send up to 15,000 emails per month for free.
Monthly Subscription – The pricing in this plan would vary based on the number of subscribers and emails that you need. The pricing for 50K subscribers is $191.
Pay As you Go – This prepaid email package gives you the option to pay for the emails that you need.
VIP Plan – If you have more than 1 million subscribers and if there is a plan to start a regular mailing program, than you should opt for the VIP Plan. You need to send a mail to sales@sendpulse.com for getting more information about the VIP Plan.
For further details about the Email Marketing Pricing, SMTP Service, Web Push Services, etc. please visit SendPulse Pricing Page
SendPulse – Conclusion
SendPulse is an interesting product that solves a 'much-needed' problem for online marketers. If you are looking out for a hybrid series of communications to target your customers, than you should definitely give SendPulse a try.
Since they have integrated SMS, Web Push, and Emails in one single platform hence, you can build/change your online strategy on the fly. If you are an existing SendPulse customer, please leave your feedback in the comments section.