The mobile phone has become an indispensable part of our lives but most of the smartphone owners face common problems. The problems are shortage of storage space due to the installation of the innumerable number of apps, power/battery management, app hopping (jumping from one app to another), etc. This is the problem that startups are trying to address so that the there is more stickiness to the app since it provides more services under one roof.
Yagerbomb Media plans to address this problem with its app FloChat. FloChat is a hybrid chat platform that lets you connect with your friends, colleagues, etc. via its instant messenger and also gives you the freedom to browse and share content from across apps from its own context. Today we review FloChat on Android that can be downloaded from here, so let's get going…
FloChat: Hybrid Messenger + Multiple services via micro-app integrations
FloChat is India's first hybrid messenger which is simple, private and comes up with a personalized experience. The major USP of FloChat is that it brings context to conversations, thanks to its partner ecosystem [Zomato, Uber, Ola, BookMyShow, DineOut, Goibibo, Jugnoo, CouponDunia, Bing, YouTube, and Tenor].
The size of the FloChat App is only 27MB which means you can save 100's of MB that would otherwise have been occupied by its partner apps!
FloChat: Express yourself with Reaction and EmoGIF
With FloChat, you can discover, browse, chat and transact and that too without leaving your chat window!! Users can express themselves using Reaction [#facepalm, #oops, #thankyou, etc.] or via EmoGIF. The company has partnered with Tenor that brings personality to your conversations.
Some of the salient features of FloChat are below:
Group Chat: Create groups and add any number of people you like, no limit on the number of people who can be added to a group.
Multimedia Messaging: Send video, image, text, gifs, memes and voice messages.
Secret Chats: With this feature, chats would disappear or self-destruct in a *poof*
GIF Gallery: Hundreds of free GIF's to express your feelings available from some of your favorite shows and movies.
Better Privacy: It gives you the highest level of control over your privacy. You would need to add people before they can message you.
Edit messages after you have sent them: Have you ever misspelled your messages or auto corrects have caused more mistakes than corrections? Now you can edit messages after you have sent them.
Free Voice & Video Calls (Coming Soon): High-quality free calls anywhere in India including group audio and video calls.
Real-time Location (Coming Soon): Instead of having to tell others where you are, just use real-time location sharing.
Payments (Coming soon): This is one of the most anticipated feature which is expected to release in the future versions of the app since it would bring Payments integrated into chat.
Some of the screenshots from the FloChat app are below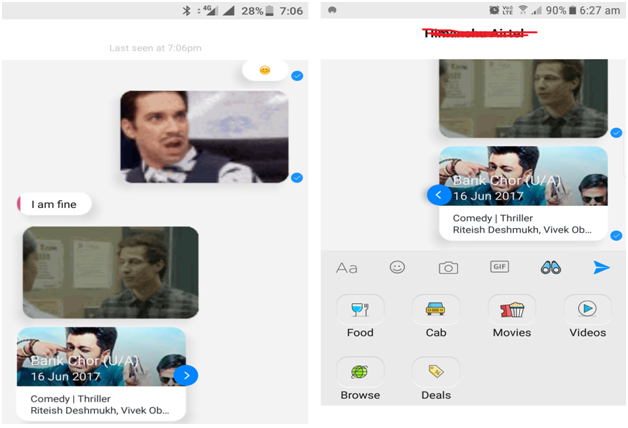 FloChat: Floda – Chat meets AI
FloChat also comes integrated with Floda which is an AI based chatbot. Floda can help you out with booking tickets, getting your generic queries answered or even suggesting you the best place for a romantic lunch/dinner 🙂 We asked some generic questions to Floda like temperature in Mumbai, to book movie tickets, etc, and results were accurate. The overall experience was breezy since Floda could decode our requests within a few seconds.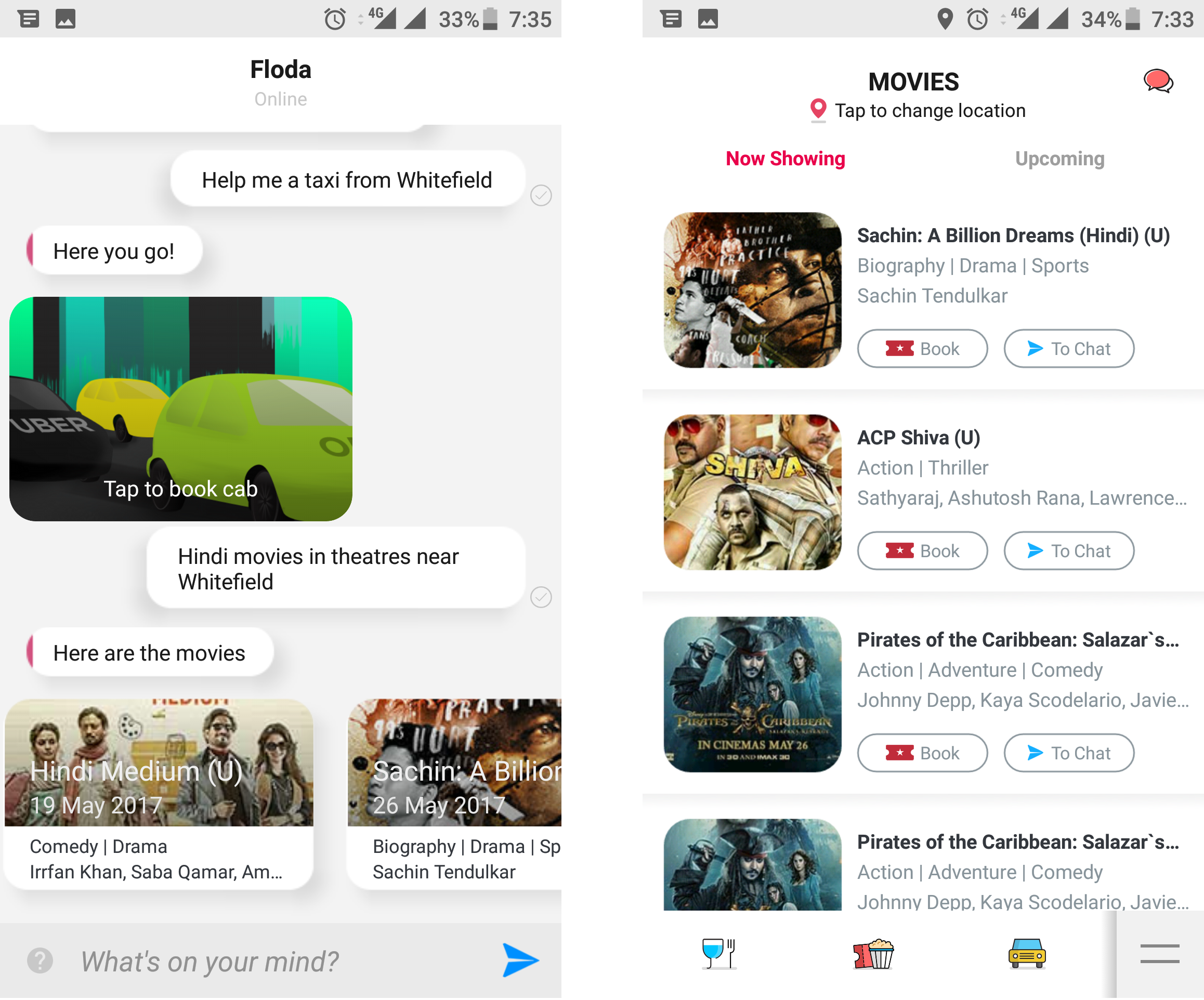 FloChat: Closing thoughts
FloChat is a feature packed hybrid instant messenger app that helps you stay connected with your loved ones. The power of FloChat lies in the premise on how you can get things done all within the chat! With integration of Floda, it brings more meaningful context to conversations. If you are searching for an app that is not demanding on storage space but helps you stay connected with friends, then you should download FloChat.
If you are an existing user of FloChat, please share your feedback in the comments section…