Co-working spaces have been on the rise in India and the wave is catching up the interest of the entrepreneur as well as the investor community. The primary advantage that co-working space brings to the table is you can find passionate folks who might have complimentary skills that could be of help in building your startup. Most of these co-working spaces also host number of events around scaling, marketing, design, funding, etc. In order to make startups sustainable, it may be important to involve large businesses in their growth story, and such programs further add more value to co-working spaces [Source].

Couple of weeks back, we had written about GoodWorks CoWork, a design-inspired co-working incubation studio started by serial entrepreneurs Vishwas Mudagal and Sonia Sharma. As per the founders, the major USP of GoodWorks CoWork is that along with office space, entrepreneurs can also use GoodWorkLabs's expertise in order to polish/validate their idea. GoodWorkLabs is a boutique Software and Mobile App Development Company in India and USA which was started by the duo. Through GoodWorks CoWork, they plan to give back to the entrepreneurial eco-system and angel-fund the startup [in case if they find the idea path-breaking].
We caught up with Vishwas Mudagal for a chat about this venture, its USP, insights into co-working, etc. So, lets get started…
Can you please give a brief about the team behind GoodWorks CoWork ?
After successfully establishing GoodWorkLabs as a leading new-age Outsourced Product Development Firm [OPD] and UX design studio, Sonia Sharma and myself wanted to use our knowledge to give back to the start-up ecosystem.  GoodWorks CoWork was launched to build a thriving start-up community and provide the best ecosystem for them to succeed. Under Sonia's valuable guidance and thought leadership, and my years of experience in handling startups, co-workers can expect to learn numerous tricks and trades of the industry.
What are some of the pain points your team identified which would be solved if a startup is working out of GoodWorks CoWork ?
As a new entrepreneur, you need to wear multiple hats. The sales guy, the tech guy and the marketing guy, you are constantly juggling between different roles. The most valuable benefit of working out of a coworking space is that it reduces burn-rate and allows investment in core business requirements. Secondly, it reduces the logistical pains of running an office and lastly, it provides the best opportunity for networking.
The objective of GoodWorks CoWork is to help budding entrepreneurs grow their business without the hassles of managing operations and logistics. Through GoodWorks CoWork, we aim at creating a perfect ecosystem for startups to nurture their growth.
There has been a plethora of co-working spaces that have been recently started in Bangalore, Chennai, Delhi, etc. what are some of the USPs of GoodWorks CoWork vis-a-vis other co-working spaces in the city.
Apart from providing world class services, I think what really sets us apart is our unique approach to coworking. The USPs are as follow:
Design-inspired coworking space – We provide creative, design inspired coworking spaces for our coworkers. Every element in the coworking space has been selected after considerable thought. The wall décor, the seating layout, the lighting structures and overall ambience have a creative undertone. We want to encourage creativity and innovative thinking in this space. We also have inspirational posters and graffiti on the walls to keep the community motivated at all times.
The possibility of getting funded – After successfully establishing GoodWorkLabs as a world-leading and award-winning new-age software lab and design studio, the founders are now all set to provide seed investment to upcoming start-ups and extend our Thought Leadership to help businesses grow. We plan to choose upto three promising start-ups annually that have a 'real' business/revenue model and growth potential and plan to invest anywhere between Rs. 20 lakhs ~ Rs. 1 Crore.
Consultation with In-House Experts – We have an in-house team of management consultants to help get the basics in place for your company. Start-ups can book a time with our experts to discuss problems and issues related to HR, Finance, Marketing, Design and Branding faced by the company.
The founders also act as mentors to the startups selected by us and support them through every step of their startup journey.
Can you please walk us through the application process for GoodWorks CoWork ?
GoodWorks CoWork was started to help budding entrepreneurs grow their business without the hassle of sweating about Operations & Support Services. So we're open to any startup, entrepreneur or small business owners who are passionate about their new venture.  Our space provides all the facilities needed to run a company smoothly without logistical hassles.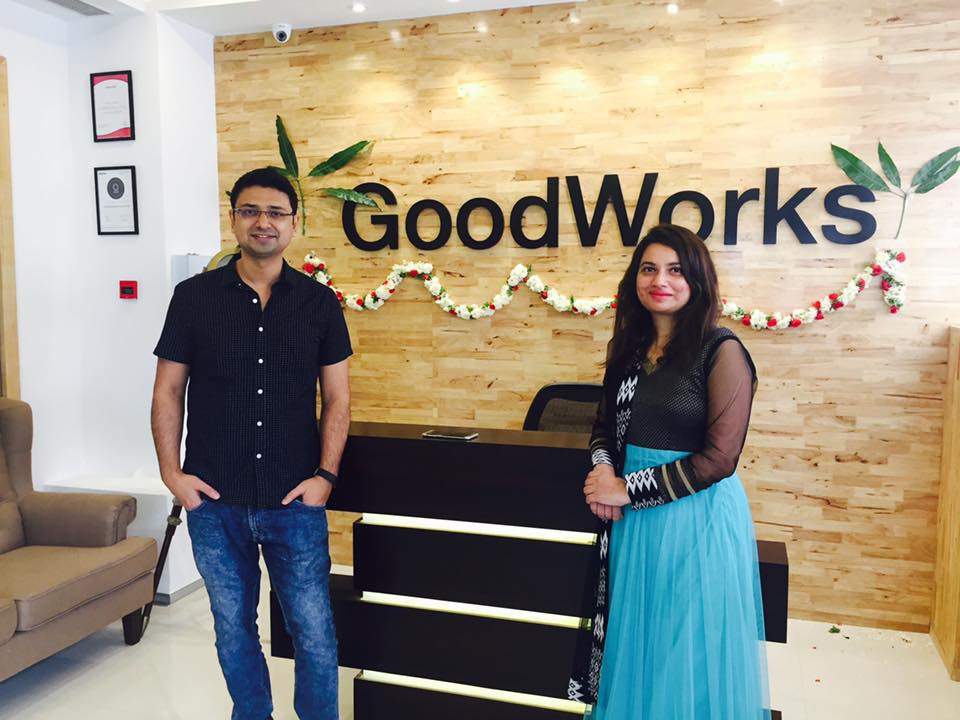 Is your team looking into particular sectors that a startup operates in or is GoodWorks CoWork open to startups in any sector ?
We are open to all sectors, there is no restriction as such. However, most of the queries we have received is primarily from the IT and Design sectors. However, we do not want to be limited to these two sectors only.
Given that GoodWorkLabs is a pioneer in the software industry. What are some of the areas where GoodWorkLabs can be of support to the companies in GoodWorks CoWork ?
GoodWorkLabs brings tremendous insights and valuable learning to cowork division, this aspect is one of our main USP's. We provide consulting services for design, software development, android development, iOS development to name a few. The startups can really benefit from all these services which would be very unique in nature.
Vishwas, you as an entrepreneur have seen ups & downs, what is one best reason why a startupper has to choose working out of a co-working space vis-a-vis working out of SOHO
Coworking encourages networking and collaboration. Entrepreneurs, space providers, thought leaders, investors and mentors come together and exchange value with each other creating a mutually beneficial ecosystem. Also, working amidst various people, observing and adopting diverse work cultures can increase productivity as it helps maintain a professional outlook and also helps create your own identity.
This congenial environment doesn't only foster interesting and divergent work, but also encourages knowledge sharing and instils a sense of ownership. Communicating regularly on work topics, trending news and exchanging jokes helps build a healthy environment for entrepreneurs.
Working out of a small office from your home closes all doors to such knowledge sharing and networking opportunities which are integral to your business growth.
GoodWorks CoWork is currently operational in how many cities and what are the future expansion plans ?
Currently, we have one co-working space in Whitefield, Bengaluru and the response has been overwhelming. We want to become one of the largest players in the premium coworking and shared office market with a Pan India presence. We will continue to provide creative, design inspired coworking spaces for startups, freelancers and entrepreneurs encouraging the shared economy. We believe that GoodWorks CoWork is not just a workspace. It's a way of life & a path to success!
Apart from the business idea, what are some of the key things your team looks into while assessing the applications for Angel Investment ?
We will be selecting startups who demonstrate an idea that solves 'real' business problems and must be able to sustain itself. The startups will receive intense mentoring and training over a period of time and they are expected to iterate rapidly. So we are open to any startup, entrepreneur or small business owners who are passionate about their new venture.  Our space provides all the facilities needed to run a company smoothly without logistical hassles. As mentioned apart from mentoring, the basic administrative facilities will be taken care of and most importantly, you will get free tech-consulting services with our team.
Vishwas, you don multiple hats [serial entrepreneur, best-selling author, etc.], how do you manage time ? [especially for founders since they need to get priorities right] ?
I won't lie to you by saying it's easy. It's incredibly hard to balance different roles. I am a CEO during the days and a storyteller by night and weekends. I wish I had 48 hours in a day. I have so many stories to tell, and I have so many business ideas to execute. Our group companies GoodWorkLabs and GoodWorks CoWork are doing some incredible work right now, so things are hectic.
However, it is my passion that drives me and if you're passionate enough you'll find the time to do it.
Can you share some tips for building an effective team for startups [especially the initial core team] ?
Building the core team is one of the most critical factors that leads to the success of a startup. It is important to attract and hire the people who have the same values and reflect the same ideologies as the founding members. It's easy to lose track of the goal and get lost in the initial days, if everyone's not on the same page. The core team must believe in the idea as strongly as the founding members. No matter how many years of experience or how well educated the person may be – if he isn't convinced about your proposition, it's not going to be a fruitful partnership.
You have witnessed ups & downs in your career [shutting down of your startup than bouncing back], how according to you should entrepreneurs deal with such adverse situations and how they can keep themselves motivated so that they can bounce back ?
I have experimented a lot in my life. I have tried so many different fields, done random experiments, failed, succeeded, and all that. I usually tell budding entrepreneurs – 'Be   shameless. Experiment. That's the only way to identify your true passion.' If I had not experimented by being shameless, I would never have identified my passions of writing and entrepreneurship.
With push for Digital India, sectors like Fintech, etc. what are some of the areas that might catch entrepreneur's & investor's interest in 2017 ?
There are many emerging markets and it's vital for investors to keep an eye on what's happening in these sectors. I am closely watching sectors related to – AI, AR, Machine learning, AR, VR, IOT, organic farming, renewable tech,  REG [REGULATION TECH] and eGovernance and believe they are the future to look out for.
VC Funding or Bootstrapping, your thoughts on the same and when should a founder look out for institutional funding
Both VC Funding and Bootstrapping have their pros and cons. With bootstrapping, it's a lot harder as the founders have invested their own money, scalability is a lot tougher and a much longer process when if comes to bootstrapped companies. On the other hand, getting funded doesn't make the journey any easier. Companies will be giving away stake to investors and with it their freedom – you'll have to be answerable to the investors and need their approvals for every step that the company takes.
However, the right time to apply for funding is when the startup has a Minimal Viable Product [MVP] and some traction or successful pilot to validate their business model.
Any books that you recommend and when would your next novel/book hit the market ?
Ayn Rand is my favorite author. Her book The Fountainhead influenced me deeply during my college days. It's the perfect book to gift. I also enjoy reading Dan Brown, Michael Crichton, Sydney Sheldon, & Jeff Archer among others. So people can gift me a range of books! I like reading science fiction, thrillers, adventures, and many more genres. But I usually stay away from books that are boring. I have very little patience.
My next novel is completed and in the final stages of editing. It's an exciting trilogy that I'm thrilled about, I'm hoping that it hits the market sometime in December. I will be announcing more details about the story and launch plans shortly.
We thank Vishwas for his time and sharing valuable insights with our readers! If you have any questions for Vishwas about GoodWorks CoWork, startups, funding, technology, etc., please email them to himanshu.sheth@gmail.com or leave your question in the comments section.