One of the primary reasons book addicts prefer biographies, diaries, etc. is the vast amount of learnings embedded in the biography. You can learn on how the personality [on whom the biography is based] dealt with ups & downs, his personal life, how he made his important career decisions, etc. In almost all the cases, biographies are based on lives of the rich & famous e.g. Steve Jobs, Dhirubhai Ambani, Elon Musk, etc. Contrast to biographies, people who pen down their own autobiographies have an interesting story to tell about their lives, learnings, etc. Many times, authors who write their autobiography might not be that rich & famous but they have encountered ample amount of learnings that can definitely be of help to the readers!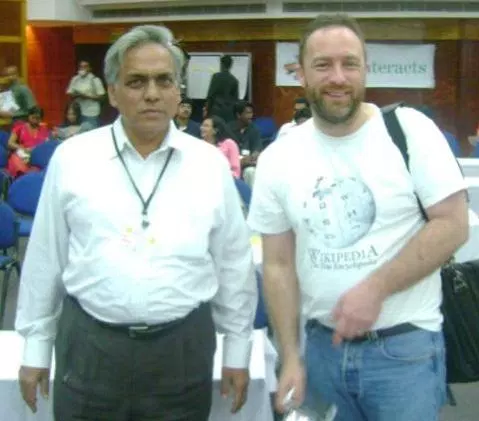 One such autobiography is that of Mr. Gangadhar Bhadani who was once described by Jimmy Wales, co-founder of Wikipedia, as the most prolific Indian Wikipedian. He was in the top ten worldwide contributors for months. He is around 65 years old and has lived in 17 places & 24 dwellings across India. He is a retired bank officer but unlike other bank officers, his life is full of interesting happenings 🙂 At a tender age of 55, he started contributing to Wikipedia and his book Choice in Chaos: A Wikipedian's Autobiography is the first attempt by an English Wikipedian to share his life story.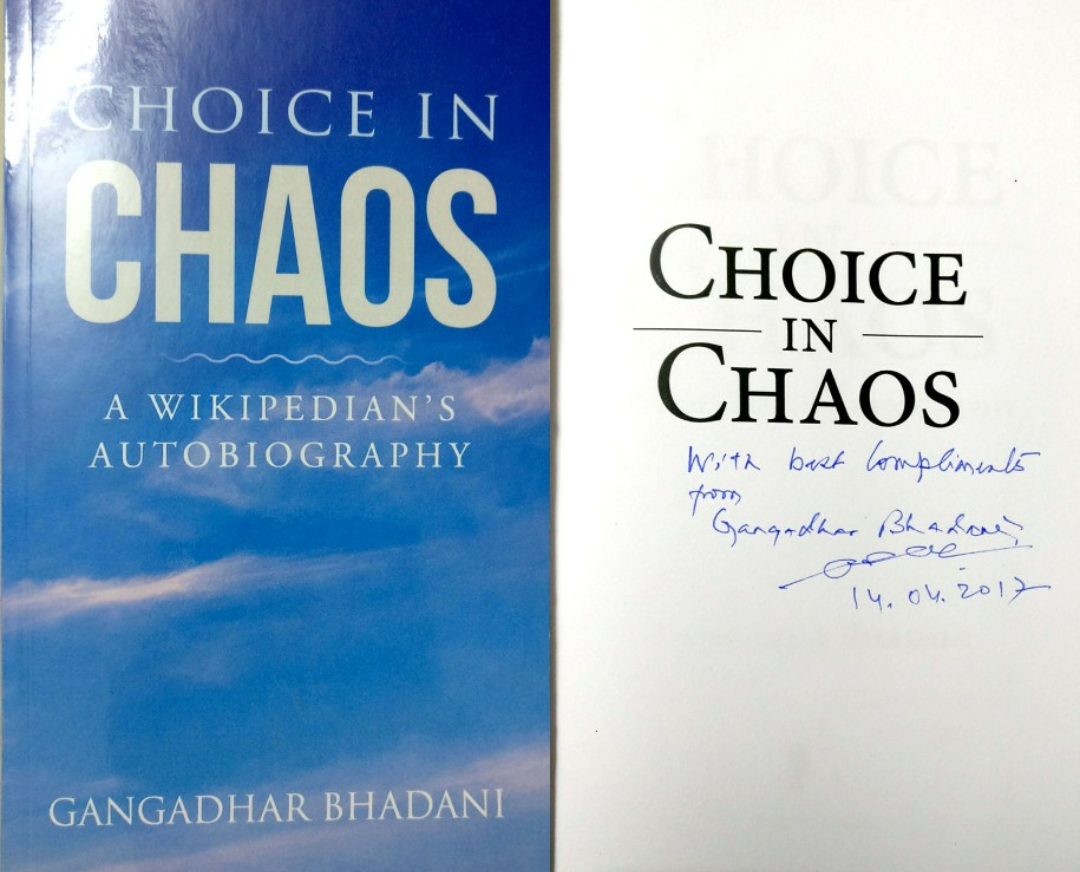 About the Author
Mr. Gangadhar Bhadani is a retired bank officer and a prolific Wikipedian. In 'Choice in Chaos', he shares his life story, a tale spanning six decades of his life so far. Post-retirement [i.e. at the age of 55], he started contributing actively to the English version of Wikipedia and this according to him has been a life changing moment. You can connect with him on Facebook here.
Choice in Chaos: A Wikipedian's Autobiography – Detailed Review
Since Mr. Bhadani has lived in seventeen different places across India, the book takes us back in time and a young Indian of this era can paint a picture of India along the way. Being an autobiography, in Choice in Chaos, Mr. Bhadani has touched upon various aspects of his life – Childhood, multi-dimensional adulthood, life as a banker and his experience as an active Wikipedian where he is passionately contributing since 2005.
The book starts off with the post-independence era in the chapter – Arrah Zila Ghar Ba. In this chapter, he recollects all his childhood memories of celebrating independence with fervor in the Arrah city that belongs to Bhojpur district. We loved the overall references that he has brought out throughout the book, example below
A human being is a creature encapsulated in his past. Despite all attempts, one does not forget many things and probably every incident, every word, every scene, sight, and smell continues to reside, consciously and sub-consciously, like granite granules inside one's psyche not to be destroyed despite all efforts.
There is a lot of reference to Hindi words since Mr. Bhadani has mainly stayed in the northern regions of India [a couple of years were spent in Chennai when he was employed with Chennai Zonal Office]. Each chapter [Chapter 1~ Chapter 17] has a collection of memories, learnings, etc. where these chapters document his life in 17 different places in India e.g. Chapter 1: Arrah, Chapter 2: Tatanagar, Chapter 3: Muzaffarpur…. In the initial chapters, he has focused on his childhood, how living in a different set of conditions [and with a variety of people] shaped his thinking and adulthood. He has beautifully documented different facets of relations, be it with his parents, his elder brother, his daughters, etc.
Though each of these chapters has a beautiful connect where he walks us through his childhood, adolescence, multidimensional adulthood; the fascinating chapter of his life starts when he starts contributing actively to English Wikipedia. Mr. Bhadani recounts the moment when he was awestruck as soon as he started exploring Wikipedia while he was posted in Chennai. That Aha! moment is recounted in Chapter 21: Armenian Street to Mount Road where he mentions how he felt rejuvenated and blissful in the company of English Wikipedia.
Within a period of few weeks, Mr. Bhadani had already created many new pages and his edits caught the attention of other members of the Wikipedia Community. Some of the articles that were initiated by him are Chennai Central, Chennai Port, EID Party, Guindy National Park, etc. According to him, Armenians in India is the most significant article created by him. Subsequent chapters describe his interesting journey as a Wikipedian and how he networked & learnt from fellow contributors.
He even recounts his encounter with Kiruba Shankar, social media entrepreneur from Chennai where Mr. Bhadani was invited to participate and guide participants in an event named the Wikipedia Academy. There are references to Wiki Conference, the flagship conference of Wikimedians held in association with the Wikimedia Foundation. The autobiography closes with a chapter on Jharkhand where Mr. Bhadani currently resides and spends his time on different assignments.
Closing Thoughts
Choice in Chaos – A Wikipedian's Autobiography is an interesting book that has many learnings from each one of us. The key takeaway is 'Passion can be followed at any age since age is just a number'. At 24 Chapters and 284 pages long, it is definitely a good read where you can experience/feel the various phases of life in various parts of India!
You can purchase Choice in Chaos – A Wikipedian's Biography by Gangadhar Bhadani by clicking on the link below
Thank you Mr. Gangadhar Bhadani for sending us the review copy of Choice in Chaos, we enjoyed reading the book …