Few weeks back, we reviewed MoneyTap which is India's first app based credit line. You can find the MoneyTap review here. As mentioned in the review, MoneyTap offers unsecured loans for salaried professionals in association with its partner banks.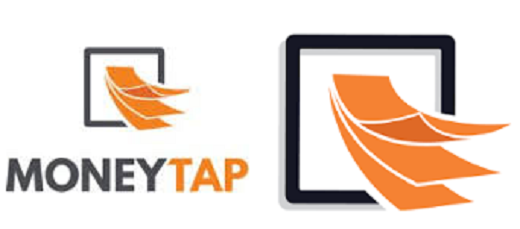 Unlike P2P lending companies, the interest rate is much lesser and the loan process is fast & simple 🙂 Today we have a chat with Bala Parthasarathy, Co-founder & CEO of MoneyTap about MoneyTap, the P2P lending market, opportunities in Fintech, impact of Digital India & much more. So let's get started with the Q&A….
How did you come up with the idea of MoneyTap ?
It was a combination of personal experiences as well as general observation. Growing up in India in the 80's & 90's and coming from middle-income group families, we have all faced shortage of additional funds at some point. We observed the market need and realised that the middle income group [the salaried class] has always been facing challenges with respect to credits, especially small amounts. People are not comfortable going to banks for loans for minimal amounts-this could be anywhere from Rs. 3000 to Rs.50,000 to 1 or 2 Lakhs.
Asking for money from family and friends always has an embarrassment factor. The needs are what most of us have, that could be anything from  medical, birth, death, school fees, deposit to take a rent on house, etc.  In many cases, people even have fixed deposits that they just don't want to break for a small need. This is where we thought of MoneyTap and wanted to be like a friend who could be reached out at fingertips.
At MoneyTap, we are on a mission to change this and make credit accessible to those who deserve it. The ubiquitous presence of smartphones and initiatives such as Aadhaar has made it possible for us to develop a truly powerful and disruptive financial instrument. The credit line for consumers with accessibility through an app is a new concept in India and we are excited about the opportunities it can bring to thousands of millions of Indians. MoneyTap is like a friend who gives you money when in need, be it marriage, birth sudden death in family, school fees, hospital bills or sudden cash crunch during the month end. We, at MoneyTap, want to make credit available for deserving and eligible candidates.
Can you share some details about the team behind MoneyTap ?
MoneyTap is based in Bengaluru and all the three of us have been entrepreneurs before with an IIT/ISB background. Bala has co-founded multiple startups in Silicon Valley including Snapfish [sold to Hewlett Packard], which he helped grow to 100M users and USD 300M in revenue. After moving to India in 2007, he volunteered for UIDAI under Mr. Nandan Nilekani before starting AngelPrime in 2011 [now Prime Venture Partners] where he helped create companies like ZipDial [sold to Twitter], EZETap, Happay, etc.
Kunal [ex Texas Instruments] & Anuj  [ex Airtel & JWT] co-founded Tapstart that grew to 300K users and turned profitable in 2 years. They exited this venture in 2015.
What is the TAM of the consumer debt market that MoneyTap is trying to address ?
Consumer debt is growing fast in India. According to the last available consolidated data from the Reserve Bank of India [RBI],  personal loans – extended by banks grew at 28.7% in 2015 and credit cards grew at 23.6%. But if we look at the actual numbers, there are just 24 million credit cards for a country of 1.2 billion! Middle income customers making Rs. 25,000 per month or more, facing frequent cash crunch for regular needs like education, medical, birth/death, etc. are not serviced by financial institutions today without putting up collateral such as gold.
Large needs, such as buying a vehicle, house, etc. are addressed by financial institutions unlike online and offline shopping. Though the latter often involves very high credit card interest rates of 40% if one doesn't pay on time. This is the clear unaddressed need.
How different is lending based on Line Of Credit vis-a-vis P2P Lending or taking a loan [any type of loan, personal/housing/education,etc.]
We see the following major  differences
1. Once a credit line is sanctioned with an upper limit, one can decide any amount of money from that limit and choose to withdraw only that specific sum from the credit line. So, if there's an approved credit line of say Rs. 3 Lakh, one could withdraw a small amount like Rs. 5,000 or Rs. 50,000 and so on.
In contrast, a typical personal loan would force one to take the entire Rs. 3 Lakh in one shot, even though the need for money is spread over a period of time.
2. Interest would be charged only on the small amounts borrowed and not on the full Rs. 3 Lakh. Thus, if amounts of Rs. 5,000 and Rs. 50,000 are borrowed separately, then one would only have to pay interest on the total of Rs. 55,000 and not on the entire amount of Rs. 3 Lakh sum. This would have made a world of difference to a person's monthly cash flows and overall financial condition.
The obvious contrast with a typical loan is that interest would be charged on the full Rs. 3 Lakh amount from day one. Usually a person has no choice in this scenario.
3. In most cases, the flexible borrowing options in a credit line come with the convenience of deciding payback periods for the separately borrowed amounts. Thus, for an amount of Rs. 5,000 borrowed from the credit line, one could choose to repay in 2 months and pick a longer tenure for the amount of Rs. 50,000, say anywhere between 12 months.
In contrast, a personal loan tenure would be fixed upfront with little or no flexibility in most cases. The advantage of a credit line is that as soon as EMIs are paid back, the credit line gets replenished automatically and one can continue the cycle of borrowing and repayments without needing to apply gain.
The infographic also explains how a credit line differs from a conventional loan: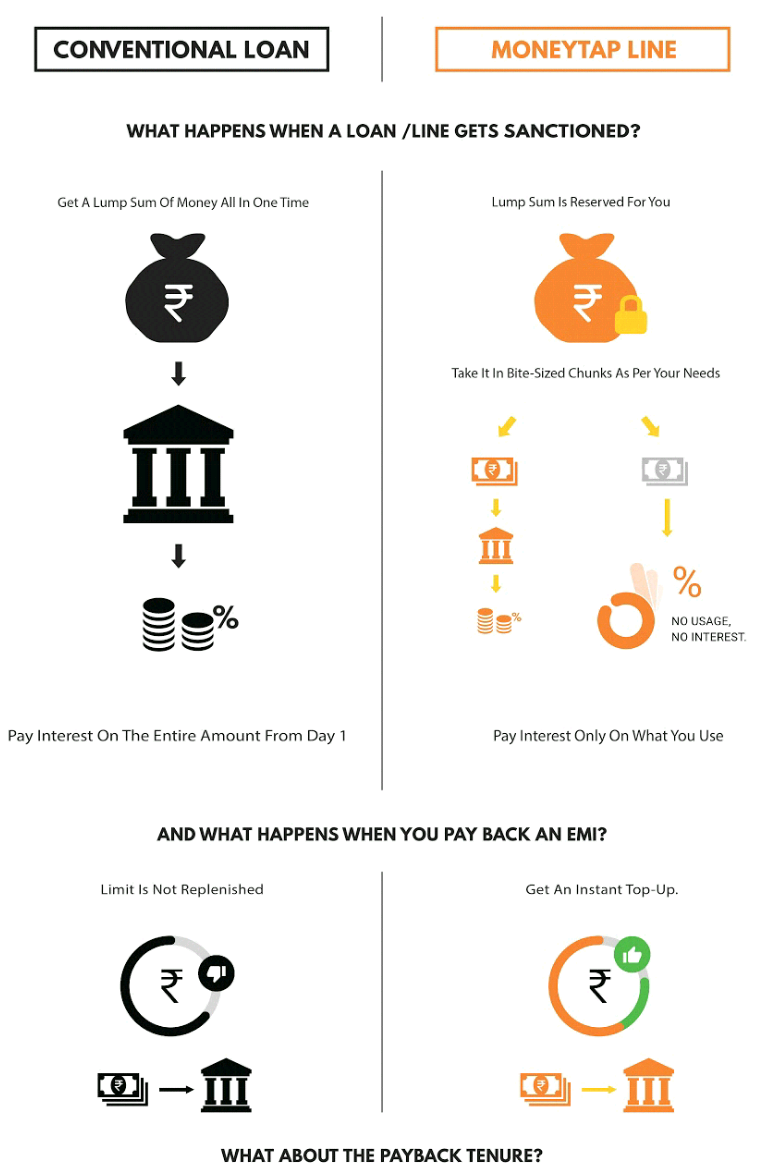 What are some of the data points that MoneyTap uses in order to check whether an individual is creditworthy to be approved as a borrower on MoneyTap ?
Firstly, an individual needs to qualify the MoneyTap eligibility criteria mentioned below:
23 years and above age
Salaried individuals with minimum salary of 20,000 pm.
Credible KYC documents
Residents of Delhi, NCR, Mumbai, Bangalore, Hyderabad, Chennai, Pune, Ahmedabad, Vadodara and Bharuch [will be launching in other cities soon]
Secondly, our partner bank check the creditworthiness of the applicant based on their credit history and thereby the applicant is approved/ disapproved basis all the steps. Once approved, their credit limit is set according to their credit history.
Few years back, there was huge wave about MFI's (like SKS Microfinance), in 2016~17 the wave is around fin-tech sector (NBFC's), what are your thoughts about the Fintech space in the coming years ?
Fintech will see significant growth and innovation in the next few years. Innovations like IndiaStack and deregulation in the form of GSTN, payment bank licenses and demonetisation along with a massive governmental push to move payments to digital will spur a significant growth in multiple areas in finance.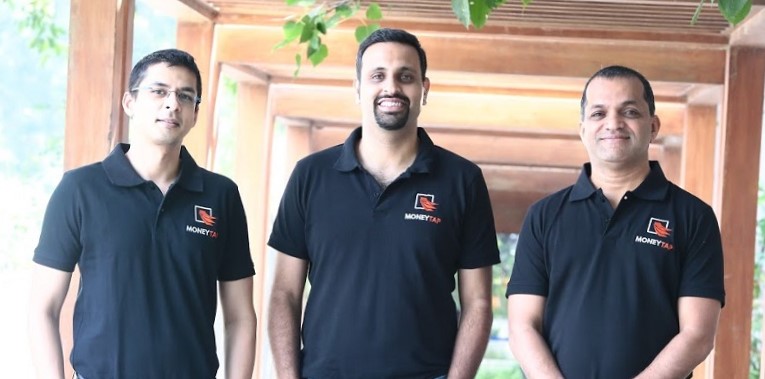 There is a general question with borrower, what happens if they are unable to pay an EMI on time/not able to return the money. How is the lingering question of Credit Risk taken care of ?
The same consequences of not paying one's credit card bill or bank loans apply in this case as well. The Reserve Bank of India has nominated 4 credit agencies [e.g. CIBIL] that track an individual's financial credit scores. If one does not repay or delay the repayment, our partner bank will automatically report it to these agencies, which will record the information. This can lower the borrower's credit score.
Once an individual's credit score is affected, they will not only lose MoneyTap access, but all future loan applications will be negatively impacted. He might not be able to get loans easily to buy a house, a car or a two-wheeler or get a credit-card, as all the lending institutions in the country check with these agencies before approving any loan. The bank might also initiate legal recourse to recover the money from the individual.
Can you please share some insights into the min/max loan that a person can avail on MoneyTap, interest rates, pre-closure charges, association with RBL Bank and any other details that would come in the mind of a personal availing a short-term credit
MoneyTap enables consumers to get instant credit from partner banks at the tap of a button on the app. Credit Line, a facility that was only available for businesses until now, is now being made available to consumers. The 'Credit Line' means that the bank will issue a limit of up to INR 5 lakhs, without any collateral or charging any interest. Against this limit, using the MoneyTap app, consumers can borrow as little as Rs. 3000 or as much as Rs. 5 lakhs and repay it as EMIs from 2 months to 3 years. The interest is paid only on the amount borrowed and the rates can be as low as 1.25% per month. The limit also gets automatically replenished as soon EMIs are paid back.
Any salaried employee can download this free Android app and in a few minutes, using a patent-pending Chatbot interface, provide all the information typically required by banks. The app securely connects with the banking systems to give them not only an instant approval but also a credit limit, depending on individual credit history.
The RBL Bank is the launch bank partner of MoneyTap. RBL's technology enables MoneyTap to provide instant decision and instant access to money, 24/7, irrespective of holidays. Though all actions are initiated on the MoneyTap app, per RBI guidelines, all financial transactions such as billing, repayment or withdrawals will directly be with the bank using secure APIs.
As an added convenience for shopping needs, a 'MoneyTap RBL Credit Card' is also provided for the user. This is a regular MasterCard Credit Card that is accepted at all locations and for all card purchases – offline and online.
According to your data, which is the biggest category where customers have opted for loan based on Line of Credit/MoneyTap ?
Our Top-3 categories are Wedding spends, Household related purchases and Education.
Currently MoneyTap is available only for working professionals, any time-line or plan on when you plan to open up this avenue for entrepreneurs, SMB's, freelancers, etc.
As of now our only target is to expand our customer base among the salaried class. We have lowered the minimum salary limit for eligibility from Rs. 25,000 per month to Rs. 20,000 per month. MoneyTap now  is also available for people staying in shared accommodations.
Normally Banks & other financial institutions take couple of days~weeks for KYC, how does technology [behind MoneyTap] ensure that the entire process of validation of credit-worthiness of an individual is expedited ?
The first step in our evaluation process is to understand the person's credit profile. We are able to do this under 7-minutes on the MoneyTap app that you can download for free from the PlayStore. After that, qualified applicants who have their Aadhaar card and updated mobile number with Aadhaar, can eSign their documents so that absolutely no paperwork is required.
We are able to do this because of our advanced technology as well as the increasing adoption of Aadhaar and IndiaStack.
MoneyTap is currently present in how many cities in India ?
MoneyTap is currently present in Bangalore, Delhi, NCR, Mumbai, Hyderabad, Chennai, Pune, Ahmedabad, Vadodara, Gandhinagar, Anand and Bharuch.
Are there are any RBI guidelines regulating the app based businesses [based on Line Of Credit] in India or to put it the other way round, is there a requirement to regulate lending based on Line Of Credit in India ?
Lending, whether they're on an app, website or physical branches is regulated in the exact same way. There must be a bank or NBFC that meets all of RBI criteria. MoneyTap also meets with RBI from time to time to provide inputs so that the regulators can draft appropriate policies.
What are some of the things that a borrower needs to keep in mind while opting for repeated loans on MoneyTap [or for that matter any medium offering loan based on Line Of Credit] ?
Whether it is MoneyTap or not, basic rules of finance that we learnt from our parents and grandparents apply. Borrowing money to tide over medical emergencies or invest in things like education are good. Buying and spending things beyond the ability to pay it back will always have a bad ending.
In case of Loans, interest rates vary from Bank to Bank and are also dependent on external factors like market volatility, etc. can you let us know whether the interest rates are fixed on MoneyTap or whether it is like a normal loan [where for certain number of years interest rate is fixed and later it is variable] ?
A borrower has to pay interest only on the funds he uses. At the time of withdrawal, he can choose the terms of repayment, which can be anywhere between 2 months and 3 years. The repayment tenure he chooses will determine the EMIs.
The interest rate is equivalent to market rates for any 'personal loan' with zero collateral or security. It can be as low as 1.25% per month depending on the partner bank and the credit profile of the user.
Who are some of the competitors of MoneyTap ?
MoneyTap is the first credit line app in India. Until now the concept of credit line was present for traders through money lenders. We have introduced the concept for consumers for the first time. There is no competition that we see at present.
2016 was a tough year for startups [especially from funding point of view], how according to you should entrepreneurs deal with such adverse situations ?
Grin and bear it. Markets are always cyclical and the sky high valuations backed by even higher expectations were bound to come back to earth sooner or later. This is actually a great time to get excellent talent who are not overpaid and build great businesses.
Can you share some tips for building an effective team for startups [especially the initial core team].
There are three big rules:
Hire very, very smart people. You can't substitute intellectual horsepower with anything else. And give them a lot of autonomy.
Smart people are rarely easy to work with. The 'brains-premium' is worth paying, up to a point.
If and when they get disruptive or if you made a mistake in hiring, quickly let them go. It's better for both parties in the long term.
How important is it for early stage startups to pivot their business model [in case things are not working out as per their plan] or when is the right time to pivot ?
It is critical. But the problem with Indian entrepreneurs is not in recognizing the importance of pivoting. It is the execution of a pivot. They typically just add on the new business and keep the old one. That's a 'khichadi' strategy, not a pivot strategy.
After demonetisation, there has been a huge demand for payment apps [including UPI], do you see that trend working in favour of apps like MoneyTap [that offer different services compared to e-wallet apps].
Absolutely. We are not a merchant or consumer UPI app like others. We are in the business of providing credit. UPI is a terrific way for our customers to take money out and pay back without the hassle of net-banking, etc.
Bala's earlier venture Snapfish was acquired by HP, what according to you should entrepreneurs look for when there is interest [from other companies] for their startup getting acquired [and not acqui-hired].
Again, there are three rules for selling your company:
Good companies are bought, not sold. In other words, if you are actively out there selling your company, you will have to settle for peanuts.
You should always have multiple parties engaged, not just have one buyer.
Sell on a high note-when the company is doing great, potential buyers will extrapolate to value your company at an even more glorious future.
As per your entrepreneurial experience, when should an entrepreneur look out for external funding ?
When they really don't need the money. It's always the best time!
Some books that you highly recommend for entrepreneurs
There are lots of good books. The two I recommend are, 'Zero to One' by Peter Thiel and 'Hard things about Hard Things' by Ben Horowitz.
Some closing thoughts for our readers!
Entrepreneurship is not easy and not for everyone. But it is addictive and some of the most creative moments in your life will be during this journey. And there is no other [legal] way to have a huge financial windfall besides running your own company.
We thank Mr Bala for his time and sharing valuable insights with our readers! If you have any questions for Bala about MoneyTap, Fintech, scaling up, etc., please email them to himanshu.sheth@gmail.com or leave your question in the comments section.