How many of us have landed in a cash-crunch situation where you wanted a certain amount of cash as a short-term loan but felt awkward to borrow from your friends/relatives or they refused to lend due to some unimaginable reasons! With growing disposable income, rising expenses, etc., such scenarios are very common, especially with the urban population. You might require a loan for paying your rental deposit, starting a business, shopping, going on a vacation, buying home appliances or simply because you have run out of cash towards the month end.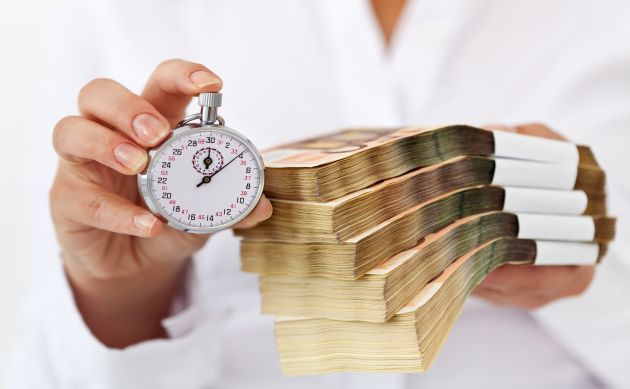 Opting for a bank loan or securing an unsecured personal loan [from P2P companies] might not be feasible due to the higher interest rate. What if there existed a solution where borrowers can opt for loans based on their Line Of Credit.
Line of Credit and its advantages
A line of credit, abbreviated as LOC, is an arrangement between a financial institution, usually a bank, and a customer that establishes a maximum loan balance that the lender permits the borrower to access or maintain.
The main advantage of a line of credit is its built-in flexibility. Borrowers can request a certain amount, but they do not have to use it all. Rather, borrowers can tailor what they spend to their needs, and they only have to pay interest on the amount they spend, not on the entire credit line. In addition, consumers can also adjust their repayment amounts as needed, based on their budget or cash flow. For example, borrowers can repay the entire outstanding balance at once, or they can opt to just make the minimum monthly payments [Source].
Loan based on Line of Credit : A market opportunity
As mentioned earlier, young Indian urban population is and will continue to be driven by aspirational living and the basic standard of living will increase drastically. On similar lines, Indian consumers are also extremely credit-starved; they are either denied or pay a heavy premium for accessing the financial services due to sparse data, high transaction costs and poor trust infrastructure.
Many salaried urban Indians can easily co-relate to the situation shown in the video below
Unsecured personal loans offered by banks is still relatively slow-growing credit product that stands at around Rs. 45,000 crores. The informal market that includes moneylenders and family is roughly estimated to be around 50~100 times bigger. Some of the primary reasons for the gap are below:
Lack of reliable credit information available for banks to be able to offer credit
Credit cards, even when available only solve the 'Shopping' problem. Day-to-day needs like paying school fees, emergency expenses, rental deposits, etc. are largely cash-based
Applying for an unsecured personal loan is time-consuming for the consumer and expensive for the banks to process. Banks then prefer giving higher ticket loans to fewer people.
There clearly existed a market opportunity if a Bank/NBFC could provide an efficient solution to provide personal loans to Indian consumers based on their line of credit and solve the existing credit problem for Indian middle-income group. This is the opportunity that led way to the founding of MoneyTap, a Bengaluru-based fintech startup that has stellar serial entrepreneurs-Bala Parthasarathy, Anuj Kacker, and Kunal Varma as it's founders. MoneyTap is India's first startup that provides loans based on consumer's credit line. A couple of months back, the MoneyTap app crossed 100K installs in three months since launch.
Today, we review the MoneyTap Android app from the perspective of usability, ease of securing a loan, communications with the customer-support team, etc.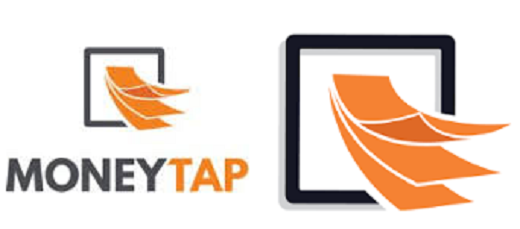 MoneyTap : Money on your tap
MoneyTap is India's first App-based credit line. Currently, it is open only to salaried professionals and loan is given to the consumers in partnership with banks. Unlike loan process which is very tedious, MoneyTap makes the entire process painless since it all happens on the app including the verification of eligibility, eKYC, etc.
The app is built on patent-pending technology, it is very secure and uses AI, NLP, ChatBot, etc. for providing a better experience to its customers! Some of the salient features of MoneyTap are below:
Credit Limit – Minimum credit limit of Rs. 3000, maximum credit limit of Rs. 5 Lakhs.
No Usage, no interest – Interest is charged only on transfer or EMI conversion. The remaining limit is available to the customer at no additional cost.
Low Interest – Interest rates vary from 1.25%~1.5% per month with no hidden charges.
Decide your own EMI – Customers can choose the tenure from 2 months to 36 months
Rewards & Benefits – MoneyTap credit card is loaded with rewards and other benefits
No collateral, no guarantors, 100% unsecured
Swipe, Tap and Convert – Customers can shop online or swipe at a store, one tap to transfer money instantly to the bank.
Keeping track of the transactions – EMIs and available credit can be tracked right from the app. It combines the best of personal loan, cash, and credit card, all under control through the mobile app!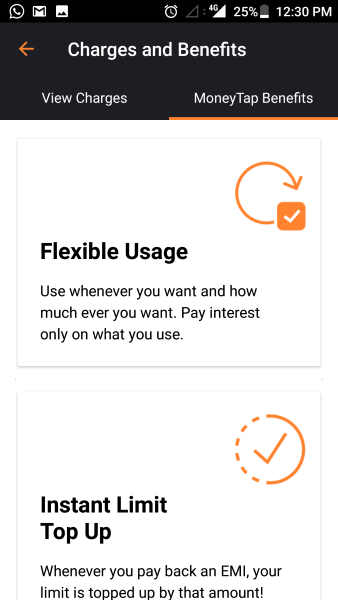 There is a one-time setup fee of Rs. 499 plus taxes and the customer would get a MasterCard powered credit card by RBL Bank. The lingering question that comes to mind is 'Why should someone pay for a credit card in times when other banks are offering credit cards for free'. I checked with the RBL bank executive as well as customer happiness team at MoneyTap and they informed that customer would receive equivalent credit points that can be redeemed across retail outlets or on e-commerce platforms [so ideally the credit card is free].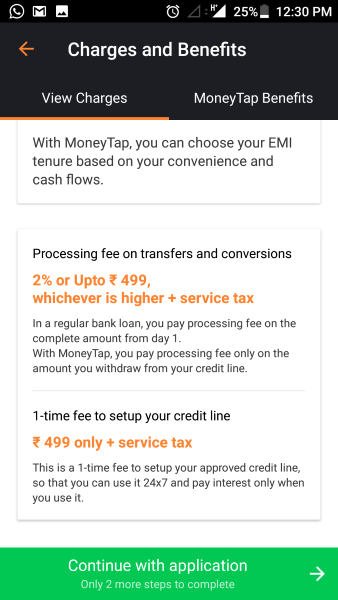 MoneyTap : Detailed Review [Product Flow, Security, Customer Support]
As mentioned earlier, any salaried employee [with a monthly salary above Rs. 20000] can avail loan via MoneyTap. The immediate question that comes to mind is "Why only salaried professionals?".
We had posted this same question to Bala Parthasarathy, CEO of MoneyTap and the answer lies in 'Probability of guaranteed repayment'. He also informed us that since 'Unsecured loan based on credit line' is a relatively new concept in India hence, partner banks, as well as MoneyTap want to ensure that they create a market 'one customer segment at a time'. Bala Parthasarathy did inform us that soon entrepreneurs, freelancers, designers, etc. could avail loans via MoneyTap but for the time being their target market segment is salaried professionals.
Once the user downloads the MoneyTap app from the Play Store, (s)he needs to upload a selfie for the application form, PAN card photo and current residence proof for eKYC. The MoneyTap app has three main sections:
Profile creation
Credit decision
Loan Amount
Profile Creation
The app is built on a patent-pending chat bot interface and would ask for all the relevant information that is required by banks. However, unlike traditional loans from banks where you need to fill a lot of information & submit tons of documents, with MoneyTap the process looks fast & breezy. You need to also enter the purpose for which you require a loan [further studies, business, house deposit, pay existing loan, etc.].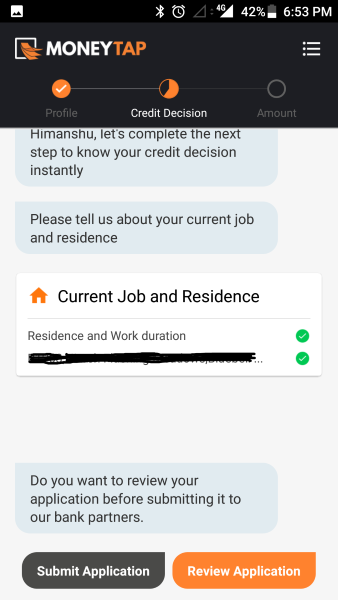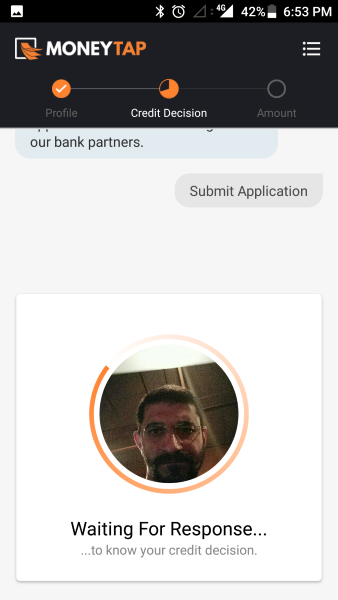 If you have an Aadhar Card, things become much easier since you could simply scan the Aadhar card bar-code and all the relevant information would be fetched from the card. Bala Parthasarathy's learnings during his tenure with UIDAI would have come in handy during the development of MoneyTap!
Credit Decision
Once the eKYC is done than the app takes the user to the next step where important decisions are taken and the customer would come to know about the eligibility for the loan [as well as sanctioned amount]. You need to enter your PAN details, current organization & residence type. Once these details are submitted, the patent-pending algorithms fetch your Credit [CIBIL] score, social score, etc. in order to perform 'Eligibility Check'.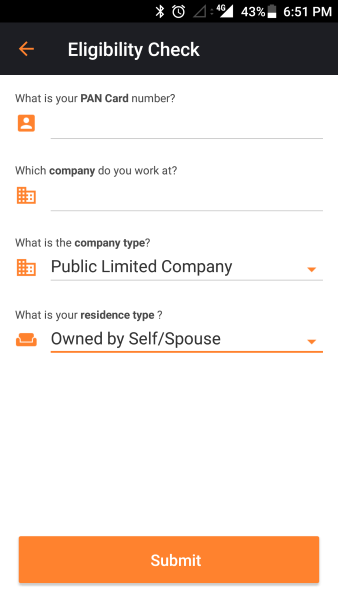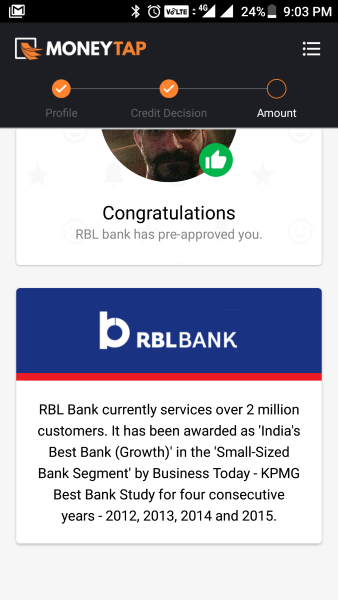 For some reason, if you fail to pass the eligibility criteria e.g. here, here you need not proceed to the next step. Similar to traditional bank loans, CIBIL score might be the first data point used by MoneyTap for checking eligibility for a loan.
Once the first step of eligibility check has passed, the user/loan applicant would need to submit last six months bank statements [salary account preferred]. The user has the option to either 'Login to net-banking account' inside the context of MoneyTap or upload bank statements via secure upload link provided by MoneyTap. Immediately, a lingering question about security would come to your mind since you are uploading your bank statement but as stated in the T&C of MoneyTap, their team takes security very seriously and all the back-end APIs comply with mandated security standards and robust protocols.
Security & Protection of Privacy
Protection of your privacy and your data security is our primary concern. Our back end APIs comply with mandated security standards and robust protocols. Our security measures have been tested and certified by our partner bank's IT team. Your credentials are only used to retrieve your bank statements for verification. Alternatively, you can also upload a PDF of your bank statements which is eco-friendly and time-saving [Source]
MoneyTap has tied-up with a 3rd party company through which 'Net Banking Login' as well 'Secure Bank statement upload' is made possible. In order to test the security of the app, I downloaded my bank statement and uploaded the pdf after removing the password and the MoneyTap app rejected the bank statement since there was an author signature mismatch. When I dropped an email for the rejection, the MoneyTap customer success team member called me and clarified the reason for rejection.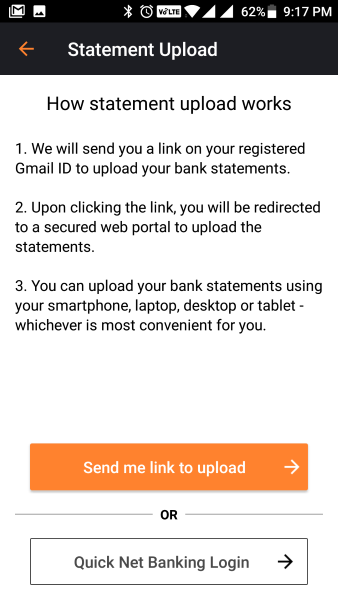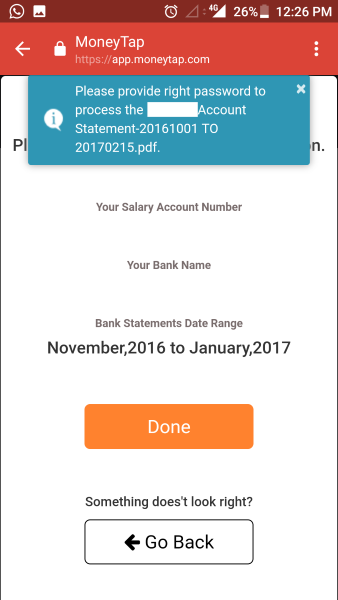 Once I uploaded the proper bank statement, the application got approved after a couple of days. In this entire process, there was no interaction with the bank partner and entire process took place on app & email.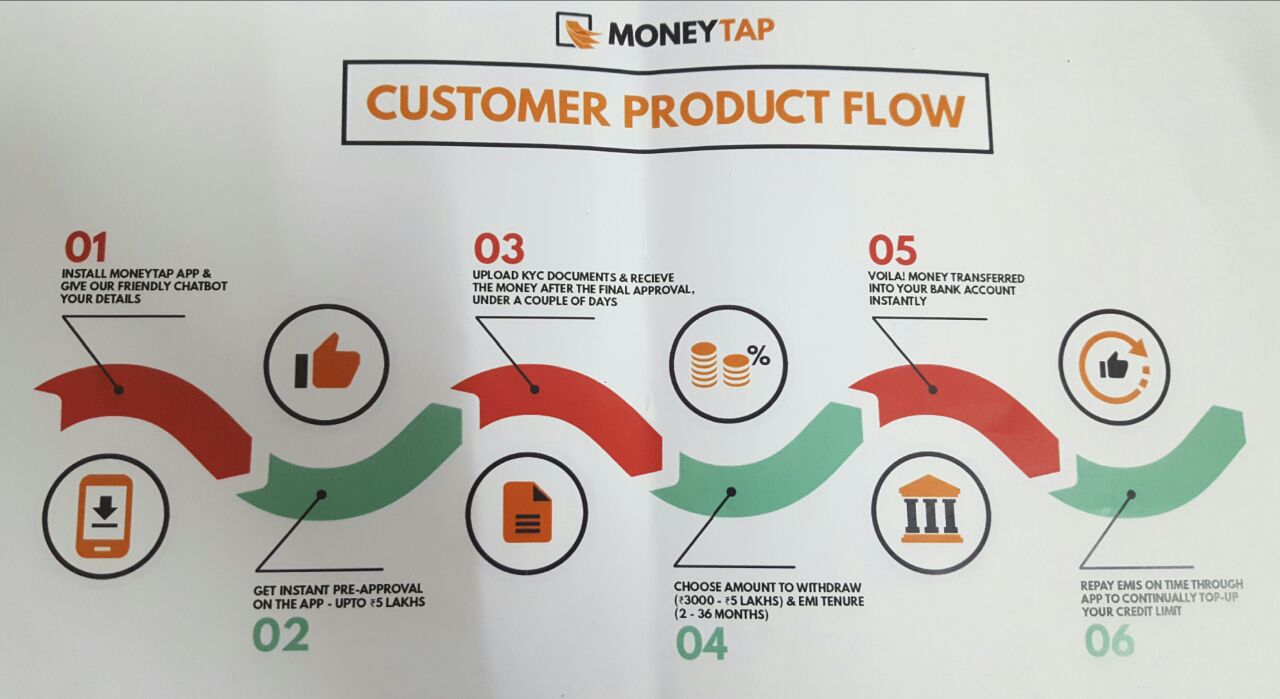 Loan Amount
Once the important steps of eKYC and Credit Decision are complete, the final step is disbursal of approved loan amount. As mentioned earlier, interest is only charged on the amount borrowed with interest rates as low as 1.25~1.5% per month. The customer would also receive a Credit Card from RBL Bank and this is the only step where you have to interact with the bank executive.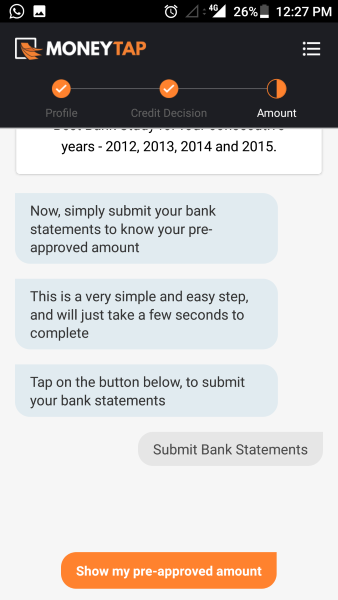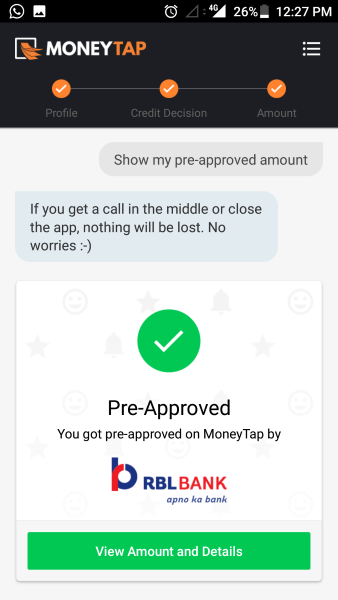 During the interaction that I had with the executive, he called me from his mobile phone & asked me to send bank statement over WhatsApp which is against security norms of the bank. Since MoneyTap acts as an 'Unsecured loan enabler', it becomes important for their customer success team to ensure that the bank officials adhere to all the necessary standards since as a customer you are dealing with MoneyTap with RBL Bank being a black-box. The official did call me from bank's landline after which communication was smooth.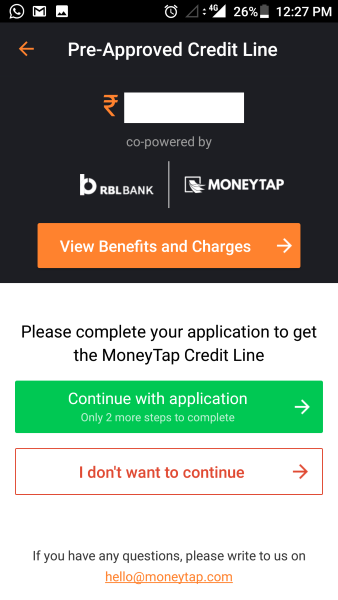 Even though the technology behind MoneyTap app is awesome and the entire approval process was completed with a blink of an eye, efficient communication with bank partners holds the key else it could result in negative reviews More details about the RBL MoneyTap credit card can be found here
MoneyTap:Scope for improvements
Currently, MoneyTap is available in Bengaluru, Delhi NCR [Delhi, New Delhi, Noida, Greater Noida, Ghaziabad, Faridabad, Gurgaon], Hyderabad and Mumbai [Mumbai, Navi Mumbai, Thane] and Chennai. However, there are requests from users from other cities and in order to track the incoming requests, MoneyTap could add a Notify Me page where the user enters his/her city information which can act as important data for their team to identify next logical expansion [coupled with data from their partner banks].
As mentioned earlier, detailed communication about the application status [from MoneyTap Team] could be very important for creating a WoW factor. Though my application was processed in a couple of days, sometimes the partner banks might take more time in processing the application which might act as a spoil-sport. Hence, timely communication becomes a very important factor!
MoneyTap:Conclusion
The overall experience of using the MoneyTap was great. The technology behind MoneyTap makes the entire loan application process less cumbersome. Banks and financial institutions are bullish on chatbots and MoneyTap uses chatbot technology very effectively. Though P2P lending, loans on credit line and other mechanisms of obtaining unsecured loans are still in nascent stage, MoneyTap does have a first-mover advantage since it is India's first app-based credit line and provides loans at lesser interest rates!
If you have used the MoneyTap app, please leave your feedback/reviews in the comments section…