E-commerce has been a huge game changer as now electronics, furniture, books, grocery, professional home services, etc. are all available on the push of a button. Apart from the entire digital experience, what makes it more unique is the speed with which the parcel is delivered to the customer! In today's hyper-competitive environment, logistics definitely plays a very crucial role since a few days of delay [in delivering the shipment to the customer] can result in a bad customer experience.
The Trust Factor comes into picture when you are sending important documents to some or planning to shift to a new house. Though the Indian logistics market is expected to touch USD 307 billion by 2020 [Source], it is still disorganized and none of the existing logistics companies have multi-modal logistics options i.e. shipping via road, rail, air, ocean, etc.
This is where Jyotheesh Kumar & Dr Sharad Nair saw an opportunity and started ValueShipr, that offers customers (B2C) and Businesses (B2B) various shipment options namely Surface, Ocean, Rail, and Air. Their platform leverages IOT and Big Data for efficient tracking & shipment of consignments. In simple words, ValueShipr is a Logistics Platform ecosystem connecting SHIPPERS with Loads to TRANSPORTERS.
Today we have a chat with Jyotheesh, Co-founder & CEO of ValueShipr about his journey, learnings while building ValueShipr, funding, scaling up, etc.
So, let's get started with the Q&A….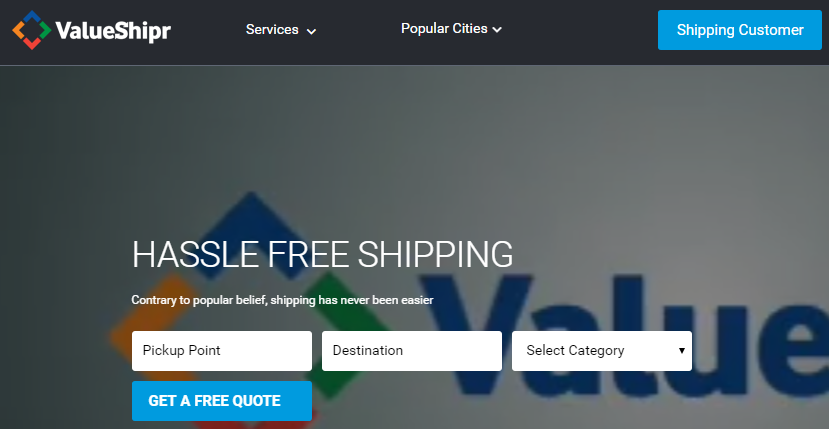 How and when did you come up with the idea of ValueShipr ?
In 2014, I was out to transfer goods for a personal matter as well as for office related requirements, wherein at the end of both the tasks, I was left with a deep irritation due to the experience. That's when I realized how disorganised, unprofessional and customer unfriendly the whole logistics framework in the country was. Coincidentally Dr. Sharad Nair [the co-founder of ValueShipr] who is a director of another logistics company happened to meet me on a chance meeting and we just kind of exchanged notes and our frustration. One thing led to the other and our frequencies matched.  We drew a rough blueprint on the problems, the solution and the opportunity this presented. By end of 2015, we had a framework of business model and the number churning was done and ready. The official curtain on this project was raised in April 2016.
Can you give a small background about you, your start-up and its founders ?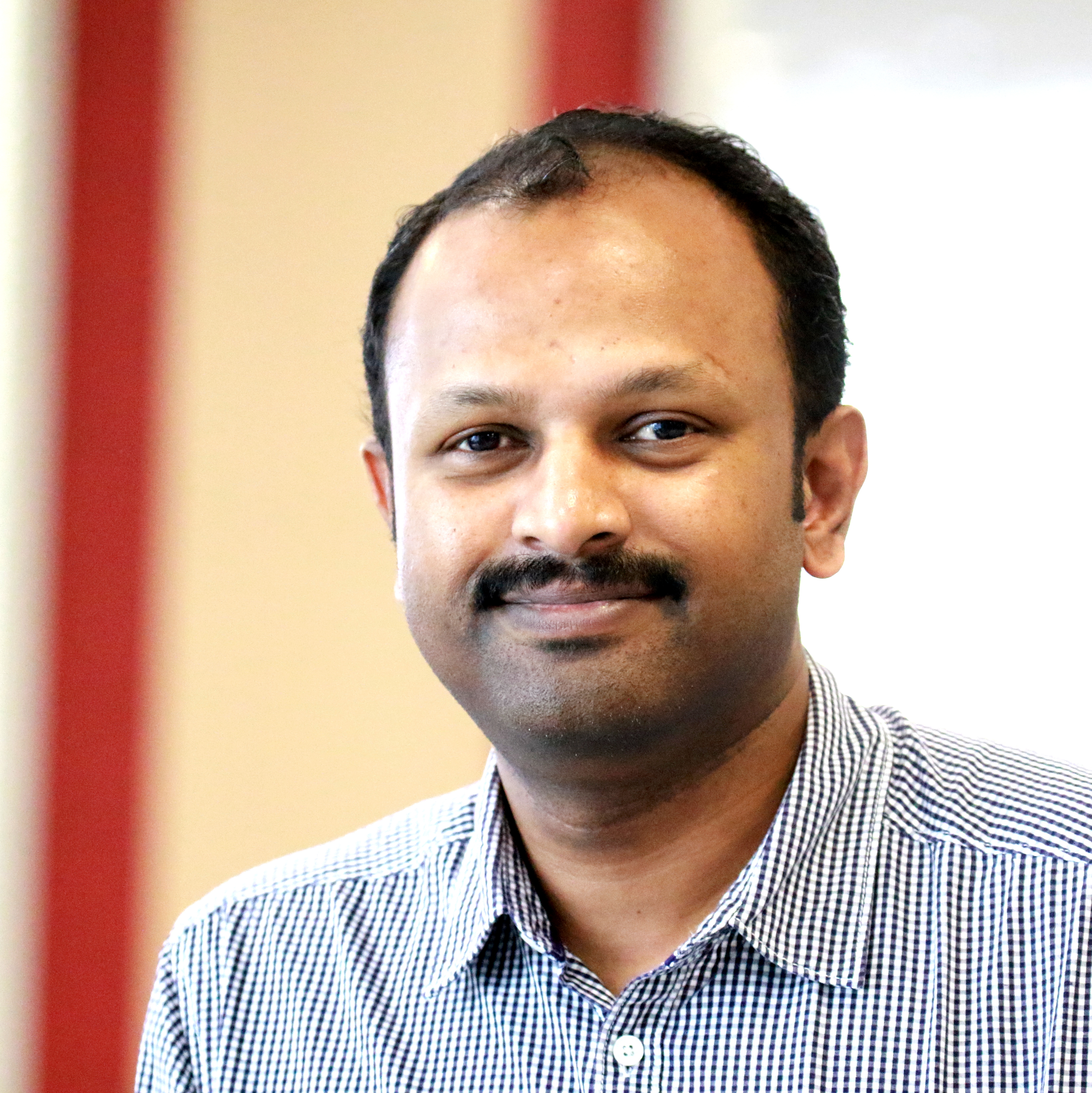 ValueShipr is heralding in an innovative logistics platform ecosystem on On Demand Logistics marketplace by aggregating, organizing and bringing Transporter Partners and Clients-Shippers to harmoniously conduct business. The company is founded by Jyotheesh Kumar who brings in close to 20 years of experience in diverse and varied business roles. The company has received seed funding in 2016. The platform focuses on Multi Modal Logistics Solutions [Surface, Ocean, Rail, and Air] for cargo movement and brings together consignors, consignees, fleet owners, transport companies, warehouse owners as well as agencies on one common platform and enable them to transact and manage their business. Leveraging technology and diverse experience, ValueShipr focuses on delivering quality service by facilitating goods, cargo and parcel movement for every load capacity, at competitive price, flanking every shipment or freight with latest technology and outstanding customer service.
ValueShipr was conceptualized by Dr. Sharad Nair and myself. Dr. Nair and I have known since we were in school. Thus this venture brings us together after a gap of 20 years.  At ValueShipr, I am the Chief Executive Officer of ValueShipr, I am responsible for the day to day functioning of the company and ensuring that the company is successfully able to meet the requirements of the industry by providing seamless and easy to deploy solutions while also meeting the business objectives. Leading and mentoring a team [currently over 25] I oversee products, technology, businesses, marketing & PR, digital channel & marketing, distribution channels, project management & technology, CRM and business development owing to the proficiencies established due to my vast and diverse experience, I always look towards empowering vertical owners across multiple functional areas to take responsibility and keep raising the bar.
Dr. Sharad Nair the co-founder of ValueShipr has over 19+ years of work experience in private banking and wealth management. Dr. Nair is an active investor who has successfully help ed several start-ups bloom their venture into well-established organisations. At ValueShipr, Dr. Nair brings in his rich work experience and is the sounding board for all key decisions made at ValueShipr.
Does ValueShipr own the vehicles or it operates in a marketplace kind of a model ?
ValueShipr is an innovative logistics platform, aggregating, organizing and bringing 'Transporter Partners' and 'Clients-Shippers' to harmoniously conduct business on 'On Demand Logistics'.
The platform would be focusing on Multi Modal Logistics Solutions [surface, ocean, rail, and air] for cargo movement. The stakeholders of logistics industry like consignors, consignees, fleet owners, transport companies, warehouse owners and agencies look to us to provide a common platform and facilitate them to transact and manage their business.
The focus is on aligning and blending technologies to systematise and organize with-Digital Sourcing, Internet of Things [IOT], cloud, CRM, document automation, GPS tracking, analytics, Artificial Intelligence [AI] and other value added service systems inherently as features of the platform
Interchangeability, Omni-channel access to platforms 24*7, CRM, Safety and reliability would further augment the user experience manifold for users of ValueShipr
ValueShipr caters to first-mile or last-mile delivery or both ?
ValueShipr is agnostic to the modes and being a technology led transportation platform can conform to both the requirements of transportation in the supply chain throughput.
What are some of the business verticals i.e. cargo, warehouse, inter-city logistics, etc. that ValueShipr caters to ?
These are facilitators in the value chain that are essential to complete the transportation of goods. We offer value added services viz; warehouse, packaging, loading, Insurance, intra city logistics to complement our services.
From customer's perspective, tracking a parcel becomes very important. What are some of the technologies that ValueShipr uses in order to ensure safe & timely delivery ?
At ValueShipr, one of our core USPs is that we are involved through out of cargo movement, so we have built technology [IOT based GPS system] alerts, notifications right after the trip is confirmed until the delivery to the consignee is made. Besides this, we have a call center which is monitoring any aberrations/deviations during the trip on our dashboard and intervening with the driver/pilot to make sure that there is nothing amiss and the consignment is safely delivered.
ValueShipr has multi-modal logistics solutions (Surface, Ocean, Rail, and Air), how & when as per the experience at ValueShipr, should a customer opt for these options ?
So these modes are requirement based-meaning the determinants are-type of goods, geography, time, warehousing, packaging, price etc. are considered whilst taking a decision on which mode to opt for. Needless to say they have their own format that needs to be considered while adopting the right fit for transportation.
Can you please take us through the steps on how a transport company can partner with ValueShipr ?
Registering with ValueShipr is very simple. Transport business owners could just visit ValueShipr or download the ValueShipr mobile app from the Android store or else call 8655012255 to register. Post this stage, transport owners will need to share a few documents, which they could upload, scan or ever send us whatsapp images to fulfill the requirements. After verification and confirmation we schedule a boarding call led process on familiarization to help the person/transporter completely acclimatize with the process.
Most of the startups [tech & logistics] are focused on solving the last-mile problem, how much according to your experience is it critical to focus on first-mile as well ?
There are problems and challenges in all strata of society and this presents an opportunity to solve the problem. We know necessity is the mother of all inventions and ideas. Having said this, when you look at the challenges that surmounts any activity, one realizes the loss of efficiency and productivity in the entire throughput.
Both First Mile and Last Mile activities are vital cogs in the Supply Chain and cannot be wished one over the other.
Talking about logistics, there are companies like Delhivery, E-kart services, DHL [the traditional couriers], Post, etc. what according to you are the USP's that customer can get if they ship via ValueShipr [either in terms of value/efficiency, etc.] ?
All the names mentioned above are respected companies in the logistics arena and are fairly entrenched in the 17% organized marketplace. ValueShipr firstly focuses on cargo goods>30 kgs and above and is a technology led platform focusing on enabling and empowering the 83% unorganized logistics players to efficiently undertake business and enhance their business.
Customers using ValueShipr gets-validated transporters, transparent transaction system, shipment tracking, proper documentation, payment options and access to call centre's in a complete package
Can you please share details on the funding of ValueShipr ?
The company has received seed funding in 2016.
Does ValueShipr also cater to reverse-logistics [especially for big ticket items items like furniture] shipped by e-commerce partners using your services ?
We have factored this as a part of the plan and will be launching it suitably in 2017.
At the moment, ValueShipr caters to how many cities in India ?
Currently ValueShipr services are available across 18 cities in India, by March 2017, we will be adding another 10 more locations.
As ValueShipr  operates in marketplace kind of model, how do you ensure that your driver partners deliver the best experience [in terms of on-time delivery,etc.] to your customers [considering that all the truck drivers are un-educated and their style might not go well with customers] ?
Firstly at the time of transport partner enrollment, we look to ensure the transport owner provides us with their best drivers. Also at ValueShipr we also focus on getting transport owners who are involved or is a driver himself. Secondly we have a process of continual engagement with the driver during the transactions from our control centre to ensure compliance's. Shortly in 2017, we plan to kick of the hygiene training program for drivers of our partners at select centres whereby they would be sensitized on the operational effectiveness and conduct for good services.
Currently ValueShipr [partner & customer app] is present only on PlayStore, any plans of launching the iOS version of ValueShipr ? 
Our Business plans have factored in the iOS application; however our surveys have shown a higher presence of Android phones amongst our user groups.  We would like to understand the market feedback while we look to develop the app for the iOS platform.
Are there any existing competitors of ValueShipr, how has the response been so far from the users [both logistics partners and retail users] ?
As far as the intercity model is concerned, we understand that there are a few players both in the transaction and classified models. However we are committed to provide the most unique logistics in the current market place with a powerful transaction led technology backbone. The entire innovation, algorithm, machine learning, BI, IOT framework are all developed internally.
What are the initial challenges that you faced once you started working on the idea [or turned an entrepreneur] ?
Like in every entrepreneurial journey, idea validation, funding, product and work flow finalization, resources, identifying right scalable technology, go to market and distribution have all been challenging and continues to be so even to this day.
What are some of the growth hacking techniques that are being used for ValueShipr and some tips for our readers ?
Growth hacking is a coinage of the Digital Revolution. Every startup that posts its A/B testing phase will look at means of rapid scale up at the shortest possible time, all at the back of limited financial resources and distribution. The growth hacker or simply the marketer is that messiah whom the team looks up to, who is deft in using multiple channels, focused strategy and execution ability and create vitality, to carve out distribution scale for the company.
ValueShipr believes in adding value to all associated stakeholders in the ecosystem and therefore is fully focused on massive reach out using multiple channels viz; traditional methods, digital marketing, social media, micro market campaigns to create awareness, acclimatize prospective clients and create the experiential effect of the assets with the consumers. While there is a sense of urgency, however we are clearly customer oriented and want to repose their faith and trust in the product.
When according to you should an entrepreneur look out for external funding ?
My personal view is that after validation of the MVP and there is a steadfast traction established, should one look at funding for growth.
2016 has overall not been a good year for startups [falling valuations, shutdowns, demonetization impact, etc.],  how do you see 2017 from start-up perspective and how should a start-up founder deal with such down-time ?
If solutions are built with a core focus of solving 'identified problems' and the concerned startup/entrepreneur has validated the proof of concept, it has nothing to be concerned about. Events, economic cycles of upward and downward trend would happen and that is the nature of the beast. However every start-up founder has to be resolute in his focus on their objectives and they could tide over any surprise challenges.
Some tips for aspiring entrepreneurs and something that keeps you motivated every day for your start-up ?
Every aspiring entrepreneur has to mentally be prepared for an action packed life. I would personally call every start-up CEO a 'Chief Everything Officer' so much so that the events on a daily basis hardly leave them with any time to spare.
He is a lonely ranger out there, possessed by his idea, convincing both internal and external customers to toe his belief & ideas and deliver. Due to the nature of complexity of challenges, there could be stress, anxiety and frustration at times. Keep doing the good work since it's only through your belief that your team and customer will begin to believe in the enterprise. Hence every startup entrepreneur needs to have the ability of self-motivating themselves. I would recommend that entrepreneur try and lead a balanced and disciplined life to the best possible extent, give time to your physical well-being, inculcate reading habits, spend quality time with their family and also bake in sporadic travel plans.
Do give ValueShipr App a shot and share across your feedback/questions in the comments section. If you have any questions for Jyotheesh & his team about ValueShipr, entrepreneurship etc., email them to himanshu.sheth@gmail.com