What is the first thought that comes to your mind when you are leaving your home for a different city (be it for work, studies, etc.) Apart from the accommodation, locality; people who are concerned about us would be worried about one important factor that keeps us going – Food 🙂 Don't we all miss the home-cooked food when we are away! In fact, when you are at home (enjoying home cooked food); you would sometimes crave for hotel food/junk food, etc. However, at the end of the day Home Cooked food always has one ingredient that is missing in outside food – Taste and Affection (with which the food is made).
Food is a vast topic and so are the delicacies in India. In every state, every city and every home (in India), you would find that one Special Dish that you would have craved for 🙂 Each dish has its own unique identity. What if one of your neighbours has made her special dish for lunch , whereas the other neighbour has made another delicacy and you had the privilege of choosing either of them right from the comfort of your home/office! Connecting Foodie with the celebrated home-cook via Technology would be an ideal solution.
Now every home-cook or home-based cook can showcase their passion for cooking, Culinary delights and become a mini-entrepreneur with an enabler – Eat Social. There are many startups that are operating in the Home Cooked Food On the Cloud category (I would not term them as Food-Tech Startups), I got a first-hand experience about it on Eat Social when I ordered Dinner from its Android app when I was in North Bengaluru.
Below review is based on the overall experience with Eat Social and it covers aspects like App Review, TAT (Turnaround Time), Food Quality etc.
Let's get started with the review…
Eat Social : Home Cooked Food On the Cloud
Eat Social is a social (hyper-local home food) platform where your neighbourhood Home Chefs will share their tasty healthy home cooked food with you. Cooked Food is one category in commerce where Delivery Time matters the most and hence, Eat Social restricts food delivery if your address is not within 5~7 km of the chef's location.
The restriction of distance has a positive impact on Customer Retention & Customer Delight since you ensure that the customer gets Quality Home cooked food !!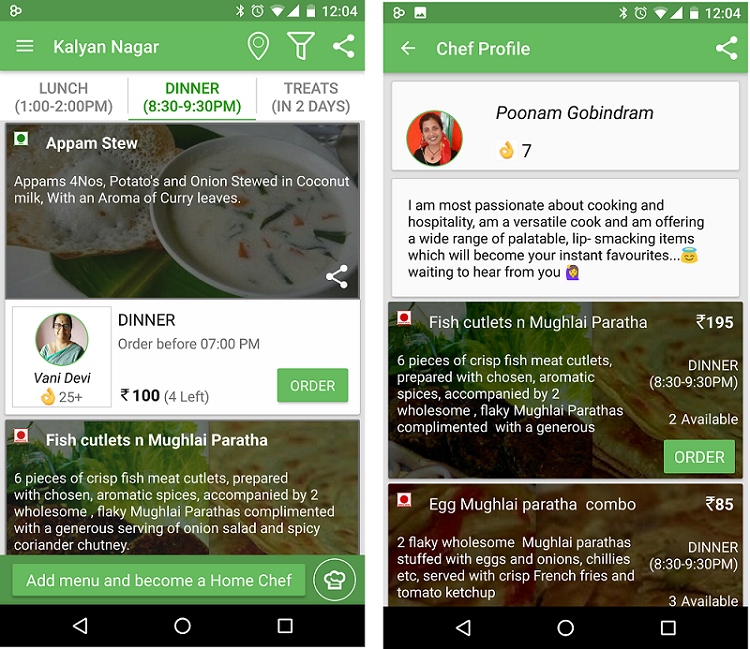 Eat Social : In Depth Review
Eat Social app is currently available for Android and can be downloaded from here For users who are on non-Android platforms, Eat Social is accessible via Eat Social's web app The app has functionalities for Foodie & Home-chef bundled into one i.e. there is no separate app for the seller.
Eat Social for Home Chef(s)
A passionate Home cook willing to register as a Chef on Eat Social has to create a profile, upload quality photographs of the dishes, available quantity & preferred timings (Lunch/Dinner/Treats). Food can be listed either as Veg/Non-Veg.
Though Veg/Non-Veg is a distinct category, it would have been better if there was a third category – Vegan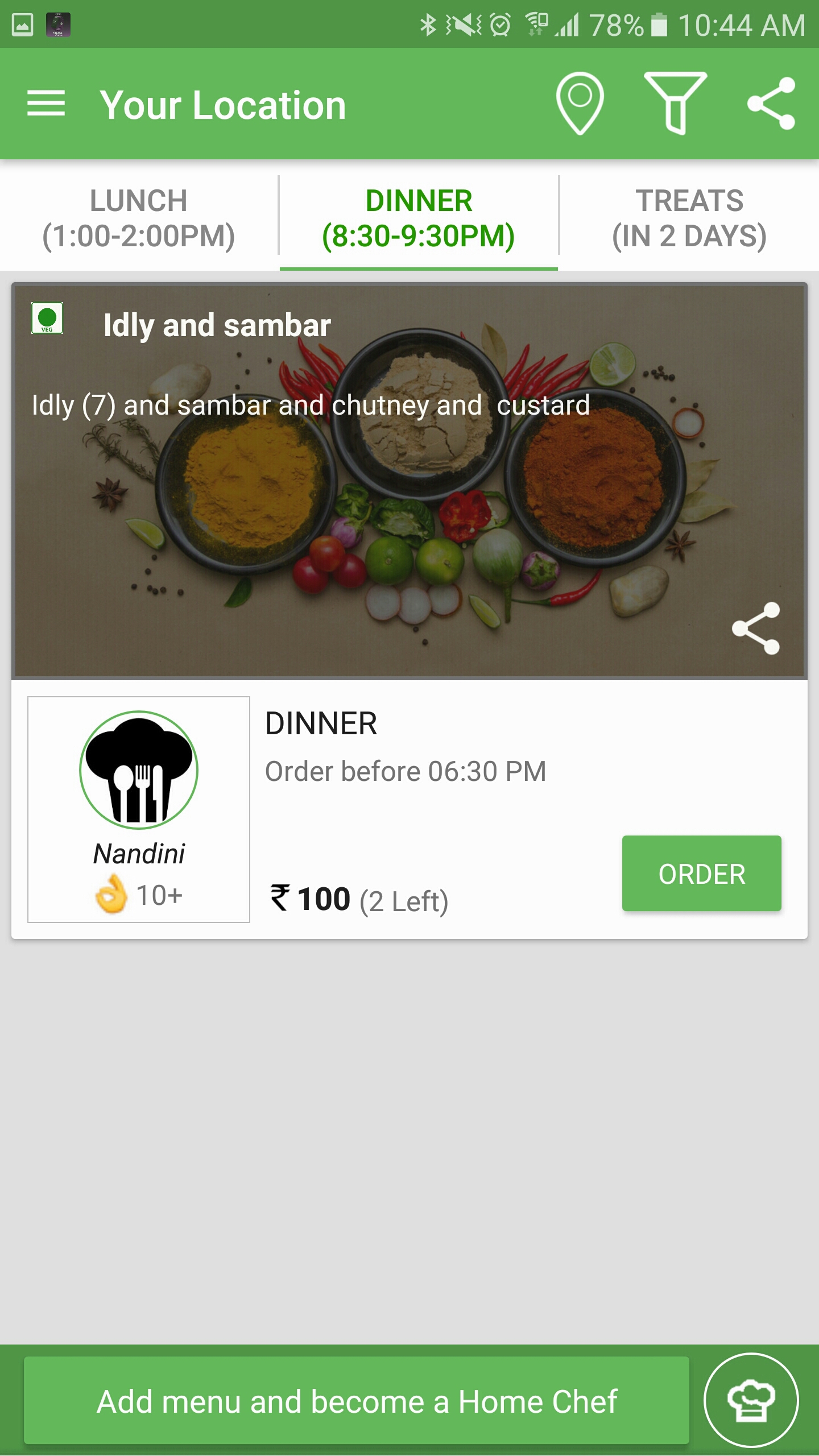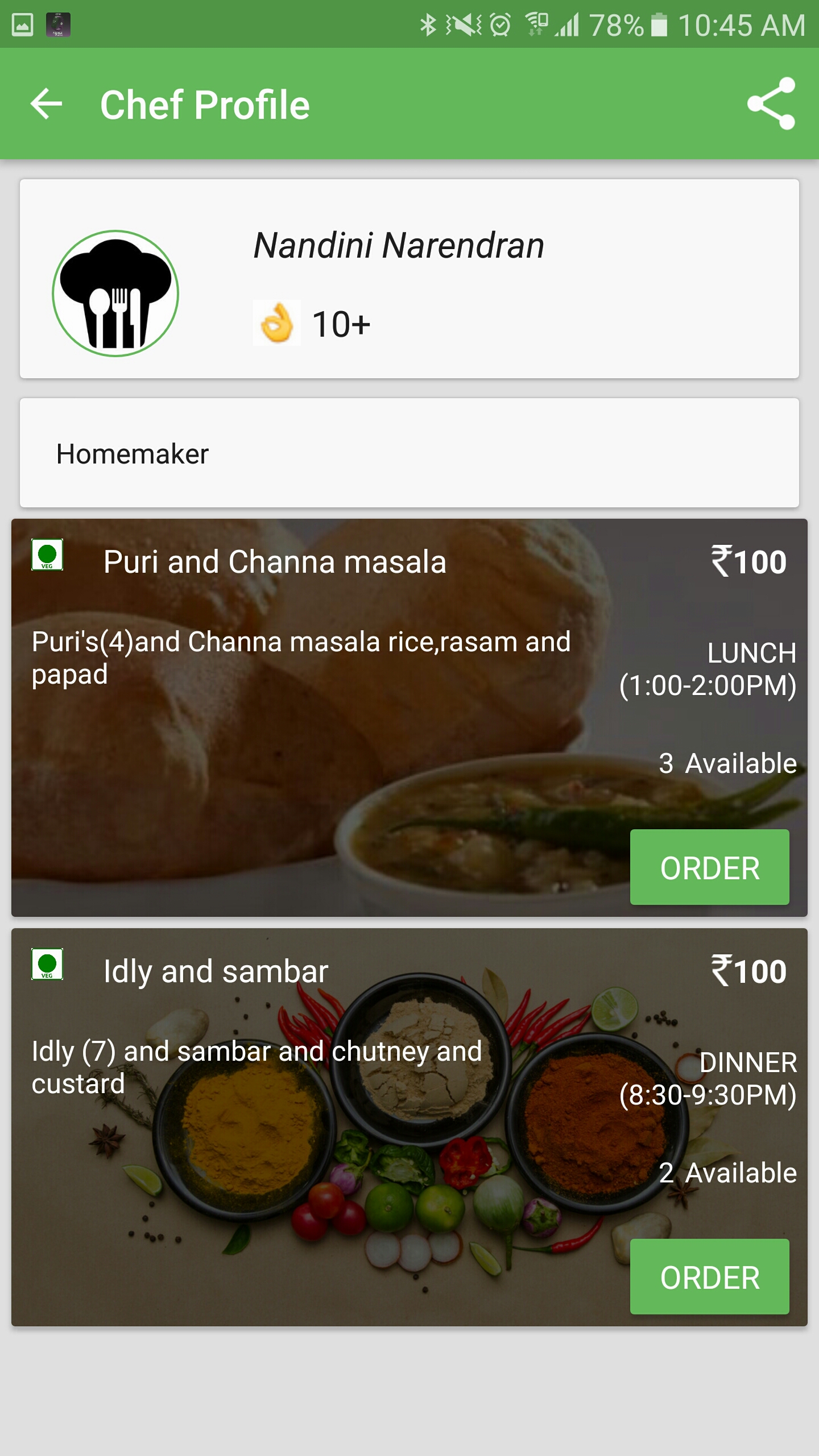 Eat Social : Food Experience
Similar to an e-commerce platform, where sellers are rated, Chef on Eat Social are rated based on his/her performance (which is closely tied to Food Quality, Delivery Time, Packaging, Customer Delight etc.). When we ordered the dinner, it was nicely packed and it arrived within the stipulated time. Delivery Time, Quality, Packaging, and Food Safety are the key KPI's for the food business and Eat Social scored well in all those areas. The quality of the food was great and the quantity also adhered to the number mentioned in the description.
The UX of the Eat Social app is clean & minimal and a Foodie has to key-in his/her location & address and order food from your favourite Home-Chef based on the availability. There is a separate section named 'TREATS' where chefs can upload specialty dishes based on occasions (Onam, Diwali, Christmas etc.)
The overall experience with the Eat Social app was smooth and so was the end product (home cooked food that was not only packaged well but also had great taste). We loved the concept of Super Diner – Silver Spoon Premium Delivery Program (loosely modeled on Amazon Prime) where regular Foodie's on Eat Social Platform need to pay Rs. 200 and they can enjoy free delivery for a month (there is no restriction on the number of orders placed on the platform). It is an interesting strategy to maintain 'Customer Stickiness'. The app also has 'Refer a Friend' feature where you would be incentivized on the first order placed by your friend/contact on Eat Social given the condition that (s)he has used your Referral Code when installing the Eat Social App. Customer can opt for online payment (using PayUMoney) or Cash On Delivery (COD) while ordering food on Eat Social.
Whether your wife (if you are married :)) needs a break from her kitchen or you are a bachelor (craving to have delicious home-cooked food) or want to have home-cooked food for lunch/dinner at your office, Eat Social is the option for you!!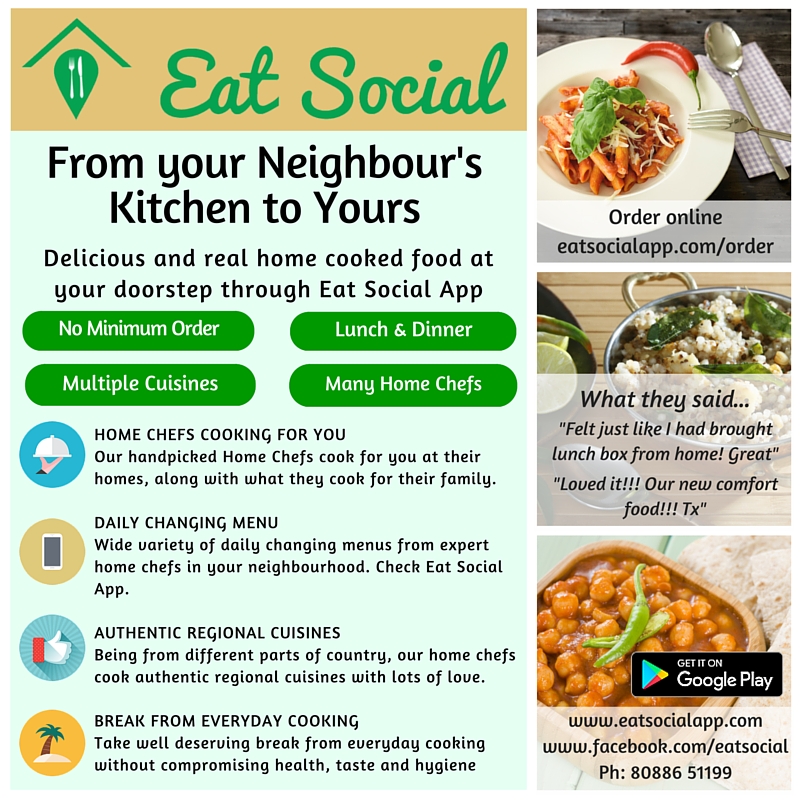 Eat Social : Scope for Improvement
No matter how good your product is there is always room for improvement. Below are some of the improvements that can make the entire 'Eat Social' experience more enriching:
1. Virtual Kitchen Tour : One factor that is very important in the 'Food' Category is 'Hygiene' and that can be the very first 'Barrier' in customer's mind before (s)he takes the step to order food. 'Virtual Kitchen Tour' of the top-5 (or more) chefs could be very effective to convert these tentative foodies into compulsive foodies.
2. Customer Testimonials : Everyone enjoys having lip smacking food and it is very important to translate those emotions into customer endorsements. Effective Customer Testimonials helps build brand trust and acts as a medium to gather feedback (that can be used to improve the product). As mentioned in Boast io, A website with a hundred testimonials will generate more leads and close more sales than a website with no testimonials every time.
3. Eat Social App Distribution via SMS & QR Code  : Currently, users can download the Eat Social app from the Play Store, 9Apps Store (Direct) but there is a definite need to have a mobile app landing page for downloading the app. A common theme is the use of SMS (text messaging) to deliver the app download link to user's mobile phone. There was no QR Code format (of the Eat Social App) which is an absolute necessity since it helps in customer acquisition and tracking app conversion rate.
4. Identification of next logical expansion : Foodies and Home chefs are the pillars of the Eat Social eco-system. Getting more Chef's and Foodies on-board would be an on-going task for the Eat Social team, but it is important to capture footprint of visitors (on Eat Social) who are from places (in Bengaluru other than North Bengaluru).
A small Notify Me page where the user enters his/her pin-code can act as important data for their team to identify next logical expansion for Eat Social i.e. whether we need to expand to South Bengaluru/East Bengaluru/Only one specific locality in Bengaluru etc.
Eat Social : Closing Thoughts
The overall Eat Social experience was fantastic (effortless meal booking, hassle free online payment, on-time delivery and above all delicious food)!! The future of India would be shaped by entrepreneurs and Eat Social is a classic example of how food can act as a medium to empower women who can now take their cooking skills beyond their own kitchen and transform themselves into 'Home Chefs' or 'Food Entrepreneurs'! Whether you are a bachelor missing home cooked food or a loving husband who wants to give his wife 'Delightful Break' :), Eat Social will come to your rescue.
Eat Social (for Android) can be downloaded from here, here. Non-Android users can visit Eat Social here. If you have used Eat Social before, please leave your experience/feedback in the comments section…