Lot of innovations are coming up in the Fintech space and the launch of the Unified Payments Interface (UPI) just makes the space even more competitive. One of the critical driving factors of the innovation in the 'Financial Tech Space' is due to the increasing penetration of mobile phones, affordability of internet (2G/3G) and sky-rocketing use of Digital Currency (Closed and Semi-Closed Wallets).
Gone are the days when you had to stand in long queues to get your bank's pass book updated or withdraw/deposit money. In fact, all these activities including opening a new account are now possible with the click of a button !!! Though Payment Services (Paytm, Freecharge etc.), P2P Lending (EasySalary, LendBox etc.), Personal Finance Services (BankBazaar, Capital Float etc.) are some of the sectors that have seen major growth and investor interest; there is still lot of room for startups to innovate in the 'Fintech Sector'.
A startup incubator from well known Financial Brand like Axis Bank, India's third largest Private Sector bank could just bring a huge delight for entrepreneurs in the Fintech Space.
Thought Factory : Startup Accelerator from Axis Bank
Axis Bank has partnered with Amazon Internet Services, Payments product company VISA and Singapore based Oversea-Chinese Banking Corporation to set up startup accelerator Thought Factory in Diamond District in Bengaluru. The major focus of Thought Factory would be Financial Technology Space and it would on-board it's second batch of startups next month.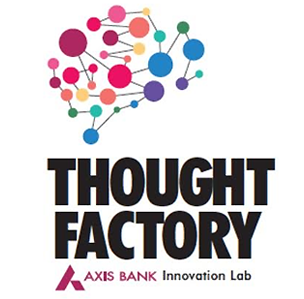 The incubated startups would be focusing on ideas built on emerging technologies like AI, Big data analytics, Block Chain, Robotics and much more. These ideas could take the consumer banking experience to the whole new level. The KPMG Fintech Report – 2016 also points that the next wave of Indian Fintech Startups would be from these areas !! First batch of startups are already live in Mumbai and the second batch will begin this month & they might be based out of Bengaluru.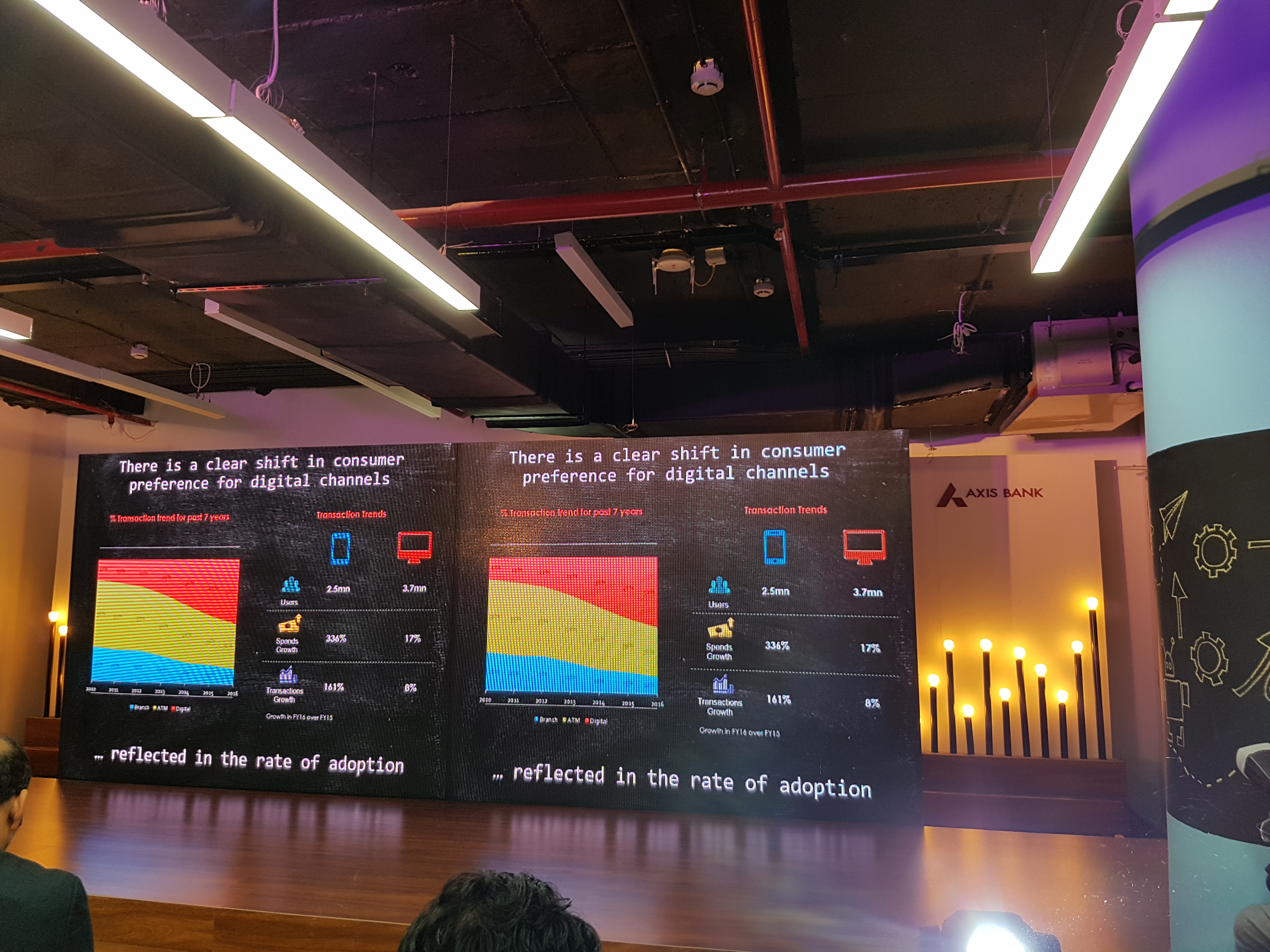 The launch was attended by Axis Bank executives – Rajiv Anand, Executive Director (Retail Banking), Amit Sethi, President & CIO amongst others. Serial tech-entrepreneur Vishal Gondal, Founder & CEO of GoQii, Sanjay Swamy, Entrepreneur & prominent Angel-investor, Senior executives from VISA and Amazon Internet Services were also present at the event.
Commenting on the launch, Rajiv Anand, Executive Director (Retail Banking), Axis Bank said
We are excited about the way financial industry is evolving and how millennials are re-imagining the industry. 'Thought Factory', our innovation lab is an endeavor to build on the ideas of innovators that can radically change consumers' life in Banking and beyond. With this initiative, we are creating a vibrant ecosystem of Global Banks, startups & tech innovators.
The Keynote Speaker of the event was Tenith Adithyaa, 18-year old inventor & innovator from Tamil Nadu who spoke about his inventions.
Thought Factory : Industry Partnerships
For the accelerator programme, Axis Bank has partnered with Zone Startups. At the end of 3-month long incubation programme, Axis Bank in association with Zone Startups would organize Investor Day to facilitate funding for the short-listed startups.
Thought Factory would also have external mentors on-board that would support the startups in their journey. It is also working with NASSCOM 10K, VC partners, Global Banks etc. in order to create a healthy and vibrant tech eco-system and to create a culture of 'Co-Creation'.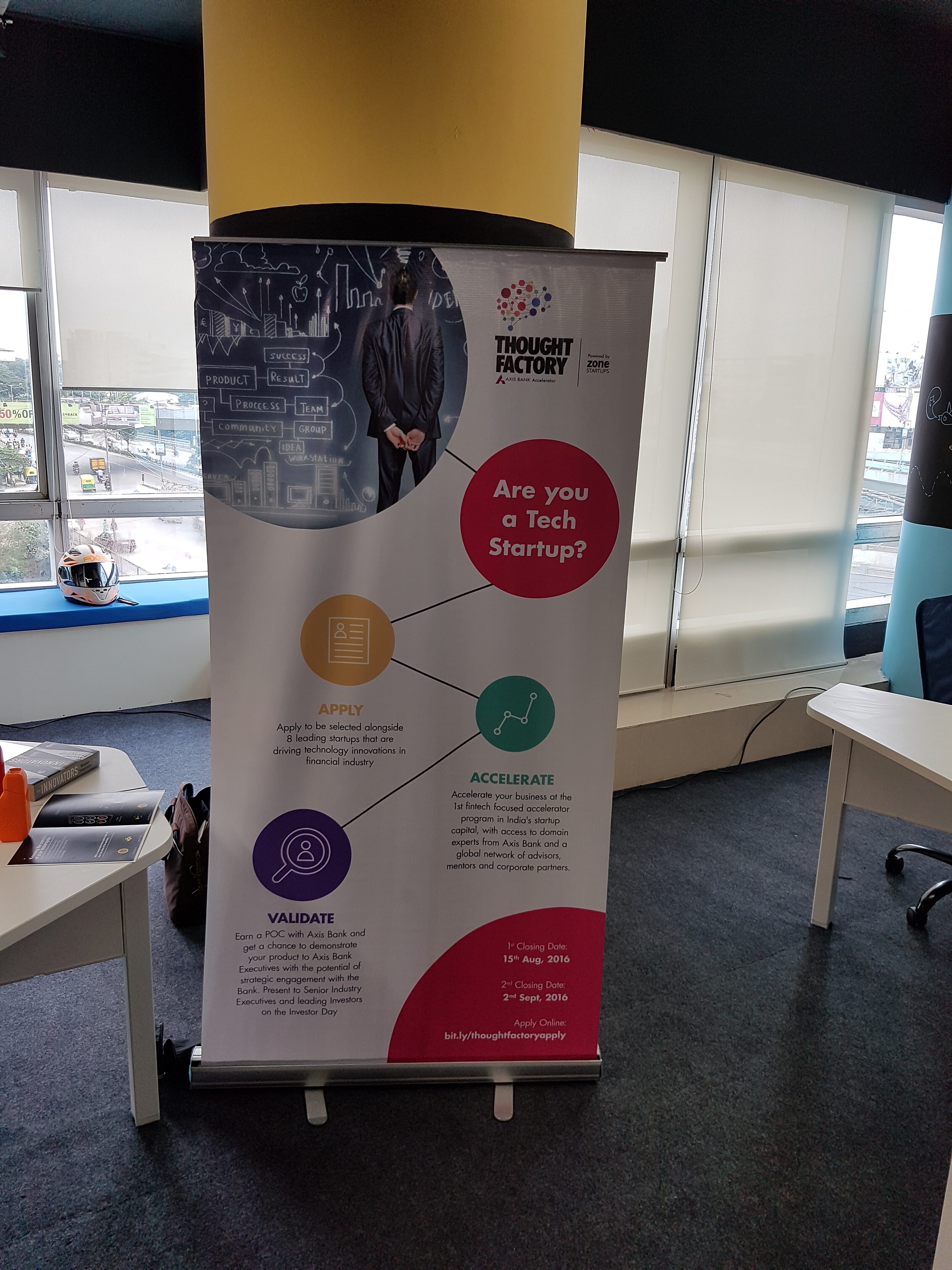 Additionally, Axis Bank has also launched 'Hack for Hire' programme for identifying talent from across the country through Hackathons for the in-house innovation team at Thought Factory
Thought Factory : How to apply
In order to be a part of the Thought Factory, your startup needs to be a registered Indian entity trying to create it's mark in the fin-tech sector. There is no cost & no equity (taken by Axis Bank) if your startup is selected for the Axis Bank's Thought Factory.
To know more about Thought Factory Program, it's structure etc., drop a mail to to thoughtfactory@axisbank.com or visit bit.ly/thoughtfactoryapply
Thought Factory : Fin-tech meets Health-tech
Though Digital Wallets have been widely adopted by the Indian consumers, contact-less payment via Wearables could see an up-trend with the #AxisActive. Axis Bank in collaboration with GoQii launched #AxisActive, a fitness band with which you can make Payments at PoS of retail outlets.
For every 70,000 steps you walk, you earn 500 Axis eDGE reward points. So go ahead, turn anytime into fitness time. #AxisActive is a perfect marriage of Fin-Tech and Health-Tech 🙂 Now, earn reward points for burning calories with this innovation from GoQii and Axis Bank. More information about #AxisActive is available here
Thought Factory : Closing Thoughts
Given the deep-rooted expertise of Axis Bank in the Financial & Banking sector, Thought Factory looks the right step taken by them to be a part of the vibrant tech-startup eco-system.
To know more about the Thought Factory Program, it's structure etc., drop a mail to to thoughtfactory@axisbank.com or visit bit.ly/thoughtfactoryapply