In this article, we have a Q&A with a social entrepreneur Harish Kumar from Ahmedabad [Thanks to my friend Paras Shah for the connect :)]. Harish Kumar has 20+ years of corporate experience who left his cushy job to start social venture Ability On Wheels with the mission – To connect people with disabilities, educate and create opportunities for them to make the most of their abilities, while advocating social change by enhancing the quality of life with developmental or physical abilities through an array of services.
Today we have a discussion with Harish about his social venture, it's plans, issues faced by social ventures, tips for aspiring entrepreneurs etc. Let us start with the Q&A with Harish
Can you give a small background about yourself ?
I wish to introduce myself as a specially abled person [congenital absence of right upper limb below elbow joint] with a passion for driving. In 2012 I became the first physically challenged person in the country to successfully complete an All India Driving Expedition thereby creating a new National Records in Limca Book of Records. As on date I have on my name 2 National Records in Limca Book of Records. I completed my Masters in Science from IIT Roorkee in 1993 & Masters in Technology from IIT Delhi in 1995.
After working in Telecom Sector for ~ 20 years, I quit the corporate world last year & decided to work on providing mobility services & solutions to the specially abled people of the country. For this purpose I've floated an NGO Ability on Wheels Charitable Trust
Give us a small gist about Ability On Wheels [AOW] ?
As you would be aware of Specially Abled people do face lots of challenges & hurdles in mobility. There's not even a single driving school for the specially abled, there are no wheel chair accessible vehicles & also the public transport is not disability friendly. Since I have myself experienced these hurdles I decided to work on this cause & be a contributor to the society.
There are an estimated 60 million people in the country who are specially abled with mobility restrictions & every year ~ 1 lac people get added in the list. Ability On Wheels is an effort to encourage the specially abled people to take a big leap towards leading a normal life by providing mobility & accessibility services & solutions.
What was the trigger of starting AOW?
After creating records in Limca Book of Records I got recognition in the media. Subsequently a few differently abled people approached me with  a desire to learn driving & the process for the same. They also conveyed that they had approached many driving schools & all had turned them back saying we cannot teach you driving.
Then I started exploring & to my horror I could not find even a single driving school for the differently abled. That was the trigger point of AoW. My research also threw up a startling fact – Differently abled people have to first buy a car, get it modified & then only they can get a learner's license which is a big injustice to them. This driving school will provide them with the option of first learning how to drive & then decide on buying a car.
Can you let us know what changes need to be made in the car in order to cater AOW's requirement
The proposed driving school plans to deploy two modified / customized cars [registered as Invalid Carriages] to impart driving training to people having various kinds of physical disabilities
Car No. 1 – Manual Transmission with the following modifications
Auto Clutch (with engaging / disabling feature (on / off switch)
Hand controlled accelerator & brake. The controls would be dual in nature and will not affect the normal foot controls of the vehicle.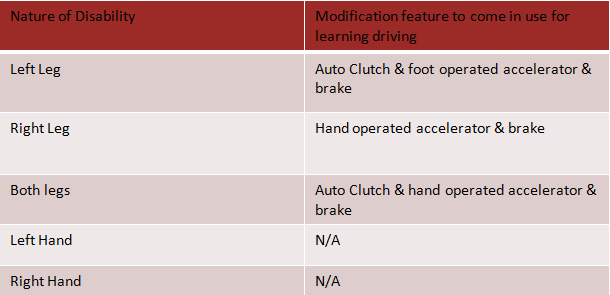 Car No. 2 – Automatic Transmission OR Auto Gear Shift with the following modifications:
Auxiliary accelerator pedal on the other side of the brake [can be locked & folded when not in use]
Hand controlled accelerator & brake. The controls would be dual in nature and will not affect the normal foot controls of the vehicle.
Steering Knob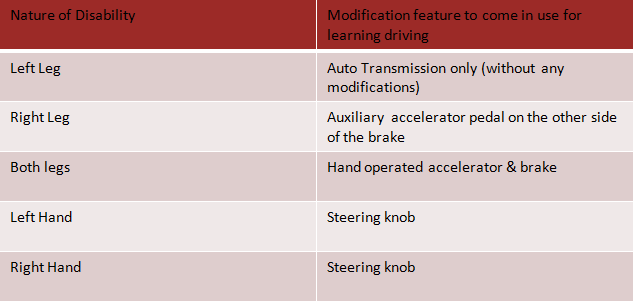 Do you plan to raise funds for AOW from external investors who fund social enterprises?
Yes, we are open to raising funds through external investors, corporate, government, like minded NGO's & Individuals.
Since, there are many differently-abled people in India, how do plan to take AOW to other cities?
Plan is to create at least 1 such driving school in every state capital & few other major cities of the country.
What are the major challenges you faced when starting AOW ?
Legal & Statutory [convincing authorities that what we plan to do is well within the ambit of law & very much possible practically].
Research & Planning – We studied about various such driving schools running in developed countries. Got very good information from a similar school being run by Queen Elizabeth Foundation, London. Went to Mumbai, Bangalore & Ahmedabad to meet renowned modification kit manufacturers. From their inputs was able to decide & plan on 2 cars & modifications as mentioned above
Funding
[Ability On Wheels in News – Click on Image to enlarge]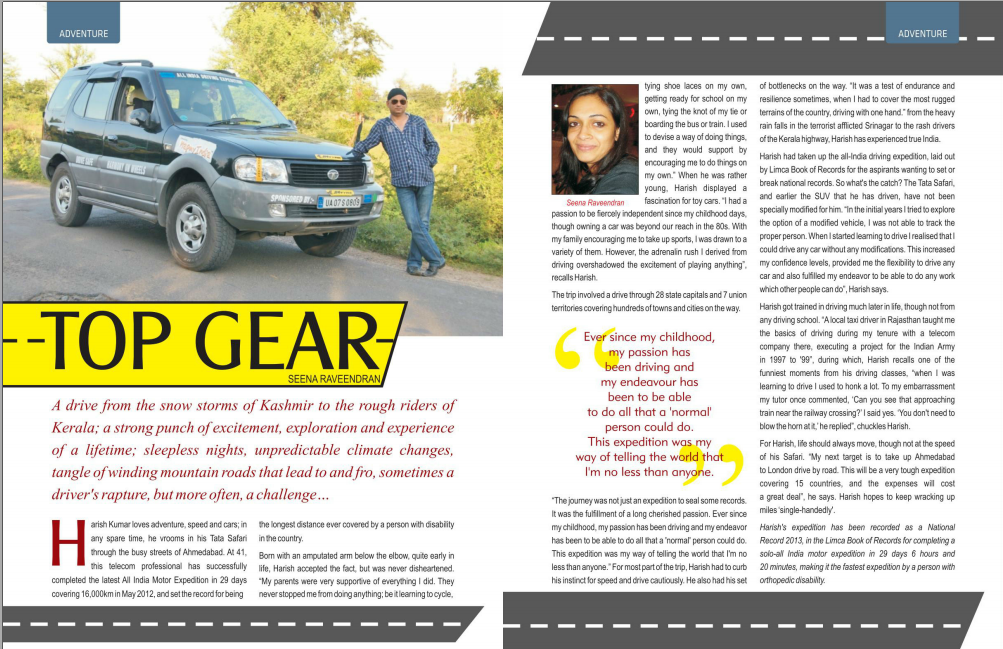 What are your views on social entrepreneurship & social enterprises in India ?
Still a long way to go for acceptance in the society. People look down on us as fools to have left a job of Rs 2 million / annum & get into this. They also say you are looking towards less than 1 % of the population as your customers. Why not get into some business which can cater to a large clientele. As for funding a lot of challenges still remain for social enterprises.
What are some of your thoughts on expanding AOW pan-India [How do you plan to do it ?]
Following options are being explored once the first driving school gets stable & we start getting a decent response.
Franchisee model operated by local people under the umbrella of Ability on Wheels
Own model [subject to getting attached to a corporate who is willing to fund the scale up]
State Government owned driving schools set up with our guidance [this seems to be least probable].
Some advice to aspiring social entrepreneurs ?
Before jumping into it please be aware of the fact that challenges would be many times more than anticipated. Funding will only happen only when you reach to a certain level of success which may take as much as 3 – 5 years. Social acceptability is very less in our country which is again an added challenge. Revenue or RoI models will not work the way they do in other businesses.
We hope that Harish's learnings would help you in your venture. If you are an entrepreneur and are open to a Q&A, please email your request to himanshu.sheth@gmail.com