I am sure that most us would have watched [if not read] the Ramayana that used to be tele-casted on Doordarshan. Few months back, we had reviewed the book Ramayana : The Game of Life : Rise of the Sun Prince which was aptly written to convey the messages from the Ramayana to the urban audience.
Today we review the second installment of the book titled – Ramayana : The Game of Life: Shattered Dreams.
About the Author
Shubha Vilas is a motivational speaker, spiritual seeker with B.E in "Electronics & Telecommunications" and L.L.B specializing in Patent Law. You can find more about him here
Detailed Review
Just like the previous book, here also the author tries to connect the learning from each instance [of the Ramayana] with real-life [through footnotes]. The book starts off with the dilemma that King Dasratha faces in deciding who should succeed him. It showcases the life of Ram while in exile. The author has beautifully taken the famous Ramayana and given it his own touch. It teaches us that "Despite all odds, how both Rama & Sita shared a very beautiful & understanding relationship with each other".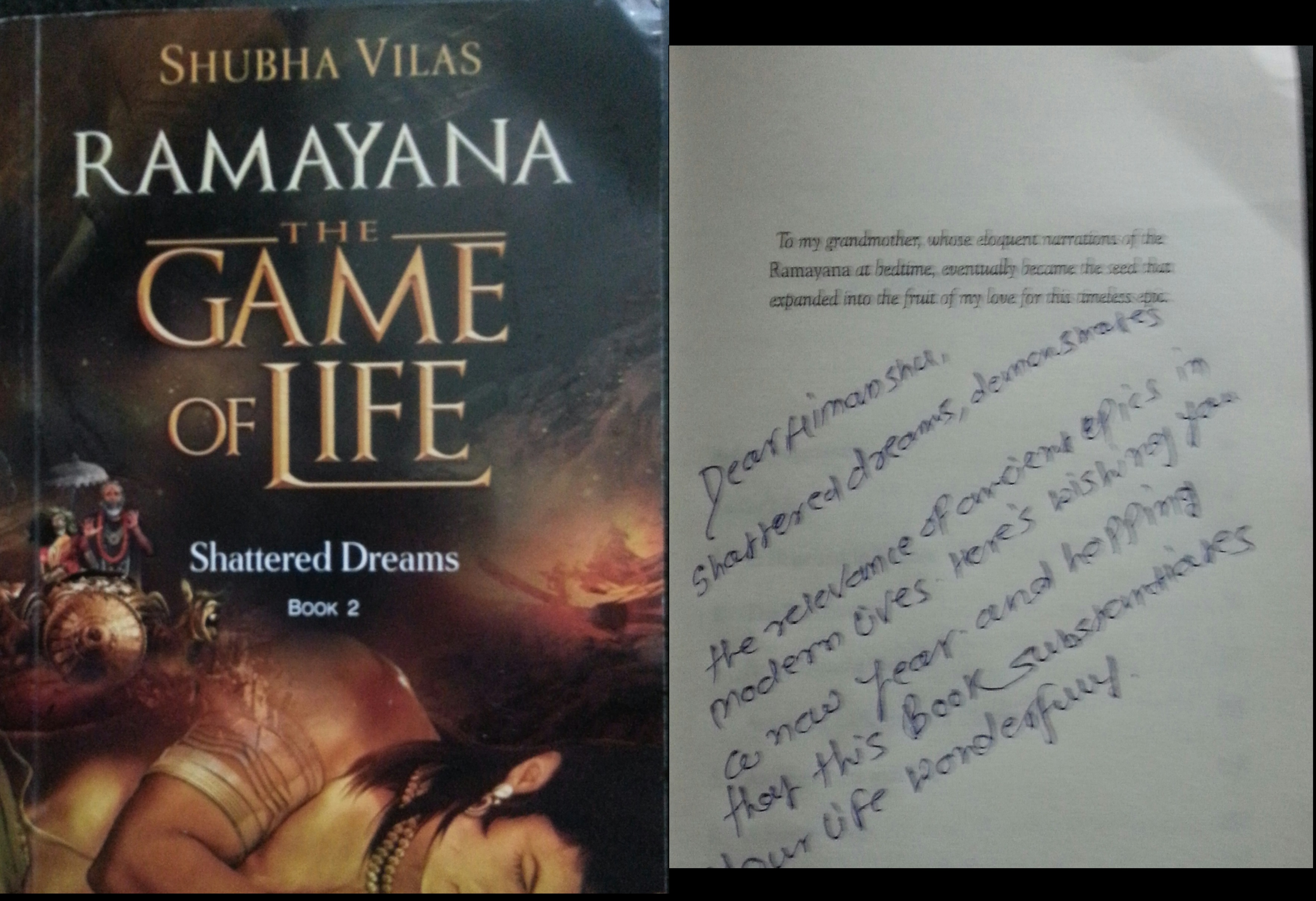 The author helps us visualize the beauty of "being self-less" through the actions of Lakshmana & Bharata. Through Manthara's character, it beautifully portray's "How poisonous instincts of one person can lead to the disaster of an entire nation [Ayodhya]".
The author had to make sure that the reader finds the story interesting [and can co-relate to it] else it would have been "Me-Too" book on the epic. There are learnings on Leadership, Mentoring, Giving-up etc. from each chapter [or I can say from each page :)] which readers can easily co-relate to day to day life.
The Ramayana is narrated in a very crisp & simplistic manner ensuring that the epic gives out more learnings to it's readers !!!
There are interesting lessons on Management which we would like to share in this article.
Management Mantras
Lord Rama revealed five key management concepts a good leader has to adhere to. These five tenets form the most important limbs of a leader's portfolio.
Respect Management
The foundation of any leadership rests on respect management. A leader who respects his superiors, allows the flow of energy to descend into his life. With that in mind, Rama's question to Bharata were:
Are you treating your preceptors respectfully ?
Are you making sure mother Kaushalya & Sumitra are happy ?
Is the venerable Keikeyi rejoicing ?
Do you honor Sayujna, the son of Vasistha ?
Are you respectful toward, brahmanas, teachers and ministers ?
Are women respected & taken care of ? Respect toward them is the root of all the good that happens in society & dis-respect toward them is the root of all evil in the society.
Decision Management
Decision-making with discernment becomes an ornament that brings respect & appreciation from followers. Rama gave Baratha some crucial pointers:
Do not deliberate either alone or with too many men.
Your decisions should not be made public before being carried out.
Neighboring kings should not understand your undertakings before execution.
Your decisions should have maximum benefit at minimum cost.
Do not delay decision-making.
Do not falsely accuse, kill or punish a noble man without appropriate inquiry. Remember that tears of victims falsely accused actually destroy justice givers.
Do not release a thief for greed of wealth.
Encourage your ministers to be impartial to both the rich and the poor.
Reputation Management
Reputation is like a glass ball. It has to be clean, but before that, it has to be in your grip. People see before they hear; they judge a leader on the basis of his actions before they get inspired by the words. The reputation of the leader imbibes confidence in the follower. Rama's suggestions to Bharatha were:
Do not fall prey to excessive sleep & wake-up at an appropriate hour.
Contemplate about the adroitness of your action in the second half of the night.
Dress royally. The regal appearance of a king gives confidence to the subjects.
Make yourself available to hear your subject's grievances. First hand interaction with the leader gives hope to the subjects.
Do not over-indulge in wealth, religion or delights of the senses. Over-indulgence or indulgence at the wrong time or place creates doubts in subjects.
Do not eat without sharing. Not sharing makes one hardhearted & others jealous.
Avoid incurring the wrath of Brahmanas by falling into wrong habits.
Ensure that servants are not dis-respectful toward you nor should they hasten away in fear on seeing you. Disrespect & fear are two extremes indicating barriers in connections between the leader and his subjects.
Team Management
Team management is to a leader what life management is to a doctor. When a team is managed with grace, the subjects are filled with gratefulness; the team becomes the solution to all problems a leader faces. Rama revealed these pearls of wisdom:
One wise man is better than thousand stupid ones; one good minister can ensure the prosperity of a kingdom.
Assign tasks according to the level of intelligence, ability, skill, position & status of the employee.
Surround yourself with ministers who are not only corruptible & full of integrity but also born and raised in a family that imbibes Vedic values & culture.
Train your ministers to avoid flexible decisions that makes subjects fearful.
The army chief should be cheerful, wise, courageous, well-behaved, loved by his subordinates, efficient, born & raised in a family that imbibes Vedic values & culture.
Honor courageous warriors in public.
The army should be paid their salary & daily provisions on time. A delay in wages & maintenance causes servants to be corrupt and infuriated with their master.
Select an ambassador who is knowledgeable, wise & skillful, has a presence of mind and knows how to speak to the point.
Though three spies, unacquainted with one another, collect all information about your important officers as well as those of your enemies. Do not place your trust on one spy.
Do not spy on your own ministers, your guru & the princes. Monitor their actions.
Do not house a physician who is an expert at aggravating a disease, a servant intent on bringing disgrace and a valiant warrior seeking kingly power. They can be the cause of your destruction.
Character Management
A leader should religiously avoid these 14 sins. By carefully avoiding these, the leader can suitably manage his character.
Giving the material world as much importance as the spiritual world.
Carelessness.
Procrastination.
Lack of appreciation of righteous people.
Autocracy in decision making.
Avoiding decisions already made.
Dishonesty.
Revealing confidential information.
Indulging in discussions with people of adverse opinions and thus wasting valuable time.
Invading enemies from all directions.
Respecting bad people.
Closing Thoughts
"Ramayana : The Game of Life: Shattered Dreams" is a breezy read & keeps the reader's hooked with the learnings [documented in the footnotes]. Overall the book is a must read for all Epic lovers, Management gurus & Aspirants to get the story from an entirely different angle knitting it well with the modern era.
Thanks to Mr Shubha Vilas for sending us the review copy of this book 🙂